Edward's pheasant
This species has two varieties. The nominate form L. e. edwardsi has a white crest and upper tail, whereas the northern form L. e. hatinhensis is found with a variable number of white retrices. This difference in the two forms may be due to inbreeding of a restricted, fragmented population there, and has also been seen in captive, inbred L. e. edwardsi. The northern form is sometimes given a separate species status by some authors, Vietnamese Pheasant, Lophura hatinhensis .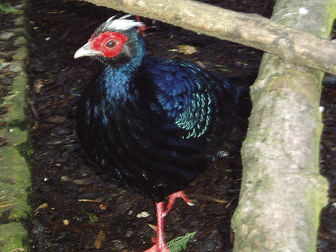 Picture of the Edward's pheasant has been licensed under a
GFDL
Original source
: Transferred from en.wikipedia(Original text : I created this work entirely by myself.)
Author
: subhumanfreak (talk). Original uploader was Subhumanfreak at en.wikipediaPermission(Reusing this file)CC-BY-SA-3.0; Released under the GNU Free Documentation License.
Permission
: GNU Free Documentation License
The Edward's pheasant is classified as Endangered (EN), considered to be facing a very high risk of extinction in the wild.

One species, the Edward's Pheasant, was once believed to be extinct in the jungles of Vietnam, but there were sustainable populations in aviaries and re-introduction programs are now in place. The Cheer Pheasant from Pakistan and Swinhoe's Pheasant from Taiwan are two species who have benefited from re-introductions of captive-bred birds. More
* Species Profile for Edward's Pheasant - Information from the USFWS. * Wikipedia - Edward's Pheasant - Wikipedia's species page. - More
The Edward's Pheasant is a member of the pheasant family that lives only in parts of Vietnam. They are now on the brink of extinction because of war and deforestation. Size & Weight (Adult) Total length: 58-65cm (Source: Doubutsu Sekai-isan* Red Data Animals Kodansha) (*World Animal Heritage) Where they live They live only in the northern part of the Annamitic Cordillera in central Vietnam. More