Helmeted Guineafowl
It breeds in warm, fairly dry and open habitats with scattered shrubs and trees such as savanna or farmland. The nest is a well-hidden, generally unlined scrape and a clutch is normally 6-12 eggs which the female incubates for 26-28 days. Nests containing larger numbers of eggs are generally believed to be the result of more than one hen using the nest; eggs are large and an incubating bird could not realistically cover significantly more than a normal clutch. Domestic birds at least, are notable for producing extremely thick-shelled eggs that are reduced to fragments as the chicks hatch, rather than leaving two large sections and small chips from where any chick has removed the end of the egg. The chicks are cryptically coloured and rapid wing growth enables them to flutter onto low branches barely a week after hatching. These guineafowl live as long as 12 years in the wild.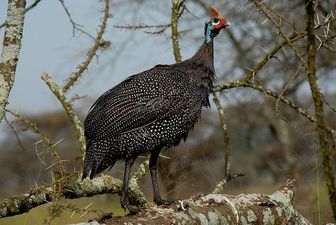 Picture of the Helmeted Guineafowl has been licensed under a Creative Commons
Attribution
.
Original source
: Picasa Web Albums
Author
: Bob
The Helmeted Guineafowl is classified as Least Concern. Does not qualify for a more at risk category. Widespread and abundant taxa are included in this category.

The Helmeted Guineafowl (Numida meleagris) is the best known of the guineafowl bird family, Numididae, and the only member of the genus Numida. It breeds in Africa, mainly south of the Sahara, and has been widely introduced into the West Indies and southern France. It breeds in warm, fairly dry and open habitats with scattered shrubs and trees such as savanna or farmland. More
Africa, but the Helmeted Guineafowl has been domesticated and both feral and wild-type birds have been introduced elsewhere. More
helmeted guineafowl took to their roost during a total eclipse of the sun at midday. FEEDING ECOLOGY AND DIET Active forager, mainly on the ground. Forages opportunistically on what is abundant. Omnivorous. REPRODUCTIVE BIOLOGY Apparently monogamous. 12–23 eggs with 24–27 day incubation time. Both parents feed and care for newly hatched chicks, known as downy keets. Breeding period varies depending on subspecies and rainfall patterns. More
Helmeted Guineafowl has 57 friends. hdstrt. More
The Helmeted Guineafowl is a large (53-58 cm) bird with a round body and small head. They weigh about 1.3 kg. The body plumage is gray-black spangled with white. Like other guineafowl, this species has an unfeathered head, in this case decorated with a dull yellow or reddish bony knob, and red and blue patches of skin. The wings are short and rounded, and the tail is also short. More
helmeted guineafowl187 vuesthecure4burton * guinea fowl0:47 * Ajouter à la file d'attente Ajoutée à la file d'attente guinea fowl5349 vuestagaff * Guineafowl Procession3:01 * Ajouter à la file d'attente Ajoutée à la file d'attente Guineafowl Procession215 vueswildcastr More
Helmeted guineafowl occupy a wide variety of habitats but they seem to prefer open country and shrub grasslands. Except during breeding season, they live in large flocks of up to 200 birds. Sometimes the members of the flock will mount a communal defense against predators. Guineafowl spend the day feeding on the ground, primarily in the early morning and late afternoon/early evening. They eat a variety of foods, from seeds, bulbs, berries and flowers to grasshoppers, termites, snails and other small invertebrates. More
The helmeted guineafowl (Numida meleagris) has a bony casque or helmet on top of its head covered with horny cartilage. Each of the nine subspecies of helmeted guineafowl has a characteristic helmet shape. Each is also characterized by different coloring of the bare parts of the head, wattle, and neck feathers, as well as by the absence or presence of conspicuous bristles near the nostrils. More
The helmeted guineafowl is capable of strong flight, but it is mainly terrestrial often choosing to run rather than fly. It typically roosts in trees. 2. Pairs remain monogamous. This diurnal bird calls with a rasping, stuttering, grating "keerrrr". Lives in flocks of up to hundreds of birds, and forages on open ground. 3. Guineafowl are both monomorphic and monochromatic - meaning both sexes look and act alike. 4. More
helmeted guineafowl, the crested guineafowl alarm call is also a staccato "chuk-chuk-chukchukerr." The lower pitch may be due, in part, to its windpipe being housed in the hollowed-out blade of its wishbone. Crested guineafowl are noisy, sometimes calling well into the night and during the quiet pre-dawn hours. Flock members keep in contact by emitting a low-pitched "chuk" call. Male crested guineafowl apparently do not have a hump-backed display as in the helmeted guineafowl, but rather cock their tails like bantams when alarmed. More
Helmeted Guineafowl pair-up and nest from October to April in a nest which consists of a scrape in the ground lined with grass. Eggs, which are creamy white to yellow brown in colour, can number six to ninteen. STATUS A very common resident. More
Helmeted Guineafowl are great runners, and can readily cover 10 km and more in a day. They make loud harsh calls when disturbed. Their diet consists of a variety of animal and plant food; seeds, fruits, greens, snails, spiders, worms and insects, frogs, lizards, small snakes and small mammals. More
Helmeted Guineafowl is often domesticated, and it is this species that is sold in Western supermarkets. Retrieved from " http://en.wikipedia.org/wiki/Helmeted_Guineafowl" The Schools Wikipedia is sponsored by SOS Children , and is a hand-chosen selection of article versions from the English Wikipedia edited only by deletion (see www.wikipedia.org for details of authors and sources). The articles are available under the GNU Free Documentation License. See also our Disclaimer. This article was sourced from http://en.wikipedia.org/?oldid=212821382 . More
Helmeted Guineafowl (Numida meleagris) in Pilanesburg National Park Helmeted Guineafowl Locations for recordings with GPS coordinates Results 1 - 4 of 4 from 1 species for sp:5368.00 (foreground species only). More
Distribution of Helmeted guineafowl in southern Africa, based on statistical smoothing of the records from first SA Bird Atlas Project (© Animal Demography unit, University of Cape Town; smoothing by Birgit Erni and Francesca Little). Colours range from dark blue (most common) through to yellow (least common). See here for the latest distribution from the SABAP2. More
species, the Helmeted Guineafowl, is the ancestor of all domestic guineafowl. This section will introduce you to all species, with avicultural data on the four kept in captivity. Native to the New World, the family Meleagrididae consists of two large game bird species, the Ocellated Turkey and the ancestor of one the world's most familiar barnyard bird, the Wild Turkey. More
* Helmeted Guineafowl on Facebook * GarageBand page * Helmeted Guineafowl on MySpace Fan Wall Add a post * Apr 26 2008, 07:05 PM you're fun(ny). More
Helmeted Guineafowl (Numida meleagris) in Pilanesburg National Park Helmeted Guineafowl Locations for recordings with GPS coordinates page 1 Helmeted Guineafowl Song Numida meleagris (0:31) Patrik Åberg XC28607 23-12-2006, South Africa Helmeted Guineafowl Pre-roost call Numida meleagris (0:31) Derek Solomon XC41614 25-10-06, Zambia Helmeted Guineafowl Alarm More
Helmeted Guineafowl are great runners, and can run 5 km in a day. It makes loud harsh calls when disturbed. Their diet consists of a variety of animal and plant food; seeds, berries, greens, small snails, spiders, and insects. - horia, Janice, pablominto, jcoowanitwong, scottevers7, ramthakur, jrubiocasado, magal, Argus, mario-roberto, pauljk, jmp, dantor has marked this note useful Only registered TrekNature members may rate photo notes. More
Helmeted GuineafowlNumida meleagris Helmperlhuhn / Perleh More