Plain chachalaca
In Central America, this species occurs in the Pacific lowlands from Chiapas, Mexico to northern Nicaragua and as a separate population in Costa Rica, where its range is separated by a short distance, as a disjunct population.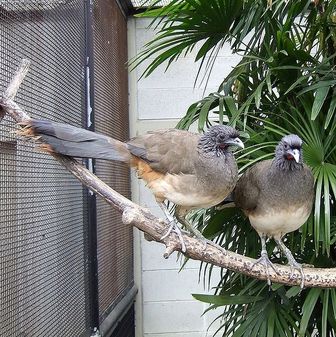 Picture of the Plain chachalaca has been licensed under a Creative Commons
Attribution-Share Alike
.
Original source
: : http://opencage.info/pics/large_8003.asp
The Plain chachalaca is classified as Least Concern. Does not qualify for a more at risk category. Widespread and abundant taxa are included in this category.

The Plain Chachalaca, Ortalis vetula, is a large bird in the Cracidae family. It breeds in tropical and subtropical environments from mezquital thickets in the Rio Grande Valley in southernmost Texas, United States to northernmost Costa Rica. In Central America, this species occurs in the Pacific lowlands from Chiapas, Mexico to northern Nicaragua and as a separate population in Costa Rica, where its range is separated by a short distance, as a disjunct population. More
* The Plain Chachalaca is the only member of the family of guans, currasows, and chachalacas to reach the United States. The family contains approximately 50 species, ranging from Mexico to southern South America, many of which are endangered by over-hunting. * Unlike most other chicken relatives in North America, the Plain Chachalaca is largely arboreal, spending most of its time foraging in trees. More
Plain Chachalaca - Ortalis vetula = Characteristics Range Habitat Diet Life Cycle Behavior Classification Phylum: Chordata Class: Aves Order: Galliformes Family: Cracidae Genus: Ortalis Plain Chachalaca Click on the images for a larger view. Listen to the Plain Chachalaca. More
A juvenile Plain Chachalaca eating a grapefruit fallen from a tree at the Frontera Audubon Reserve in Weslaco, Texas, USA. A juvenile Plain Chachalaca eating a grapefruit fallen from a tree at the Frontera Audubon Reserve in Weslaco, Texas, USA. A side view of a Plain Chachalaca as it walks along on a limb of a tree in a wooded area in the Frontera Audubon Reserve in Weslaco, Teaxs, USA. More
Status: Plain Chachalaca is a locally common resident throughout the Valley, occupying dense woodlands from Falcon Dam to the Laguna Madre. Most often seen at refuge feeders where they can be common to abundant. This noisy bird often travels in small groups, yet sometimes occurs in large groups of up to 30 birds or more. Chachalacas are often seen foraging along the ground, climbing in trees, or gliding from the mid-canopy levels of tall shade trees. More
The Plain Chachalaca (Ortalis vetula) typically occurs in small groups of 3-5 individuals in tall, thorny thickets, scrubland, and second-growth forest edge along the Gulf-Caribbean slope from the Lower Rio Grande Valley of Texas and Nuevo Leon, Mexico south to Honduras and Costa Rica. This native, non-migratory gamebird is similar in size and form to a female Ring-necked Pheasant (Phasianus colchicus) and is named for the raucous, ear-splitting chorus a flock makes. More
* Plain Chachalaca, Ortalis vetula * Utila Island Chachalaca, Ortalis vetula deschauenseei (not seen for many years until rediscovery in 2005) * Grey-headed Chachalaca, Ortalis cinereiceps * Chestnut-winged Chachalaca, Ortalis garrula * Rufous-vented Chachalaca, Ortalis ruficauda * Rufous-headed Chachalaca, Ortalis erythroptera * Rufous-bellied Chachalaca, Ortalis wagleri * More
The full morning chorus of the plain chachalaca (Ortalis vetula) is unforgettable. One of these birds, sitting in a tree above dense secondary growth, calls with a rough, unmelodic, but remarkably strong voice, "cha cha lack, cha cha lack." The neighbors take part and a real din of loud calls arises. When those nearby have become quiet, one hears other more distant voices. The chorus seems to decline until from a distance of over half a mile (1 km), one can hear no more. More
Plain ChachalacaOrtalis vetula Order GALLIFORMES – Family CRACIDAE Issue No. 550 Authors: Peterson, Markus J. * Articles * Multimedia * References Courtesy Preview This Introductory article that you are viewing is a courtesy preview of the full life history account of this species. The remaining articles (Distribution, Habitat, Behavior, etc. More
The Plain Chachalaca has a large range, estimated globally at 610,000 square kilometers. Native to the United States and Mexico as well as Belize, Guatemala, Costa Rica, Honduras, and Nicaragua, this bird prefers subtropical or tropical forest and shrubland ecosystems and can live in degraded former forests as well. The global population of this bird is estimated at 500,000 to 5,000,000 individuals and does not show signs of decline that would necessitate inclusion on the IUCN Red List. More
vues sclateria — 9 avril 2007 — A pair of Plain Chachalacas (Ortalis vetula) on the grounds of Reserva La Jungla near Catemaco, Veracruz - Mexico. sclateria — 9 avril 2007 — A pair of Plain Chachalacas (Ortalis vetula) on the grounds of Reserva La Jungla near Catemaco, Veracruz - Mexico. More
Aspects of the topic plain chachalaca are discussed in the following places at Britannica. Assorted References * description (in curassow (bird)) The chachalacas comprise 11 species and are the smallest and least arboreal members of the family. Typical is the plain chachalaca (Ortalis vetula), a 50-centimetre species, ranging from the Texas border to Nicaragua. Weighing about 0. More
Plain Chachalaca: Found primarily in Mexico and the Neotropics. Extends into the U.S. in southern Texas along the lower Rio Grande valley. Inhabits forested areas, particularly early successional and forest edges, thorn scrub, and brushy thickets. Breeding and Nesting Plain Chachalaca: Monogamous and territorial. Both sexes build nest of twigs, spanish moss, green leaves, and vines on old nests of smaller species. More
* Plain Chachalaca - Cornell Lab of Ornithology factsheet. * Plain Chachalaca - Mangoverde World Bird Guide Species Page; Images & Sounds. * Plain Chachalaca - USGS Patuxent Bird Identification InfoCenter. * Wikipedia - Plain Chachalaca - Wikipedia's species page. - More
The Plain Chachalaca is a mighty member of the family Cracidae, the only one in fact that frequents the U.S. Like most of its chachalaca, guan, and curassow kin, Ortalis vetula is large and somewhat gallinaceous. While that bulky body, small head, and long tail tipped with white may call to mind turkeys, this avian has obvious arboreal tendencies, though it will come down for free food. More
The plain chachalaca prefers to live close to water in river woodlands and thickets and range from the Rio Grande Valley in southern Texas to Nicaragua and Costa Rica. The plain chachalaca is a very noisy bird and at dawn and sunset groups of them will call loudly from the treetops. Their menu consists of leaves, grain, berries, buds, and sometimes insects. Locate counties with an chachalaca season by using the drop down menu above. More
United States harbors only a single species: the plain chachalaca (Ortalis vetula). About 13 of the cracids are regionally restricted (six restricted to Brazil, three to Colombia, two to Mexico, and one each to Peru and Trinidad). The species with the widest distributions are perhaps the rusty-margined guan (Penelope superciliaris), which ranges through most of eastern tropical South America, and Spix's guan (Penelope jacquacu), which ranges through most of the western Amazon Basin. More
Plain Chachalaca (Ortalis vetula) range map Copyright© 2007 Cracid Specialist Group. All rights reserved. Do not redistribute or duplicate this web site in any form. Site created and maintained by BirdPhotos. More
Plain ChachalacaPlain ChachalacaPlain Chachalaca To use any of the clipart images above (including the thumbnail image in the top left corner), just click and drag the picture to your desktop. You may also control-click (Mac) or right-click (Windows) and choose "Save file to disk" from the pop-up menu. Click here for help downloading and using clipart files. More
Plain Chachalaca (Ortalis vetula) Range: NA,MA (range map) more info Photo by Vic Murayama Gulf Coast Texas Sizes: Full size: 1400x1000 next (Razor-billed Curassow) last first previous (Little Chachalaca) Plain Chachalaca Copyright and usage info: Copyright © 2005-2009 Vic Murayama. All Rights Reserved. These images are protected by copyright and may not be reproduced or transmitted by any means without the permission of the owner. More
This gallery contains images of the Plain Chachalaca, Ortalis vetula Plain Chachalaca Plain Chachalaca Plain Chachalaca Plain Chachalaca post a comment click on thumbnails for full image More