Rufous-vented Chachalaca
Rufous-vented Chachalaca is a largely arboreal species found in forest and woodland, but it is also found in more open dry scrubby areas. This combined with relatively low hunting pressure, make it far less vulnerable than larger members of the family, notably curassows.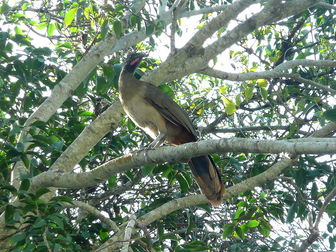 Picture of the Rufous-vented Chachalaca has been licensed under a Creative Commons
Attribution
.
Original source
: originally posted to Flickr as Guacharaca del norte
Author
: Cristóbal Alvarado MinicPermission(Reusing this file)This image, which was originally posted to Flickr.com, was uploaded to Commons using Flickr upload bot on 15:33, 2 January 2010 (UTC) by Snowmanradio (talk). On that date it was licensed under the license below.This file is licensed under the Creative Commons Attribution 2.0 Generic license.You are free:to share – to copy, distribute and transmit the work
The Rufous-vented Chachalaca is classified as Least Concern. Does not qualify for a more at risk category. Widespread and abundant taxa are included in this category.

Rufous-vented Chachalaca, Ortalis ruficauda Scientific classification Kingdom: Animalia Phylum: Chordata Class: Aves Order: Galliformes Family: Cracidae Genus: Ortalis Merrem, 1786 Species 12-15 (extant), see text. Chachalacas are one of the groups of cracid birds. More
The Rufous-vented Chachalaca, Ortalis ruficauda, is a member of an ancient group of birds of the Cracidae family, which are related to the Australasian mound builders. It inhabits northeast Colombia and northern Venezuela where it is called Guacharaca, and in Tobago where it is known as the Cocrico. It is also found on Bequia and Union Island in the Grenadines where it may have been introduced. More
Rufous-vented Chachalaca (Ortalis ruficauda) = French: Ortalide à ventre roux German: Rotschwanzguan Spanish: Chachalaca Culirroja Other common names: Rufous tailed/Red tailed Chachalaca; Rufous tipped Chachalaca (ruficauda) Taxonomy: Ortalida ruficauda Jardine, 1847, Tobago. Race ruficrissa has been considered separate species, but intergradation with ruficauda occurs N of Cúcuta, in N Colombia, and in hinterland of L Maracaibo, Venezuela; birds of latter area have been awarded different race, baliolus (see page 312). More
As other chachalacas, the Rufous-vented Chachalaca is a very noisy species, preferring to execute their vocal feats at dawn. The male's call is a loud low ka-ka-rooki-rooki-ka, answered by the female's high-pitched watch-a-lak. It is utterly impossible to duplicate or even imitate their calls with the human voice. The species is a social bird, often seen in family groups. It walks along branches seeking the fruit and seeds on which it feeds. More
| Rufous-vented Chachalaca in English Use Babylon to translate to various languages Copyright © 1997-2007 Babylon. More
Rufous-vented Chachalaca Ortalis ruficauda = * Home Expand Log in Menu item Register Menu item Log out Menu item Change login details Menu item Why register? Expand UK & Ireland Menu item Birding sites More
Stamps showing Rufous-vented Chachalaca Ortalis ruficauda Rufous-vented Chachalaca Ortalis ruficauda Rufous-vented Chachalaca Ortalis ruficauda Distribution map for Rufous-vented Chachalaca, range 8.002 Rufous-vented Chachalaca IOC v2.4: 86 Links will open countrypage in new window - Trinidad & Tobago 01.04.1969 Definitives - Venezuela 14.12.1962 Birds - NO IMAGE PRESENTED - Trinidad & Tobago 01.07. More
Rufous-vented Chachalaca (Ortalis ruficauda) range map On island of Tobago. Photo copyright © Mick Dryden (JerseyBirds.co.uk) Rufous-vented Chachalaca, or Cocrico (right), on the Trinidad and Tobago coat of arms. Copyright© 2007 Cracid Specialist Group. All rights reserved. Do not redistribute or duplicate this web site in any form. Site created and maintained by BirdPhotos. More
Rufous-vented Chachalaca (Ortalis ruficauda) = Rufous-vented Chachalaca (Ortalis ruficauda) by mountainpath2001.Like most chachalacas, greets dawn with loud chorus as groups shout back and forth to each other. Very social birds usually occuring in family groups. f/5.6, exp comp 0, iso 1600, 1/60. To take full advantage of Flickr, you should use a JavaScript-enabled browser and install the latest version of the Macromedia Flash Player. Comments view profile Keith@Worldbirds. More
Site Meter Rufous-vented Chachalaca (Ortalis ruficauda) Rufous-vented Chachalaca (Ortalis ruficauda) Savanna Hawk (Buteogallus meridionalis) Photo descriptionLike most chachalacas, greets dawn with loud chorus as groups shout back and forth to each other. Very social birds usually occuring in family groups. f/5.6, exp comp 0, iso 1600, 1/60. More
Rufous-vented Chachalaca (Ortalis ruficauda)Rufous-vented Chachalaca (Ortalis ruficauda)f/6.3, exp comp minus two-thirds, iso 1600, 1/60. Uploaded May 9, 2006 / 0 comments / Flickr URL Rufous-vented Chachalaca (Ortalis ruficauda)Rufous-vented Chachalaca (Ortalis ruficauda)Like most chachalacas, greets dawn with loud chorus as groups shout back and forth to each... More
Rufous-vented Chachalaca Ortalis ruficauda = Grafton Caledonia Bird and Wildlife Sanctuary, Tobago, Trinidad and Tobago - Mar 18, 2003 More
Rufous-vented Chachalaca Ortalis ruficauda = Described by: Jardine (1847) Alternate common name(s): Rufous-tailed Chachalaca, Rufous-tipped Chachalaca, Red-tailed Chachalaca Old scientific name(s): None known by website authors Photographs Tobago, Trinidad and Tobago - Feb, 2006 More
Rufous-vented Chachalaca is a very noisy species. The male's call is a loud low ka-ka-rooki-rooki-ka, answered by the female's high-pitched watch-a-lak. It is also a social bird, often seen in family groups. It walks along branches seeking the fruit and seeds on which it feeds, or flies off with a flap and glide. More
Rufous-vented Chachalaca, Ortalis ruficauda Cracidae (GUANS, CHACHALACAS & CURASSOWS) Rufous-vented Chachalaca, Ortalis ruficauda This photo was taken in: Trinidad and Tobago This photo was taken with: Canon Power Shot S50 Notes on this photo: They are very numerous there and a bit of a pest, besides being the national bird of Tobago. More
Rufous-vented Chachalaca (Ortalis ruficauda) by Juan Pablo López Ordóñez. More