Yellow-knobbed Curassow
The Yellow-knobbed Curassow is a large species of bird found in forest and woodland in Colombia and Venezuela. It feeds mainly on the ground, but flies up into trees if threatened. Its most striking features are its crest, made of feathers that curl forward, and the fleshy yellow knob at the base of its bill. Females lack this fleshy yellow knob, but otherwise resemble the male in the plumage, being overall black with a white crissum. The adult is 84-92.5 cm It eats fruits, leaves, seeds, and small animals. Unlike most other gamebirds, curassows nest off the ground, with both sexes helping in the construction. The female lays just 2 eggs - a tiny clutch compared to those of many ground-nesting gamebirds.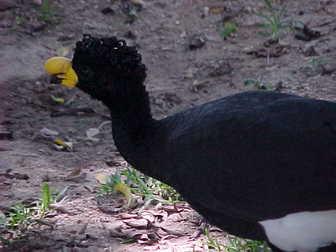 Picture of the Yellow-knobbed Curassow has been licensed under a
GFDL
Original source
: Own work
Author
: Granelia Bermúdez
Permission
: GNU Free Documentation License
The Yellow-knobbed Curassow is classified as Near Threatened (NT), is close to qualifying for or is likely to qualify for a threatened category in the near future.

In addition the male Yellow-knobbed Curassow has two pendant wattles on the man- dible. Although the adaptive significance of this ornamentation is not known, sexually selected functions have been proposed for "fleshy" or- naments in this species (Delacour and Amadon 1973, Buchholz 1989) and have been described in related species (Brodsky 1988, Zuk et al. 1990). My goal was to determine which sexual selec- tion model might account for the evolution of curassow knobs and wattles. More
The Yellow-knobbed Curassow (Crax daubentoni) is a large species of bird found in forest and woodland in Colombia and Venezuela. It feeds mainly on the ground, but flies up into trees if threatened. Its most striking features are its crest, made of feathers that curl forward, and the fleshy yellow knob at the base of its bill. Females lack this fleshy yellow knob, but otherwise resemble the male in the plumage, being overall black with a white crissum. The adult is 84-92. More
daubentoni)! Yellow-knobbed Curassow Day was decreed by Brad Walker, one of the current techs working on the Forpus project that I participated in last fall. Reasons for this decree are unimportant - the magnificence and wonder of these birds overwhelms all. During my time in Venezuela, I repeatedly tried to capture that magnificence on camera but was left crying in abject failure. More
Images Yellow-knobbed curassow at the edge of a body of water The most striking features of this large forest bird are its crest of forward-curling feathers and the fleshy yellow knob and wattles at the base of its bill, for which the species earns its common name. Like other curassows, the male's plumage is ... More
Yellow-knobbed curassow at the edge of a body of water Yellow-knobbed curassow at the edge of a body of waterPrint factsheet Facts - Spanish: Pavón Porú Kingdom Animalia Phylum Chordata Class Aves Order Galliformes Family Cracidae Genus More
For the purposes of our bird news services, Yellow-knobbed Curassow is classed as Ungraded: species which are unlikely to appear as wild birds in Britain or Ireland hide section Most recent photos of Yellow-knobbed Curassow (1) Hato Pinero, Lloanos, Venezuela Hato Pinero, Lloanos, Venezuela10/02/2008 Hato Pinero, Lloanos, Venezuela 10/02/2008 View all pictures of Yellow-knobbed Curassow View all pictures of Yellow-knobbed Curassow show section External Links (0) We currently have no external links for More
Diet of the yellow-knobbed Curassow in the central Venezuelan Llanos.(Report) (The Wilson Journal of Ornithology) FRUGIVORY OF SALVIN'S CURASSOW IN A RAINFOREST OF THE COLOMBIAN AMAZON. (Wilson Bulletin) Curassows and Related Birds.(Book Review) (Wilson Bulletin) Curassows and Related Birds.(Ornithological Literature)(Book review) (The Wilson Journal of Ornithology) Birds and buoys (The Spectator) Fauna fun.(Kickshaws)(animal names)(Brief article) (Word Ways) Notes About the Distribution of Pauxi pauxi and Aburria aburri in Venezuela. More
of the Great, Blue-billed, and Yellow-knobbed Curassows, which were isolated from each other by the uplift of the northern Cordillera Occidental, and the Serrania del Perija, respectively; it is fairly certain that these lineages were well distinct by the end of the Miocene. (Pereira & Baker 2004) The evolution of the 4 southern species was somewhat more complex. In the Messinian, about 6-5.5 mya, the ancestors of the Wattled Curassow became isolated in the western Amazonas basin. More