Greater roadrunner
The roadrunner is about 56 centimetres long and weighs about 300 grams , and is the largest North American cuckoo. The adult has a bushy crest and long thick dark bill. It has a long dark tail, a dark head and back, and is blue on the front of the neck and on the belly. Roadrunners have four toes on each zygodactyl foot; two face forward, and two face backward.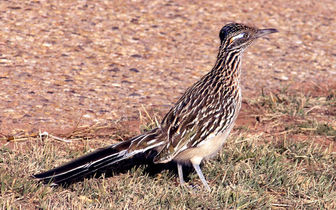 Picture of the Greater roadrunner has been licensed under a
GFDL
Permission
: GNU Free Documentation License
The Greater roadrunner is classified as Least Concern. Does not qualify for a more at risk category. Widespread and abundant taxa are included in this category.

Greater roadrunners are primarily a species of the southwestern United States, but their full range includes other areas as well. They occur in California, Arizona, Nevada, Utah, Colorado, Texas, New Mexico, Kansas, Oklahoma, Louisiana, and Arkansas. Their range continues into southern Mexico, where their closest relative the lesser roadrunner (Geococcyx velox) becomes the dominant species. (Baughman, 2003; Stokes and Stokes, 1996; Youth, 1997) Biogeographic Regions: nearctic (native ). More
and behavioral adaptations, the Greater Roadrunner thrives in arid regions but is equally at home in the Colorado foothills or among the loblolly pines of western Louisiana. An opportunistic predator, it feeds on snakes, lizards, spiders, scorpions, insects, birds, rodents, and bats, which it beats repeatedly against a hard substrate before consuming. During severe food shortages, the Greater Roadrunner may eat its own young. Greater Roadrunners are monogamous, maintain a long-term pair bond, and mutually defend a large, multipurpose territory. More
Greater roadrunners often become habituated to the presence of people, but this one was particularly approachable. The roadrunner has a dove-like "coo" that is slow and descending. Its distinct mating call is a very domineering tone, descending from a high pitch. It also makes a rapid clattering sound with its mandibles. Ogg vorbis file of clattering sound made with mandibles. Play soundRoadrunner Clatter. More
Greater Roadrunner in West Texas Conservation status Least Concern (IUCN 3. More
The Greater Roadrunner is a long-legged member of the cuckoo family found throughout the southern United States and northern Mexico. This species is the state bird of New Mexico, and can be seen in its breeding habitat in deserts and shrublands. The Greater Roadrunner is found in California, Arizona, New Mexico, Texas, Nevada, Utah, Colorado, Oklahoma, Kansas, and sometimes Arkansas, Missouri and Louisiana. More
Although the Greater Roadrunner occurs throughout Texas, is well known, is the topic of much folklore, and is a very popular cartoon character, the only field research studies that have been conducted are in desert scrub or brush-grassland habitats in South Texas. As a popular multicultural iconic bird, from prehistory to modern time, it is surprising that it was one of the last bird species to be given state protection because of the mistaken belief that roadrunners were a threat to declining quail populations. More
The Greater Roadrunner is a signature bird of the desert Southwest. During the 20th century, its range expanded all the way to southern Missouri and western Louisiana. A ground-dwelling cuckoo, it feeds on snakes, scorpions, and any other small animal it can catch and subdue. More
The Greater Roadrunner (Geococcyx californianus) is a long-legged bird in the cuckoo family, Cuculidae. It is one of the two roadrunner species in the genus Geococcyx; the other is the Lesser Roadrunner. This roadrunner is also known as the Chaparral Cock. More
The Greater Roadrunner nests on a platform of sticks low in cactus or a bush and lays 3-6 eggs which hatch in 20 days. The chicks fledge in another 18 days. Pairs may occasionally rear a second brood. This bird walks rapidly about, running down prey or occasionally jumping up to catch insects or birds. It mainly feeds on insects, small reptiles, rodents, tarantulas, scorpions and small birds. More
A Greater Roadrunner standing alongside a road leading into Falcon State Park near Salineno, Texas, USA. A Greater Roadrunner standing alongside a road leading into Falcon State Park near Salineno, Texas, USA. A Greater Roadrunner showing off its running abilities, as its crosses a road leading into Falcon State Park near Salineno, Texas, USA. A Greater Roadrunner showing off its running abilities, as its crosses a road leading into Falcon State Park near Salineno, Texas, USA. More
An always endearing and even comical bird, the greater roadrunner can often be found around picnic tables in campgrounds. State bird of New Mexico. More
Bent Life History for the Greater Roadrunner - the common name and sub-species reflect the nomenclature in use at the time the description was written. ROADRUNNER GEOCOCCYX CALIFORNIANUS CONTRIBUTED BY GEORGE MIKSCH SUTTON HABITS Most ornithologists are to some extent acquainted with the roadrunner. They have read about him. They have heard strange stories about him. Perhaps, driving along some road in the Southwestern United States, they have even seen him. More
The Greater Roadrunner is found in the deserts and and sparsely wooded and grassy areas of the Southwestern United States from Arkansas to California, and can also be found in parts of Mexico. Diet Greater Roadrunners will eat insects, lizards, spiders, snakes, fruits, seeds and sometimes rodents. More
The Greater Roadrunner (Geococcyx californianus) is a resident bird across most of the American southwest as well as much of Mexico. Perhaps no other bird species is as familiar to the general public as is the roadrunner. From cartoon characters to advertising icons, the roadrunner has gained a wide popularity across the United States. The Greater Roadrunner is a member of the cuckoo family and some of its vocalizations do indeed sound like a cuckoo. More
Greater Road RunnerThe greater roadrunner is a member of the cuckoo family. It is a ground bird that is about two feet in length. It has speckled brown and black feathers on its back and wings and a lighter throat and chest with dark stripes. It has long legs, a very long tail and yellow eyes. It has a crest on its head and the male has a red and blue patch of skin on the side of its head. More
The greater roadrunner is a ground dwelling bird and is a member of the cuckoo family. It is the only roadrunner species that inhabits the United States. The roadrunner has brown feathers streaked with white, a bushy crest, a long bill and a very long tail. Its wings are short and rounded. Roadrunners have two toes that point forward and two that point back. More
Greater Roadrunners have been extirpated from the Point Lobos, Carmel Valley and the Monterey Peninsula. CURRENT BREEDING DISTRIBUTION: In California, roadrunners occur from the foothills of Sacramento Valley, Owens Valley in e. California, and widespread s. California up to 2,300 meters, (McCaskie et al. 1988, Small 1994 in Hughes 1996). Lovio (1996) observed roadrunners regularly occurring in coastal sage scrub adjacent to suburban development in the vicinity of Sweetwater Reservoir, San Diego Co. Nesting was also recorded. More
The Greater Roadrunner (Geococcyx californianus), is a large, long-legged bird in the cuckoo family, Cuculidae. It is one of the two roadrunner species in the genus Geococcyx. The roadrunner is also known as the Chaparral Cock. The breeding habitat is desert and shrubby country in the southwestern United States and northern Mexico. It can be seen in the US states of California, Arizona, New Mexico, Texas, Nevada, Utah, Colorado, Oklahoma, Kansas,and rarely in Arkansas, Missouri, and Louisiana. More
Greater roadrunners have also been observed "sunbathing." DIET: The diet of the greater roadrunner is omnivorous and varied, a good strategy for survival in the typically harsh environments of the southwest. REPRODUCTION AND DEVELOPMENT: Greater roadrunner pairs may mate for life. The breeding and nesting seasons vary geographically. In regions where there is one rainy season they nest only in the spring. More
Greater Roadrunner Nsting on Aircompressor - by Cindy (Hgh Desert Mtns So. Cal.) The Greater Roadrunner The Greater Roadrunner Now this is something almost no-one gets the opportunity to see! A Roadrunner, nesting near our garage in the cabinet surrounding our Air-compressor! Usually Doves will try and nest there, almost every year. My Husband walked up to the compressor to turn it on.. More
Greater roadrunners live in the deserts, grasslands and open woodlands of southwestern U.S.A. and Mexico, including the Mojave, Sonoran and Chihuahuan deserts. Feeding Habits Greater roadrunners feed on a variety of organisms, including insects, small rodents, birds, lizards and snakes. They are so quick that they can even catch a rattlesnake darting along the ground or a dragonfly flying through the air. More
The greater roadrunner is most common in desert areas, but it can also be found in chaparral, grasslands, open woodlands and agricultural areas. Diet The greater roadrunner eats small snakes, lizards, mice, scorpions, spiders, ground nesting birds and insects. It also eats fruits and seeds. Life Cycle The female lays three to six eggs in a stick nest lined with grass. More