African Cuckoo
The African Cuckoo is a species of cuckoo in the Cuculidae family. It is found in Angola, Benin, Botswana, Burkina Faso, Cameroon, Central African Republic, Chad, Republic of the Congo, Democratic Republic of the Congo, Côte d'Ivoire, Djibouti, Eritrea, Ethiopia, Gabon, Gambia, Ghana, Guinea-Bissau, Kenya, Liberia, Malawi, Mali, Mauritania, Mozambique, Namibia, Niger, Nigeria, Rwanda, Senegal, Sierra Leone, Somalia, South Africa, Sudan, Swaziland, Tanzania, Togo, Uganda, Zambia, and Zimbabwe.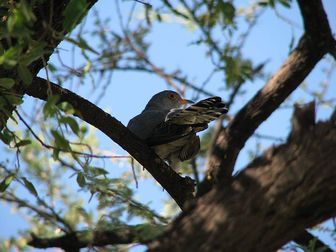 Picture of the African Cuckoo has been licensed under a Creative Commons
Attribution-Share Alike
.
Original source
: Flickr here
Author
: Flickr user Alastair Rae . Photo uploaded to commons by user ltshears
The African Cuckoo is classified as Least Concern. Does not qualify for a more at risk category. Widespread and abundant taxa are included in this category.

The African Cuckoo (Cuculus gularis) is a species of cuckoo in the Cuculidae family. It is found in Angola, Benin, Botswana, Burkina Faso, Cameroon, Central African Republic, Chad, Republic of the Congo, Democratic Republic of the Congo, Côte d'Ivoire, Djibouti, Eritrea, Ethiopia, Gabon, Gambia, Ghana, Guinea-Bissau, Kenya, Liberia, Malawi, Mali, Mauritania, Mozambique, Namibia, Niger, Nigeria, Rwanda, Senegal, Sierra Leone, Somalia, South Africa, Sudan, Swaziland, Tanzania, Togo, Uganda, Zambia, and Zimbabwe. More
The African Cuckoo (Cuculus gularis) is species that is common throughout sub-Saharan Africa. This cuckoo is an intra-African breeding migrant, arriving in its breeding territory of southern Africa around August-September and departing around March-April. This species is fairly common in Zimbabwe, north-central Namibia, KwaZulu-Natal and Botswana. More
The African Cuckoo-Hawk (Aviceda cuculoides) is a medium-sized raptor in the family Accipitridae resembling a Common Cuckoo, found in sub-Saharan Africa and along the eastern parts of Southern Africa. It prefers dense woodland and forest of either indigenous or exotic trees. In flight It is a mostly solitary and skulking bird, flying between trees in short glides with wings held high, swooping up at end of glide and perching. More
A female African Cuckoo-Hawk in Arusha National Park and other smaller gems. Submitted by James on Wed, 2007-02-21 09:28. More
The African cuckoo occupies huge areas of sub-Saharan Africa, absent from parts of the DRC, Somalia, South Africa and Namibia. It usually occurs in open woodland and Acacia savanna, mostly eating caterpillars. It exclusively parasitizes Fork-tailed drongos: the male distracts them whilst the female flies in to the nest, removes any existing eggs before laying one of its own. Soon after hatching, the chick removes any existing Drongo eggs or chicks in the nest, remaining in the nest for about 23 days before leaving. More
The African Cuckoo-Hawk (Aviceda cuculoides) is a medium-sized raptor in the family Accipitridae resembling a Common Cuckoo, found in sub-Saharan Africa and along the eastern parts of Southern Africa. It prefers dense woodland and forest of either indigenous or exotic trees. More
African cuckoo kruger national park birds The African Cuckoo (Latin name Cuculus gularis) is described in Roberts Birds of Southern Africa, 7th Edition. This bird has a unique Roberts number of 375 and you will find a full description of this bird on page 208 also a picture of the African Cuckoo on page 208. The African Cuckoo belongs to the family of birds classified as . More
Distribution of African cuckoo hawk in southern Africa, based on statistical smoothing of the records from first SA Bird Atlas Project (© Animal Demography unit, University of Cape Town; smoothing by Birgit Erni and Francesca Little). Colours range from dark blue (most common) through to yellow (least common). Movements and migrations It is largely resident, although it may make local movements in Winter. More
The African cuckoo was identified as a separate species on the basis of its call. The African cuckoo was identified as a separate species on the basis of its call. Cuckoos are often highly secretive and in many cases best known for their wide repertoire of calls. Calls are usually relatively simple, resembling whistles, flutes, or hiccups (Brooke and Horsfall 2003. More
a picture of the African Cuckoo Hawk on page 433. The African Cuckoo Hawk belongs to the family of birds classified as Accipitridae. According to the Percy FitzPatrick Institute of African Ornithology the African Cuckoo Hawk is also known by these other names: African Cuckoo Falcon, West African Cuckoo Falcon, Cuckoo Falcon. More
CONSERVATION: African Cuckoo-Falcon Home What's New About Contribute Submissions Rainforests Mission Introduction Characteristics Biodiversity The Canopy Forest Floor Forest Waters Indigenous People Deforestation Consequences Saving Rainforests Amazon rainforest More
African Cuckoo Cuculus gularis = Described by: Stephens (1815) Alternate common name(s): Grey Cuckoo, Gray Cuckoo Old scientific name(s): None known by website authors Photographs Etosha National Park, Namibia - Oct, 2008 More
African Cuckoo, Cuculus gularis Cuculidae (CUCKOOS) African Cuckoo, Cuculus gularis This photo was taken in: Gambia This photo was taken with: Nikon Coolpix 995 handheld to a leica APO scope with 32x lens The photo was taken by: Steve Bird , Birdseekers The Gambia 272 Species of Birds seen ( 1 week ) Birdseekers Tour reports Birdwatching Holidays around the More
* African Cuckoo, Cuculus gularis * Oriental Cuckoo, Cuculus saturatus * Horsfield's Cuckoo, Cuculus horsfieldi * Lesser Cuckoo, Cuculus poliocephalus * Madagascar Cuckoo, Cuculus rochii More
African Cuckoo Cuculus gularis 236. Green (Red-billed) Wood-Hoopoe Phoeniculus purpureus 177. Red-chested Cuckoo Cuculus solitarius 237. Common (Greater) Scimitarbill Rhinopomastus cyanomelas 178. Black Cuckoo Cuculus clamosus 238. Trumpeter Hornbill Bycanistes bucinator 179. Great Spotted Cuckoo Clamator glandarius 239. African Grey Hornbill Tockus nasutus 180. Levaillants (Striped) Cuckoo Clamator levaillantii 240. More
African Cuckoo Cuculus gularis = Etosha National Park, Namibia - Oct, 2008 More
The African Cuckoo was identified as a separate species on the basis of its call. Cuckoos are often highly secretive and in many cases best known for their wide repetoire of calls. The cuckoo family gets its English and scientific names from the call of the Common Cuckoo, which is also familiar from cuckoo clocks. Some of the names of other species and genera are also derived from their calls, for example the koels of Asia and Australasia. More