Klaas's Cuckoo
The species was named by French explorer François Le Vaillant after his Khoikhoi servant. Le Vaillant was the only colonial biologist to name a bird species after local people.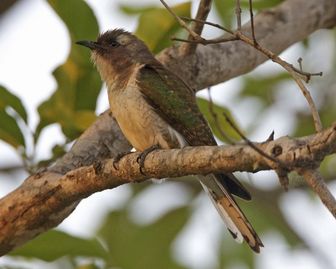 Picture of the Klaas's Cuckoo has been licensed under a Creative Commons
Attribution-Share Alike
.
Original source
: originally posted to Flickr as Klaas's Cuckoo (Chrysococcyx klaas)
Author
: Lip Kee YapPermission(Reusing this file)This image, which was originally posted to Flickr.com, was uploaded to Commons using Flickr upload bot on 10:28, 25 October 2009 (UTC) by Attis1979 (talk). On that date it was licensed under the license below. This file is licensed under the Creative Commons Attribution-Share Alike 2.0 Generic license.You are free:to share – to copy, distribute and transmit the work
The Klaas's Cuckoo is classified as Least Concern. Does not qualify for a more at risk category. Widespread and abundant taxa are included in this category.

The Klaas's Cuckoo (Chrysococcyx klaas) is a species of cuckoo in the Cuculidae family. It is found in Angola, Benin, Botswana, Burkina Faso, Burundi, Cameroon, Central African Republic, Chad, Republic of the Congo, Democratic Republic of the Congo, Ivory Coast, Equatorial Guinea, Eritrea, Ethiopia, Gabon, Gambia, Ghana, Guinea, Guinea-Bissau, Kenya, Liberia, Malawi, Mali, Mauritania, Mozambique, Namibia, Nigeria, Rwanda, São Tomé and Príncipe, Senegal, Sierra Leone, Somalia, South Africa, Sudan, Swaziland, Tanzania, Togo, Uganda, Yemen, Zambia, and Zimbabwe. More
The Klaas's cuckoo is fairly common across sub-Saharan Africa, absent only from arid desert, usually occupying broad-leaved woodland. It is mainly insectivorous, specializing in butterflies and caterpillars. It is a brood parasite, meaning that it lays its eggs in other birds nests. The host, thinking that the egg is its own, incubates the egg, and cares for the chick. It lays 1 egg per nest, laying roughly 24 eggs in one breeding season. More
Klaas's Cuckoo, Nyasoso, Cameroon Klaas's Cuckoo, Nyasoso, Cameroon Klaas's Cuckoo, Nyasoso, Cameroon Klaas's Cuckoo, Nyasoso, Cameroon Klaas's Cuckoo, Nyasoso, Cameroon Klaas's Cuckoo, Nyasoso, Cameroon post a comment ELLIE 09-Oct-2009 16:23 I LOVE THE NAME AND THEY ARE REALLY NICE Type your message and click Add Comment It is best to login or register first but you may post as a guest. More
Klaas's Cuckoo (Chrysococcyx klaas) by Mike Nelson from Ghana XC45758 :: Klaas's Cuckoo (Chrysococcyx klaas) = Recording data Recordist Mike Nelson Date 07-03-10 Time 9:30am Country Ghana Location Mole National Park, Ghana Longitude W1.45'38" Latitude N9. More
The Klaas's Cuckoo (Latin name Chrysococcyx klaas) is described in Roberts Birds of Southern Africa, 7th Edition. This bird has a unique Roberts number of 385 and you will find a full description of this bird on page 211 also a picture of the Klaas's Cuckoo on page 208. The Klaas's Cuckoo belongs to the family of birds classified as cuculidae. The map of the Kruger you see on this page shows the areas (coloured orange) where this bird has been identified. More
Vaillant, Klaas's Cuckoo, Le Vaillant's Cuckoo, Narina Trogon Links to this post Tuesday, December 29, 2009 - KENYA: Looking for Leopards It was just a few hours after daybreak, under heavy cloud cover, when we came upon the most numerous of the big cats in Africa, and also the most elusive, a Leopard. More
For the purposes of our bird news services, Klaas's Cuckoo is classed as Ungraded: species that are unlikely to appear as wild birds in Britain or Ireland hide section Most recent photos of Klaas's Cuckoo (3) Yundum, Western Division, Gambia Yundum, Western Division, Gambia03/12/2007 Yundum, Western Division, Gambia 03/12/2007 Brufut Bird Sanctuary, Western Division, Gambia Brufut Bird Sanctuary, Western Division, Gambia03/12/2007 Brufut Bird Sanctuary, Western Division, Gambia 03/12/2007 Engelhardt Dam, Letaba More
Vaillant, Klaas's Cuckoo, Le Vaillant's Cuckoo, Narina Trogon 0 comments: Post a Comment Newer Post Older Post Home Subscribe to: Post Comments (Atom) Loading... Welcome to Wildside Nature Tours! - www.WildsideNatureTours.comOur blog will offer helpful information on birding and photography along with stories and trip reports. More