Dideric Cuckoo
It is a very common resident breeder in Africa south of the Sahara Desert. It is a short-distance seasonal migrant, moving with the rains. It is a solitary bird, found in open woodland, savanna and riverside bushes. Has occurred as far north as Cyprus .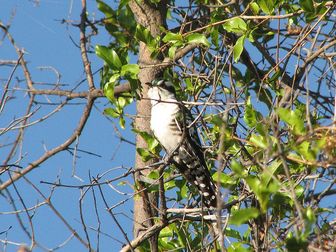 Picture of the Dideric Cuckoo has been licensed under a Creative Commons
Attribution-Share Alike
.
Original source
: Flickr here
Author
: Flickr user Alastair Rae . Photo uploaded to commons by user ltshears
The Dideric Cuckoo is classified as Least Concern. Does not qualify for a more at risk category. Widespread and abundant taxa are included in this category.

The Dideric Cuckoo or Didric Cuckoo, Chrysococcyx caprius, is a member of the cuckoo order of birds, the Cuculiformes, which also includes the roadrunners, the anis, and the Hoatzin. It is a very common resident breeder in Africa south of the Sahara Desert. It is a short-distance seasonal migrant, moving with the rains. It is a solitary bird, found in open woodland, savanna and riverside bushes. Has occurred as far north as Cyprus (1982). The Dideric Cuckoo is a brood parasite. More
The Dideric Cuckoo is a smallish cuckoo at 18 to 20 cm. Adult males are green above with copper-sheened areas on the back and whitish underparts. They have a broken white eyestripe, a green moustauchial stripe, and green outer tail feathers with small white spots. Females show more copper above, and have coppery barring on the flanks. The underparts are often washed brownish. Juveniles are more copper-coloured above and browner below than the females, and the flank markings are brown blotches. More
The Dideric Cuckoo or Didric Cuckoo, Chrysococcyx caprius, is a member of the cuckoo order of birds, the Cuculiformes, which also includes the roadrunners, the anis, and the Hoatzin. More
The Dideric Cuckoo takes a variety of insects and caterpillars. It is a noisy species, with the persistent and loud deed-er-ick call from which it gets its name. This Cuculiformes-related article is a stub. You can help Wikipedia by expanding it. More
This video of a male Dideric Cuckoo bird was shot in the wild. Dideric cuckoos typically reside in Africa south of the Sahara Desert, and they are usually, found in open woodland, savanna and riverside bushes. The Dideric Cuckoo is one of the smallest cuckoo birds, growing to full length of only 18-20 centimeters. . More
The Dideric Cuckoo takes a variety of insects and caterpillars. It is a noisy species, with the persistent and loud deed-er-ick call from which it gets its name. http://en.wikipedia.org/wiki/Dideric_Cuckoo The text in this page is based on the copyrighted Wikipedia article shown in above URL. It is used under the GNU Free Documentation License. You may redistribute it, verbatim or modified, providing that you comply with the terms of the GFDL. More