Grey-bellied Cuckoo
It breeds in tropical southern Asia from India and Sri Lanka to south China and Indonesia. It is a short-distance migrant, since birds at more northerly latitudes and on higher ground are summer visitors, leaving for warmer areas in winter.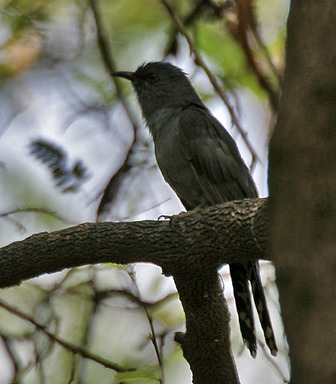 Picture of the Grey-bellied Cuckoo has been licensed under a
GFDL
Original source
: J.M.Garg
Author
: J.M.Garg
Permission
: GNU Free Documentation License
The Grey-bellied Cuckoo is classified as Least Concern. Does not qualify for a more at risk category. Widespread and abundant taxa are included in this category.

The Grey-bellied Cuckoo or the Indian Plaintive Cuckoo, Cacomantis passerinus, is a member of the cuckoo order of birds, the Cuculiformes, which also includes the roadrunners, the anis, and the Hoatzin. It breeds in tropical southern Asia from India and Sri Lanka to south China and Indonesia. It is a short-distance migrant, since birds at more northerly latitudes and on higher ground are summer visitors, leaving for warmer areas in winter. The Grey-bellied Cuckoo is a bird of light woodland and cultivation. More
The Grey-bellied Cuckoo is a smallish cuckoo at 23 cm. Adults are mainly grey with a white lower belly and undertail. Some female are of the hepatic form, which is dark-barred reddish brown above with an unbarred tail, and has strongly dark-barred whitish underparts. The juvenile is a duller greyer version of the female. Diet: The Grey-bellied Cuckoo takes a variety of insects and caterpillars. More
Grey-bellied Cuckoo Cacomantis passerinus Grey-bellied Cuckoo copyright R.Vijaykumar Thondaman / Clement Francis M Grey-bellied Cuckoo copyright R.Vijaykumar Thondaman / Clement Francis M See the Bird of the Month August 2003 The Cuckoos Part 2 article for information regarding Grey-bellied Cuckoo. COPYRIGHT: delhibird - The Northern India Bird Network. All rights reserved. More
Grey-bellied Cuckoo Cacomantis passerinus Back to Index More
* Grey-bellied Cuckoo, member of the cuckoo order of birds * Grey-bellied Dunnart, mammal of Australia Disambig gray.svg This disambiguation page lists articles associated with the same title. If an internal link led you here, you may wish to change the link to point directly to the intended article. Retrieved from "http://en.wikipedia. More
Grey-bellied Cuckoo (Cacomantis passerinus) - Wiki Grey-bellied Cuckoo (Cacomantis passerinus) - Wiki; Image ONLY Email : E-Card | Poster | Web Master Delete Edit Info Admin Description Grey-bellied Cuckoo (Cacomantis passerinus) - Wiki Grey-bellied Cuckoo From Wikipedia, the free encyclopedia Order: Cuculiformes Family: Cuculidae Grey-bellied Cuckoo (Cacomantis passerinus). Mysore, India. Source: Flickr (www.flickr.com/photos/the_mask/491408124/). Date: Taken on May 8, 2007. More
GREY-BELLIED CUCKOO * Cacomantis passerinus * 23 cms previous Click here to comment on this image next Site Map Oriental Bird Club Copyright of all images is retained by Vijay Cavale and respective copyright owners. More
Grey-bellied Cuckoo Cacomantis passerinus Grey-bellied Cuckoo Photographer : More
Grey-bellied Cuckoo (Cacomantis passerinus) is a widespread resident in India; summers in Himalayas and winters down south. More
Grey-bellied Cuckoo Forward | Print | Individual message | Show original | Report this message | Find messages by this author Species : Grey-bellied Cuckoo Location : Bangalore, Karnataka, India Equipment : Canon 1DM4, 300mm F/2.8 + 2x converter Date : April 4, 2010 Thanks and Regards Nitin S 507 Grey Bellied Cuckoo April 4, 2010. More
> Just for clarification, Grey-bellied Cuckoo is not a rare bird around > Bangalore - I was slightly surprised that with the observer effort in the > area on Sunday there weren't any sightings. > > By Black-naped Tit I assume you mean White-naped Tit, which has indeed been > photographed here, although I don't have a link available. More
Grey-bellied Cuckoo Cacomantis passerinus Plaintive Cuckoo Cacomantis merulinus Asian Emerald Cuckoo Chrysococcyx maculatus Drongo Cuckoo Surniculus lugubris Asian Koel Eudynamys scolopacea Green-billed Malkoha Phaenicophaeus tristis Greater Coucal Centropus sinensis More
Plaintive Cuckoo, Cacomantis merulinus Grey-bellied Cuckoo, Cacomantis passerinus Brush Cuckoo, Cacomantis variolosus Moluccan Cuckoo, Cacomantis heinrichi Chestnut-breasted Cuckoo, Cacomantis castaneiventris Fan-tailed Cuckoo, Cacomantis flabelliformis Genus Chrysococcyx Black-eared Cuckoo, Chrysococcyx osculans Horsfield's Bronze Cuckoo, Chrysococcyx basalis Shining Bronze Cuckoo, Chrysococcyx lucidus Rufous-throated Bronze Cuckoo, Chrysococcyx ruficollis White-eared Bronze Cuckoo, Chrysococcyx meyeri Little Bronze Cuckoo, Chrysococcyx minutillus Asian Emerald Cuckoo, Chrysococcyx maculatus Violet Cuckoo, Chrysococcyx xanthorhynchus Yellow-throated Cuckoo, Chrysococcyx flavigularis Klaas' Cuckoo, Chrysococcyx klaas African Emerald More