Rufous Motmot
This large motmot is 46cm long and weighs 195 g. it is mainly cinnamion-rufous, with a black face mask and central breast spot, green wings and sides, a greenish-blue lower belly, and dark blue tail and flight feathers. The tail is very long and has a bare-shafted racket tip, except the Amazon. The bill and legs are black. Young birds are paler and duller than adults, and lack the tail rackets and black breast spot. The call of the Rufous Motmot is a low owl-like hoop hoop huhuhuhuhuhu.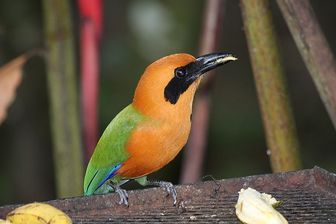 Picture of the Rufous Motmot has been licensed under a Creative Commons
Attribution-Share Alike
.
Original source
: Rufous Motmot 3-22-10Uploaded by Snowmanradio
Author
: Dominic Sherony
The Rufous Motmot is classified as Least Concern. Does not qualify for a more at risk category. Widespread and abundant taxa are included in this category.

Predation by Rufous Motmot on Black-and-Green Poison Dart Frog. Wilson Bull. 11 l(3):439-440 2. ^ a b Forshaw, Joseph (1991). Forshaw, Joseph. ed. Encyclopaedia of Animals: Birds. London: Merehurst Press. pp. 143–144. ISBN 1-85391-186-0. 3. ^ Murphy, Troy G. (2006). Predator-elicited visual signal: why the turquoise-browed motmot wag-displays its racketed tail. Behavioral Ecology 17:547-553. More
The Rufous Motmot, Baryphthengus martii, is a near-passerine bird which is a resident breeder in rain forests from northeastern Honduras south to western Ecuador, northeastern Bolivia, and southwestern Brazil. This large motmot is 46cm long and weighs 195 g. it is mainly cinnamion-rufous, with a black face mask and central breast spot, green wings and sides, a greenish-blue lower belly, and dark blue tail and flight feathers. The tail is very long and has a bare-shafted racket tip, except the Amazon. More
Rufous Motmot at the Woodland Park Zoo Seattle, Washington Copyright More
The call of the Rufous Motmot is a low owl-like hoop hoop huhuhuhuhuhu.This is a bird of tall wet forest and second growth. It nests in a 4-5 m long tunnel in a bank or the side of a mammal burrow. The clutch size and eggs are undescribed. Blue crown MotmotRufous Motmots feed on insects, lizards, fish and crabs, and also take many fruits, especially those of palms and Heliconias. More
Even a handsome Rufous Motmot comes in to one of the feeders! You ascend the observation tower in search of more species for your morning's list. As you step out on the top deck, a Great Antshrike is busy singing away and emerges from the vegetation for some nice views. Soon, the beautiful cascading notes of an Orange-billed Nightingale-Thrush begin, but this bird is more secretive giving only fleeting glimpses. More
Predation by Rufous Motmot on Black-and Poison Dart Frog Terry L. Master Wilson Bulletin 111 (3): 439-440 ABSTRACT. - I observed a Rufous Motmot (Baryphthengus martii) feeding a black and geen poison dart frog (Dendrobates auratus) to another motmot in the Caribbean Slope lowland rainforest of northeastesn Costa Rica. Neither individual appeared to surffer any ill effects from what was probably courtship feeding. Small vertebrates are typical prey for the larger species of motmots. More
Rufous Motmot videos on the Internet Bird Collection Rufous Motmot photo gallery VIREO Photo-High Res Photo-High Res; Article tropicalbirding Photo-Medium Res; Article marietta.edu—"The Tropical Rain Forest" Didn't find what you were looking for. Need more information for your travel research or homework? Ask your questions at the forum about Birds of Argentina or help others to find answers. This article is licensed under the GNU Free Documentation License. More
The rufous motmot (Baryphthengus martii) is the largest of six motmot species in Costa Rica; three others occur elsewhere. Motmots typically have short broad beaks, often decurved, and striking plumage coloration. There is no significant sexual dimorphism. All motmots in Costa Rica have two elongated central tail feathers; racket-tipped because loosely-attached barbs upshaft fall off, leaving much of the shaft itself bare. More
The Rufous Motmot, Baryphthengus martii, is a near-passerine bird which is a resident breeder in rain forests from northeastern Honduras south to western Ecuador, northeastern Bolivia, and southwestern Brazil. This is a bird of tall wet forest and second growth. It nests in a 4-5 m long tunnel in a bank or the side of a mammal burrow. The clutch size and eggs are undescribed. More
vues DisapprovingRabbits — 11 février 2010 — Rufous Motmot that hangs around near the library at Canopy Lodge in Panama. DisapprovingRabbits — 11 février 2010 — Rufous Motmot that hangs around near the library at Canopy Lodge in Panama. More