Green Bee-eater
The Green Bee-eater, Merops orientalis, is a near passerine bird in the bee-eater family. It is resident in a belt across sub-Saharan Africa from Senegal and The Gambia to Ethiopia, the Nile valley, western Arabia and Asia through India to Vietnam.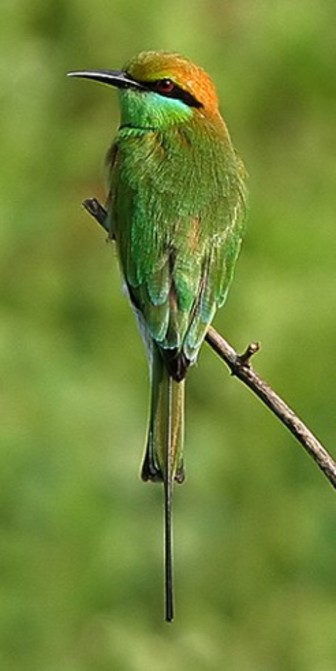 Picture of the Green Bee-eater has been licensed under a Creative Commons
Attribution-Share Alike
.
Original source
: Small Green Bee-eater, Merops orientalis. Photographed by S. M. Jayanth in Coimbatore, Tamilnadu, India. November 2005
The Green Bee-eater is classified as Least Concern. Does not qualify for a more at risk category. Widespread and abundant taxa are included in this category.

Green Bee-eater at take-off The bee-eaters are a fairly uniform group, morphologically. They share many features with related Coraciiformes such as the kingfishers and rollers, being large-headed (but not as large-headed as their relatives) short-necked, brightly plumaged and short-legged. Their wings may be rounded or pointed, with wing shape closely correlated with foraging habitat and migratory tendencies. Shorter, rounder wings are found on species that are sedentary and make shorter foraging flights in denser forests and reedbeds. More
A study showed that the Green Bee-eaters is capable of interpreting the behaviour of other animals. They showed an ability to predict whether a predator at a particular location would be capable of spotting the nest entrance and then behaved appropriately to avoid giving away the nest location. The ability to look at a situation from another's point of view was previously believed to be possessed only by primates. Sand bathing. More
Green Bee-eater to barely any in the White-throated Bee-eater. Three species, from equatorial Africa, have no green at all in their plumage, the Black Bee-eater, the Blue-headed Bee-eater and the Rosy Bee-eater. Several species have long streamers in the tail, and in a few species these are ended with expanded spatulae. There is little visible difference between the sexes in most of the family. More
* Little Green Bee-eater, Merops orientalis * White-throated Bee-eater, Merops albicollis * Swallow-tailed Bee-eater, Merops hirundinaeus * Blue-tailed Bee-eater, Merops philippinus * Black Bee-eater, Merops gularis * Blue-headed Bee-eater, Merops muelleri * Red-throated Bee-eater, Merops bulocki * White-fronted Bee-eater, Merops bullockoides * Blue-breasted Bee-eater, Merops variegatus * Cinnamon-chested Bee-eater, Merops oreobates More
Little Green Bee-eaterDescription This species, like other bee-eaters, is a richly coloured, slender bird. It always has green upper parts, but the head and underpart colours vary widely depending on the race. Thus, southeast Asian birds have rufous crown and face, and green underparts, whereas Arabian breeders have a green crown, blue face and bluish underparts. The wings are green and the beak is black. More
Little Green Bee-eater (Merops orientalis) in Mali * * Add Video To Your Social Bookmarks Bookmark and Share Add comment - Something to say?....put it here Comment on this video: (you must be logged in). More
Green Bee-eater Merops orientalis = * Home Expand Log in Menu item Register Menu item Log out Menu item Change login details Menu item Why register? Expand UK & Ireland Menu item Birding sites More
Little Green Bee-eater (Merops orientalis ) Little Green Bee-eater Common Name Little Green Bee-eater Scientific Name Merops orientalis Order Coraciiformes Family Meropidae Genus Merops Species M. More
Green Bee-eaters preys on insects, especially bees, wasps and ants. Bee-eaters catches insects in the air by sorties from an open and low bushes, branches, fence wires and electric wires. Green Bee-eater (Merops orientalis) is a common bird in our country fields. More
The small green bee-eater is no exception to the rule. Merops Orientalis ¤ Charms of Green Bee Eater This is a petite little grass green colour bird no bigger than a sparrow. Its green has hints of reddish brown on the head and neck which is ornamented with a prominent black 'necklace'. The slender bill is slightly curved and could be called long, keeping in mind the size of the bird. More
beautiful photo of the Green Bee-eater with his lovely colour tones, fine POV en contre-plong More