Trumpeter Hornbill
The Trumpeter Hornbill, Bycanistes bucinator, is a medium-sized hornbill, with length between 58 to 65 cm, characterized by a large grey casque on the bill, smaller in females. The eyes are brown or red, with pink surrounding skin. They are similar to Silvery-cheeked Hornbill. Distinguishing features include an all-black back, white belly and white underwing coverts , and red facial skin.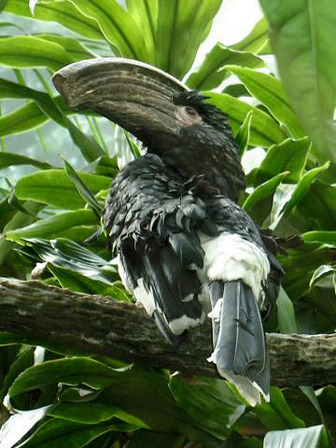 Picture of the Trumpeter Hornbill has been licensed under a
GFDL
Original source
: Description: Trumpeter Hornbill - Source: own work - Location: Bronx Zoo, New York -
Author
: self, User:Stavenn
Permission
: GNU Free Documentation License
The Trumpeter Hornbill is classified as Least Concern. Does not qualify for a more at risk category. Widespread and abundant taxa are included in this category.

The Trumpeter Hornbill, Bycanistes bucinator, is a medium-sized hornbill, with length between 58 to 65 cm, characterized by a large grey casque on the bill, smaller in females. The eyes are brown or red, with pink surrounding skin. They are similar to Silvery-cheeked Hornbill. Distinguishing features include an all-black back, white belly and white underwing coverts (in flight, wings present white tips), and red facial skin. More
The Trumpeter hornbill is a gregarious bird, living in flocks of 2 to 5 individuals, sometimes up to 50. This hornbill is a locally common resident of the evergreen, coastal forests of Mozambique, Botswana, Congo, Kenya, the Caprivi strip of Namibia and eastern South Africa, where it feeds on fruits and large insects. Like other hornbills, the females incubate 4 to 5 white eggs, while sealed in the nest compartment. More
Trumpeter Hornbills (Bycanistes buccinator) in the gardens in 1936; together with some remarks on the physiology of the moult in the female.". Proceedings of the Zoological Society of London Series a-General and Experimental 107: 89–94. 12. ^ Moreau, RE (1937). "The comparative breeding biology of the African Hornbills (Bucerotidae).". Proc. Zool. Soc. London 107A: 331–346. 13. More
The Trumpeter hornbill, like all hornbills, has a familiar casqueWhat does casque mean? on the top of its bill. This extension of the bill is larger in males than in females. The plumage is mostly black, but has some white or gray as well. The skin around the eye ranges from bright pink to dark purple. The feet and bill are mainly black. The Trumpeter hornbill eats mostly fruit, but also eats flying insects on occasion. More
Distribution of Trumpeter hornbill in southern Africa, based on statistical smoothing of the records from first SA Bird Atlas Project (© Animal Demography unit, University of Cape Town; smoothing by Birgit Erni and Francesca Little). Colours range from dark blue (most common) through to yellow (least common). See here for the latest distribution from the SABAP2. Food It mainly eats small fruit, but it does on occasion hawk insects, especially termite alates. More
The Trumpeter Hornbill is a gregarious bird, usually living in groups of 2 to 5 individuals, although sometimes as many as 50. The female hornbill seals herself in a log as she sits on her egg and raises her chick. More
Trumpeter Hornbills live in abundance in the tropical forests of south central and southeastern Africa. These are very social birds and live in groups from two to 10 individuals, but will occasionally gather in larger groups to feed and roost. Fruit from trees is their main diet, but Trumpeters will sometimes eat insects in the wild. Trumpeter Hornbills can and will fly long distances in search of trees bearing fruit. More
a picture of the Trumpeter Hornbill on page 160. The Trumpeter Hornbill belongs to the family of birds classified as Bucerotidae. The map of the Kruger you see on this page shows the areas (coloured orange) where this bird has been identified. The basic information was provided by the Avian Demographic Unit based at UCT and I created the maps from that information ... More
The trumpeter hornbill inhabits the dense forests of Africa, usually along rivers, and like all other hornbills, the trumpeter has a casque on top of its bill. The casque, an extension of the bill itself, is larger in males than in females, and is considered to most likely be an indicator of the individual bird's age, sex and status within their group. They are most active and noisy during mornings and evenings. Their call is a high, far-reaching screech reminiscent of a donkey's braying. More
The Trumpeter Hornbill has a large casque on top of the bill. Both bill and casque are yellowish-grey, and there is a patch of pink facial skin around the eye and between the eye and bill. The Trumpeter Hornbill is mostly black, with a white lower breast and belly and white tips to the secondary flight feathers and on the outer tail feathers. It also has a white rump. In flight, the underwing shows a dramatic black and white pattern. More
The Trumpeter hornbill, named for its call, is also a tree dweller, and can be found in the forested regions of Africa. The male and female are almost identical, however, the male is larger and has a much larger casque, which serves as no other purpose other than ornamentation. They are also omnivorous but their diet consists mostly of fruit. More
The Birdman and the Trumpeter Hornbill at the Blank Park Zoo! = Blankparkzoo 81 vidéos S'abonnerModifier l'abonnement Chargement… 287 vues 287 vues Blankparkzoo — 25 juin 2009 — Watch as The Birdman shows off his knowledge and tricks with the trumpeter hornbill. Along with many other bird... Blankparkzoo — 25 juin 2009 — Watch as The Birdman shows off his knowledge and tricks with the trumpeter hornbill. More
hmmm, the attached photo of a Trumpeter Hornbill in flight seems to show that this species does not in fact have white tips to it's primaries but distinct white tips to the secondaries, so my only uncertainty seems to have been resolved- what I must say though is that finding accurate descriptions of this family (i.e. that are not plagiarizations of Wikipedia!) are few and far between... More
Widespread throughout its large range, the Trumpeter Hornbill is evaluated as Least Concern on the IUCN Red List of Threatened Species. http://en.wikipedia.org/wiki/Trumpeter_Hornbill The text in this page is based on the copyrighted Wikipedia article shown in above URL. It is used under the GNU Free Documentation License. You may redistribute it, verbatim or modified, providing that you comply with the terms of the GFDL. Copyright Info AnimmalPicturesArchive.com does not have the copyright for this image. More
Trumpeter Hornbill Rubbing bill on limb Red-billed Hornbill WMV View Movie Internet Bird Collection An individual perched on a branch. Namibia. Red-billed Hornbill WMV View Movie Internet Bird Collection Feeding. Kilanguni Lodge of Tsavo West National Park, Kenya (ssp erythrorhynchus). Crowned Hornbill WMV View Movie Internet Bird Collection An adult preening itself. More