Great Hornbill
The Great Hornbill also known as Great Indian Hornbill or Great Pied Hornbill, is one of the larger members of the hornbill family. The Great Hornbill is found in the forests of India, the Malay Peninsula and Sumatra, Indonesia. Their impressive size and colour have made them important in many tribal cultures and rituals. The Great Hornbill is long-lived, living for nearly 50 years in captivity. They are predominantly frugivorous although they are opportunists and will prey on small mammals, reptiles and birds.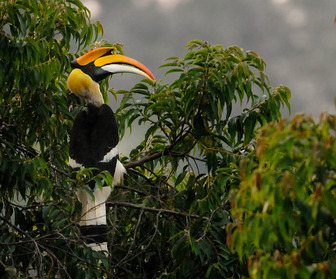 Picture of the Great Hornbill has been licensed under a Creative Commons
Attribution-Share Alike
.
Original source
: Own work
Author
: Kalyanvarma
The Great Hornbill is classified as Near Threatened (NT), is close to qualifying for or is likely to qualify for a threatened category in the near future.

The Great Hornbill (Buceros bicornis) also known as Great Indian Hornbill or Great Pied Hornbill, is one of the larger members of the hornbill family. The Great Hornbill is found in the forests of India, the Malay Peninsula and Sumatra, Indonesia. Their impressive size and colour have made them important in many tribal cultures and rituals. The Great Hornbill is long-lived, living for nearly 50 years in captivity. They are predominantly frugivorous although they are opportunists and will prey on small mammals, reptiles and birds. More
The Great Hornbill is a large bird, 95-120 cm (38-47 in) long, with a 152 cm (60 in) wingspan and a weight of 2.15–4 kg (4.7-8.8 lbs). It is the heaviest, but not the longest, Asian hornbill. The most prominent feature of the hornbill is the bright yellow and black casque on top of its massive bill. More
The Great Hornbill can be found in India, parts of China, countries in southeastern Asia including Thailand, as well as Indonesia and Malaysia. Diet The primary food of the diet of the Great Hornbill is fruit. It will also eat insects, lizards, snakes and small mammals. More
Female Great Hornbill feeding on figs. Fruit forms a large part of the diet of forest hornbills Hornbills are omnivorous birds, eating fruit, insects and small animals. They cannot swallow food caught at the tip of the beak as their tongues are too short to manipulate it, so they toss it back to the throat with a jerk of the head. More
The first thing you notice about the great hornbill is the golden-yellow horn (called a casque) on the top of its head. This curious feature serves several functions. It acts as a "resonating chamber" that amplifies the nasal sounds that the birds make. The casque is also an indicator of sexual maturity. Although immature hornbills start developing a casque at six months of age, it takes five years to develop a really prominent structure. More
In the wild, the Great Hornbill's diet consists mainly of fruit. Figs are particularly important as a food sources. Vitex altissima has been noted as another important species. They also forage on lipid-rich fruits of the Lauraceae and Myristicaceae families such as Persea, Alseodaphne and Myristica. They obtain the water that they need entirely from their diet of fruits. They will also eat small mammals, birds, small reptiles and insects. They forage along branches for insects and small lizards, tearing up bark and examining them. More
The great hornbill is the most widely kept and largest Asian hornbill in North American zoos. Like all hornbills, the great hornbill has fused axis and atlas vertebrae. The have long, heavy bills with a light, hollow casque reaching up to 7.5 inches on the upper mandible. The casque is rectangular in cross section, double-pointed in front, round in back, and concave or convex on top. Great hornbills have bristles around the eyes that resemble eyelashes. Their toes are syndactylous. More
Great Hornbill is distributed in the forests of India, the Peninsular Malaysia and Sumatra, Indonesia. Their impressive size and colour have helped make them a part of local tribal cultures and rituals. Female hornbills build nests in hollows of large tree trunks and the opening is sealed with feces, wood bark, and dirt. She remains imprisoned in her nest until the chicks are semi-developed relying on the male to bring her food. During this period the female undergoes a complete moult. More
Hunter of the Nishi tribe of Arunachal Pradesh with a great hornbill casque in his capKamten, a local hunter from the Rima village in the eastern corner of Arunachal Pradesh in northeast India, once told me the story of how the great hornbill got its tail. The then tail-less great hornbill had helped a Tikhak (a sub-class of the Tangsa tribe) villager get his kidnapped wife back from a water demon. More
Jan 16 Great Hornbill - Buceros bicornis The Great Hornbill is an impressive creature. It may have the most unique bill of all birds. The surprising thing is that the bill is very useful even though it looks like it might be a major handicap. These birds live throughout southeast Asia, India and Indonesia. They eat primarily fruit, but will supplement their diet with insects, small mammals and reptiles as well. More
Great Hornbill ( Buceros bicornis ) tree view | thumbnails | slideshow Great Hornbill ( Buceros bicornis ) - * shooting_gears (10) * Sigma 300-800 mm f/5.6 EX DG IF HSM APO (20) * Sigma APO 120-400mm F4.5-5. More
Great Hornbill, Wiggum Chief Great Hornbill Related Articles * Visit the St. More
"The Great Hornbill has lots of lessons to tell us. They are monogamous, they bond for life. They are the best parents and make the best couple. ... Great Hornbill Grill & Restaurant at PB Valley Announces Menu of the ... - Jun 29, 2007 Newswit.comKhun Phongsak, Executive Chef at the Great Hornbill Grill and Restaurant at PB Valley is pleased to introduce its Menu of the Month for July 2007. ... More
Great Hornbill at Bukit Timah - Posted by BESG on 3 November 08, Monday Contributed by Jens Poehlker Jens Poehlker photographed the female excapee Great Hornbill (Buceros bicronis) at the Bukit Timah Nature Reserve in later October 2008. This shows that the bird it is still around and well. More
* A Great Hornbill came for a visit We regularly see the Oriental Pied Hornbill (Anthracoceros malayanus)... * Great and Rhinoceros Hornbills' new playground Following the collapse of the old albezia tree (Paraserianthes... * Roost of the Great Hornbill As far as we know, there is only one Great... More
Great Hornbills were spotted. Three of the birds were males and were perched on an emergent Tetrameles nudiflora tree. A female was also perched nearby. At 06h21, one of the males took off from the branch where it was perched, flew out just above another perched male, and while still in flight, clashed its casque loudly with that of the perched male. Flying past the perched male, it then settled on another branch. More
Great Hornbill is truly impressive. This appears to be the only one left, probably an escapee from Jurong Bird Park many, many years ago. It is still flying around the Bukit Timah area, surprising Singaporeans who are generally not familiar with these birds with its presence. In March this year the bird visited Stephen Lau's apartment, also in the Bukit Timah area. Apparently it roosts at night within the grounds of Brian Ng's condomonium. More
the Great Hornbill got its tail. The then tail-less Great hornbill had helped a Tikhak (a sub-class of the Tangsa tribe) villager get his kidnapped wife back from a water demon. In return for this, the man gave the hornbill his dhoti, the traditional Indian garment of men's wear, which had bands of white, black and white. The hornbill now wears it as its tail. More
Great Hornbills are well named for they are the largest of all hornbills, weighing an average of seven pounds and standing two an a half feet tall. They are easily distinguishable because of the large yellow horn above it's head known as a casque. Despite the size of this horn, it is actually rather light because it is made up of hollow cells and bones. One purpose that it serves is to act as a "resonating chamber" that amplifies the calls of the bird. More
The Great hornbill is the largest bird in the family of hornbills. As the name suggests, great hornbills can be recognized by a bright yellow helmet (called "horn") that sits atop the large bill; this decoration is offset by the black and white plumage. Ornithologists suggest that the purpose of the helmet is to attract females. Great hornbills extend up to 47 inches in length, with a wingspan of 60 inches. They grow to be fifty years old (in captivity). More
Great Hornbill (Doppelhornvogel, Buceros bicornis ) = Great Hornbill (Doppelhornvogel, Buceros bicornis ) by guenterleitenbauer. The Great Hornbill, Buceros bicornis also known as Greater Indian Hornbill, is the largest member of the hornbill family. Great Hornbill is distributed in the forests of India, the Malay Peninsula and Sumatra, Indonesia. Their impressive size and colour have helped make them a part of local tribal cultures and rituals. The Great Hornbill is long-lived with a lifespan approaching 50 years in captivity. More
The Great Hornbill is the largest of the Hornbill family. What they eat Mainly fruit, but also small mammals, birds, lizards, snakes and insects. How long they live Up to 50 years Biology Great Hornbills live in groups of up to 40 with pairs forming lifelong bonds. More
vues myfreezer — 6 février 2007 — This male Great Hornbill is feeding his mate with love, at Khao Yai National Park. myfreezer — 6 février 2007 — This male Great Hornbill is feeding his mate with love, at Khao Yai National Park. More
In the wild, the Great Hornbill's diet consists mainly of fruit. It will also eat small mammals, birds, lizards, snakes and insects. The Great Hornbills form monogamous pair bonds and live out their lives in groups of 2-40 individuals. Group courtship displays involving up to 20 birds have been observed. Appearence in Resident Evil - The Birds resided in the Raccoon Zoo, where they became infected during the t-Virus epidemic. Retrieved from "http://residentevil.wikia. More