Yellow-billed Kingfisher
The Yellow-billed Kingfisher is a medium-sized tree kingfisher. Colouring is distinctive: orange head and neck with black nape patch and white throat. Adult females also have black crown patch. Upper mantle blackish grading to olive green on back, blue-green on rump and blue tail. Upperwing dull green-blue with flight feathers dark olive-black. Underparts pale orange-grey. Bill orange-yellow in adults, dark grey in juveniles.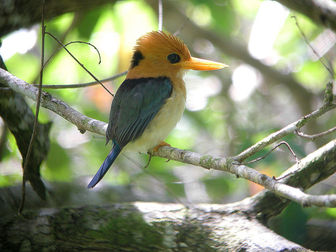 Picture of the Yellow-billed Kingfisher has been licensed under a Creative Commons
Attribution-Share Alike
.
Original source
: markaharper1
Author
: markaharper1
The Yellow-billed Kingfisher is classified as Least Concern. Does not qualify for a more at risk category. Widespread and abundant taxa are included in this category.

The Yellow-billed Kingfisher (Syma torotoro) is a medium-sized (length 20 cm, wingspan 29 cm, weight 40 g) tree kingfisher. Colouring is distinctive: orange head and neck with black nape patch and white throat. Adult females also have black crown patch. Upper mantle blackish grading to olive green on back, blue-green on rump and blue tail. Upperwing dull green-blue with flight feathers dark olive-black. Underparts pale orange-grey. Bill orange-yellow in adults, dark grey in juveniles. More
Yellow-billed Kingfisher may be found in Rainforest, monsoon forest and forest edges. Conservation With a large range and no evidence of significant decline, the conservation status of this species is assessed as being of Least Concern. Diet - Large insects, earthworms and lizards. Breeding - Nest in excavated chamber in arboreal termite nest, laying clutch of 3-4 white eggs. More
View all pictures of Yellow-billed Kingfisher View all pictures of Yellow-billed Kingfisher show section External Links (0) We currently have no external links for this species. More