White-throated Kingfisher
This is a large kingfisher, 28 cm in length. The adult has a bright blue back, wings and tail. Its head, shoulders, flanks and lower belly are chestnut, and the throat and breast are white. The large bill and legs are bright red. The flight of the White-throated Kingfisher is rapid and direct, the short rounded wings whirring. In flight, large white patches are visible on the blue and black wings. Sexes are similar, but juveniles are a duller version of the adult.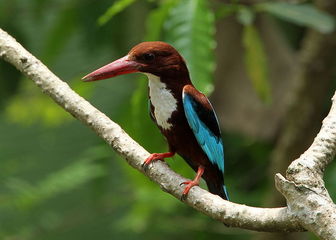 Picture of the White-throated Kingfisher has been licensed under a Creative Commons
Attribution-Share Alike
.
Original source
: White-breasted KingfisherUploaded by Snowmanradio
Author
: Manjith Kainickara from Dallas, Texas, USA
The White-throated Kingfisher is classified as Least Concern. Does not qualify for a more at risk category. Widespread and abundant taxa are included in this category.

jcho documented a White-throated Kingfisher (Halcyon smyrnensis) catching a spider in May 2009. This post is just to add on to the variety of foods this kingfishers take that include lizards and birds (see Related Posts below). This post is a cooperative effort between NaturePixels.org and BESG to bring the study of bird behaviour through photography to a wider audience. More
White-throated Kingfisher photographed in Colombo Amongst all the Kingfishers found in Sri Lanka, the White-throated Kingfisher is probably the most common. It frequents home gardens in urban areas and is often seen perched on telephone lines on the side of the road. More info and images after the jump. A White throated Kingfisher (Halcyon smyrnensis) photographed in sri LankaA White-throated Kingfisher photographed in Anuradhapura The White-throated Kingfisher is also known as the White-breasted Kingfisher or Smyrna Kingfisher. More
The White-throated Kingfisher (Halcyon smyrnensis) also known as the White-breasted Kingfisher or Smyrna Kingfisher, is a tree kingfisher, widely distributed in Eurasia from Bulgaria, Turkey, east through South Asia to the Philippines. This kingfisher is a resident over much of its range, although some populations may make short distance movements. It can often be found well away from water where it feeds on a wide range of prey that includes small reptiles, amphibians, crabs, small rodents and even birds. More
White-throated Kingfishers (Halcyon smyrnensis) are found from the Philippines and westward through the southern parts of Asia and parts of the Middle East all the way to Turkey. My dad spotted this White-throated Kingfisher in the Elephant Nature Park in the Chiang Mai Province in northern Thailand during my parents' visit there in late 2006. It came and perched on a fence post in a field at the park every afternoon. More
White-throated Kingfishers - Mt Faber (4 on same tree!) Viewed: 260 times. White-throated Kingfisher - BG Viewed: 276 times. WTKF - outside condo Viewed: 311 times. WTKF - outside condo Viewed: 254 times. More
White-throated Kingfisher, White-breasted Kingfisher or Smyrna Kingfisher, Halcyon smyrnensis White-throated KingfisherThe White-throated Kingfisher, White-breasted Kingfisher or Smyrna Kingfisher, Halcyon smyrnensis, is a tree kingfisher which is widely distributed in south Asia from Turkey east to the Philippines. This kingfisher is essentially resident over much of its range, apart from seasonal movements. White-throated Kingfisher is a common species of a variety of habitats with some trees, and its range is expanding. More
The White-throated Kingfisher is also know as a White-breasted Kingfisher or a Smyrna Kingfisher. White-throated Kingfisher (Halcyon smyrnensis) White-throated Kingfisher Our high quality canvas prints of kingfishers, are beautifully mounted onto deep gallery box wooden frames. Create your print: 1a.) Canvas Print Size: 2.) Caption Text if required: (max 32 char.) 2a.) - Caption font: VIEW FONTS 2b. More
White-throated Kingfisher (Halcyon smyrnensis) Range: OR more info Photo by Vic Murayama San Diego Zoo California Sizes: Full size: 1283x1800 next (Woodland Kingfisher) last first previous (White-throated Kingfisher) White-throated Kingfisher Copyright and usage info: Copyright © 2005-2009 Vic Murayama. All Rights Reserved. These images are protected by copyright and may not be reproduced or transmitted by any means without the permission of the owner. More
Beautiful White-throated Kingfisher with it's "Catch of the day" in it's beak. I was so close to this bird, and it never once seemed to mind the presence of three photographers pointing their cameras and lenses at it. We sat down on the road, and were clicking - People passing by the road giving us weird stares. A bus honks a couple of times, and off this beauty goes into the bushes. The only subject whose photos were "keepers" from Rampura Lake outing. More
White-throated Kingfisher(Halcyon smyrnensis) Photo no. 1782 Photo no. More
White-throated Kingfishers as a group eat a wide range of food, but each bird may specialise in a particular prey. They take fish (particularly during the wet season). But other prey make up the bulk of their diet. These include tadpoles, grasshoppers, lizards, insects. They basically take any small creature that they can catch and kill. While hunting along the water, they prey on crabs, amphibians (frogs) and reptiles (skinks, lizards). On land, they hunt large insects and arthropods (grasshoppers, beetles, termites, scorpions, centipedes). More
The flight of the White-throated Kingfisher is rapid and direct, the short rounded wings whirring. In flight, large white patches are visible on the blue and black wings. Sexes are similar, but juveniles are a duller version of the adult. This species forms a superspecies with Halcyon cyanoventris and most major works recognize four geographic races. - roges, jhm has marked this note useful Only registered TrekNature members may rate photo notes. More
White-throated Kingfisher is a common species of a variety of habitats with some trees, and its range is expanding. It perches conspicuously on wires or other exposed perches within its territory, and is a frequent sight in south Asia. This species mainly hunts large insects, rodents, snakes, fish and frogs. It is reputed to eat tired migratory passerine birds like Chiffchaffs where the opportunity arises. More