Amazon Kingfisher
This large kingfisher breeds by streams. The unlined nest is in a horizontal tunnel made in a river bank, and up to 1.6 m long and 10 cm wide. The female lays three, sometimes four, white eggs.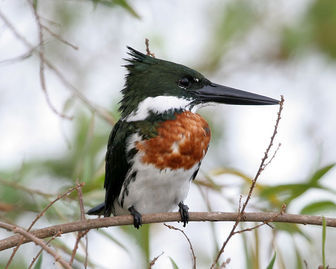 Picture of the Amazon Kingfisher has been licensed under a Creative Commons
Attribution-Share Alike
.
Original source
: originally posted to Flickr as Amazon kingfisher male
Author
: Lip Kee YapPermission(Reusing this file)This image, which was originally posted to Flickr.com, was uploaded to Commons using Flickr upload bot on 16:39, 15 February 2009 (UTC) by Sadalmelik (talk). On that date it was licensed under the license below. This file is licensed under the Creative Commons Attribution-Share Alike 2.0 Generic license.You are free:to share – to copy, distribute and transmit the work
The Amazon Kingfisher is classified as Least Concern. Does not qualify for a more at risk category. Widespread and abundant taxa are included in this category.

The Amazon Kingfisher, Chloroceryle amazona, is a resident breeding bird in the lowlands of the American tropics from southern Mexico south through Central America to northern Argentina, with at least one bird having strayed north to Texas. Records from Trinidad are thought to be erroneous. This large kingfisher breeds by streams. The unlined nest is in a horizontal tunnel made in a river bank, and up to 1.6 m long and 10 cm wide. The female lays three, sometimes four, white eggs. More
The Amazon Kingfisher resembles the Green Kingfisher which shares its range, but it is much larger than its relative, and three to four times as heavy. It is 29-30 cm long and weighs 110g. It has the typical kingfisher shape, with a short tail and long bill. It is oily green above, with a shaggy crest and a white collar around the neck. It lacks the white markings on the wings shown by Green Kingfisher. More
Amazon Kingfishers are often seen perched on a branch or rock close to water before plunging in head first after their fish prey. They are the most likely green kingfisher to be seen on large rivers. Copyright: Wikipedia. This article is licensed under the GNU Free Documentation License. It uses material from Wikipedia. More
Expedition I | Amazon Kingfisher Lodge - 3 | Amazon Kingfisher Lodge - 4 - Copyright More
Amazon Kingfisher Sighted In US - Posted by: Loren Coleman on January 30th, 2010 Laredo could be home to a female Amazon kingfisher, a species of bird never previously reported in the United States. On Sunday afternoon, Alan Wormington of Leamington, Canada, and his friend Robert Epstein were down at Zacate Creek when they spotted and photographed the bird. More
Amazon Kingfisher and Green Kingfisher, have white underparts with only the males also having a rufous breast band. These birds take crustaceans and fish caught by the usual kingfisher technique of a dive from a perch or brief hover, although the American Pygmy Kingfisher will hawk at insects in flight. More
If the Amazon kingfisher is confirmed by the ABA, Laredo will officially be the only city in the United States with four species. This is not the first time there have been possible sightings of an Amazon kingfisher in South Texas, but this is the first time the bird has been photographed for confirmation. No males, or even a second female, have been spotted. More
Amazon Kingfisher Amazon Kingfisher Amazon Kingfisher Click on the thumbnails image to enlarge them Amazon Kingfisher (Chloroceryle amazona, Martin-pêcheur d'Amazonie). Brazil, 2007. Other similar articles: * Ringed Kingfisher * Green Kingfisher * Amazon buys DPReview * Canon EOS 450D, seen in Amazon stores * feed of the comments. More
found a female Amazon Kingfisher (Chloroceryle amazona) at Zacate Creek in downtown Laredo, Texas. Photographs were obtained. If accepted, this would become the first ABA-area record for this tropical kingfisher species. Photograph of female Amazon Kingfisher from the Pantanal region of Brazil, Jan. '04. Bill Maynard Amazonkingfisherfemale Amazon Kingfisher, the largest green (as the Latin Chlorceryle suggests) kingfisher in the Americas, is usually associated with tropical lowlands or lower subtropical zones. More
The Amazon Kingfisher, Chloroceryle amazona, is is the largest green kingfisher in South America and prefers open, sunlit water. BUY IT NOW Go to Purchase Information for explanation of options. More
The Amazon Kingfisher is about 11 inches, as compared to the similar Green Kingfisher at 7 inches. Both have green backs, but the Green KF has white spots in the wings. The male Amazon KF has a nice rufous band on the chest. Common riversdie kingfisher, from Mexico to Argentina. Taken near the Cano Negro Lodge. To take full advantage of Flickr, you should use a JavaScript-enabled browser and install the latest version of the Macromedia Flash Player. More