Azure Kingfisher
It is a very colourful bird, with deep blue to azure back, a large white to buff spot on side of neck and throat, rufous-buff with some blue-violet streaks on breast and flanks. The feet are red with only two forward toes. The lores are white and inconspicuous except in front view, where they stand out as two large white eye-like spots.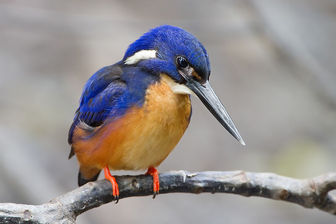 Picture of the Azure Kingfisher has been licensed under a
GFDL
Original source
: Own work
Author
: JJ Harrison (http://www.noodlesnacks.com/)Camera location
Permission
: GNU Free Documentation License
The Azure Kingfisher is classified as Least Concern. Does not qualify for a more at risk category. Widespread and abundant taxa are included in this category.

The Azure Kingfisher Alcedo azurea is a small kingfisher (17-19 cm), in the river kingfisher family, Alcedinidae. It is found in Northern and Eastern Australia and Tasmania, as well as the lowlands of New Guinea and neighboring islands, and out to North Maluku and Romang. It is a very colourful bird, with deep blue to azure back, a large white to buff spot on side of neck and throat, rufous-buff with some blue-violet streaks on breast and flanks. More
An azure kingfisher (Alcedo azurea) taken at Yellow Waters, Kakadu National Park. More
The Azure Kingfisher Alcedo azurea is a small kingfisher (17-19 cm), in the river kingfisher family, Alcedinidae. It is found in Northern and Eastern Australia and Tasmania, as well as the lowlands of New Guinea and neighboring islands, and out to North Maluku and Romang. More
Azure Kingfisher with food in its beak. Azure Kingfisher with food in its beak. Photo: Purnell Collection © Australian Museum Distribution map of Alcedo azurea Distribution map of Alcedo azurea Map © Birds Australia Birdata Did you know? The Azure Kingfisher nests in a burrow dug out of a river bank. More
The Azure Kingfisher is one of the smallest of the kingfisher family of birds. It is related to the Kookaburra. The Azure Kingfisher has a long slender black bill (beak) and a short tail. Their head, neck, back, wings and breast sides are deep azure blue with a violet sheen. Their neck has an orange stripe on each side, with two white patches on the back. Underneath their throat, breast and under-tail is buff to russet in colour. More
The Azure Kingfishers are specialists at exclusively deep diving into water to obtain their prey. Physical Description Alcedo azurea is a small kingfisher (17-19 cm), in the river kingfisher family. It is a very colorful bird, with deep blue to azure back, a large white to buff spot on side of neck and throat, rufous-buff with some blue-violet streaks on breast and flanks. The feet are red with only two forward toes. More
The Azure Kingfisher is mostly sedentary in habitat of creeks, rivers, lakes and estuaries. Preferring shade and overhanging trees where it can fish from favoured perches, diving headlong into the water. It characteristically bobs it More
The Azure Kingfisher is a small azure blue kingfisher black bill and a short tail. The neck has an orange stripe on each side. The throat is washed with orange becoming more reddish on belly. The legs and feet are red. Males and females are similar. Immatures have darker head and duller colours. Size 19cm Habitat near rivers, creeks, billabongs, lakes and swamps. More
The Azure Kingfisher Alcedo azurea is a small kingfisher which is found in association with aquatic habitats in northern, eastern and south-eastern Australia. In south-west Victoria it is distinguished from other kingfishers by its distinctive blue upperparts, orange-rufous underside and very short tail feathers. It has a long black bill and whitish marks either side of its neck, it also has orange legs which distinguish it from other kingfishers. Males and females have similar plumage and juveniles tend to have duller colouration. More
· In Australia the Azure Kingfisher occurs widely on watercourses and lakes in the north and east that have densely vegetated margins. · Mostly it is seen skimming over the water in rapid flight, or plunging for small fishes from a low perch. · Its call is high pitched and difficult to hear. · The nest is a hole in a bank close to the water's edge. More
relationships (for example, the Azure Kingfisher is closer to Ceyx erithacus). Species list: * Blyth's Kingfisher, Alcedo hercules * European Kingfisher, Alcedo atthis * Half-collared Kingfisher, Alcedo semitorquata: The Half-collared Kingfisher Alcedo semitorquata is a species of kingfisher that feeds almost exclusively on fish and can be found near water at all times. More
Azure Kingfisher - Kingfishers - Fotopedia The colours on these birds in good light has to be seen to be believed. There were lots of them in the coastal streams on the south coast but damned difficult to photograph despite my best slinky style in the kayak. This is my best effort out of 40 attempts - and even then it's not so sharp. They're a truly stunning little bird and great to watch fishing. More
The Azure Kingfisher nests in a burrow dug out of a river bank. Identification The Azure Kingfisher is a small kingfisher with a long slender black bill and a short tail. The head, neck, upper parts and breast sides are deep azure blue with a violet (purplish) sheen. The neck has a distinctive orange stripe on each side and there is a small orange spot before each eye. The throat is pale orange-white, grading to orange-reddish on belly and undertail. More
The Azure Kingfisher can be found along the uppermost northern areas of Western Australia, Northern Territory and Queensland and in the eastern states of Australia. More
Courting azure kingfishers may appear as flashes of blue zig-zagging along streams and rivers as they prepare to produce the next generation. * The nest is built in a chamber at the end of a one-metre tunnel which both sexes help to excavate into the stream bank. More
relationships (for example, the Azure Kingfisher is closer to Ceyx erithacus). More
| Azure Kingfisher in English | Azure Kingfisher in French Use Babylon to translate to various languages Copyright © 1997-2007 Babylon. More