Speckled Mousebird
This bird is about 35 cm long, with the tail comprising approximately half the length, and weighs about 57 grams . It is well-named, because it is dull-mousy brown in overall color on the back and on the head . The bill is black on the upper part and is a pinkish color on the lower part. The rare White-headed Mousebird can be confused with this species, but the differently colored mandibles and the lack of a bare grey orbital patch render the Speckled species distinctive.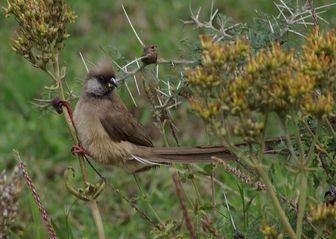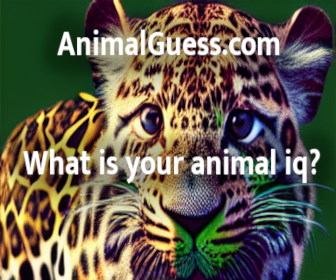 Picture of the Speckled Mousebird has been licensed under a
GFDL
Original source
: Own work
Author
: JerryFriedman
Permission
: GNU Free Documentation License
The Speckled Mousebird is classified as Least Concern. Does not qualify for a more at risk category. Widespread and abundant taxa are included in this category.

The Speckled Mousebird (Colius striatus) is the largest species of mousebird, as well as one of the most common. More
Mostly the speckled mousebird is seen in the open bush, savanna and woodlands. They can often be seen in gardens. BEHAVIOR: This bird is quite gregarious and very social. They engage in mutual preening and will feed together in groups. They scamper mouse-like along branches and climb using their bills and feet. They can also be seen dust bathing on the ground where sometimes they eat soil, possibly for the minerals. More
vues grizzapp — 1 octobre 2007 — Speckled Mousebird at Pete's Pond, Mashatu Game Reserve, Botswana 1 Oct 2007 grizzapp — 1 octobre 2007 — Speckled Mousebird at Pete's Pond, Mashatu Game Reserve, Botswana 1 Oct 2007Catégorie : Animaux Tags :pete's pond africa mousebird Chargement… J'aime Enregistrer dans Partager E-mail Skyrock Facebook Twitter MySpace Live Spaces Blogger orkut Buzz reddit Digg Chargement… Connectez-vous ou inscrivez-vous dès maintenant ! Publier un commentaire Afficher tous les commentaires » Répondre Chargement… More
The Speckled mousebird is common in South Africa and Mozambique, where it is common in suburban gardens. It is highly adaptable, and can be found in many types of habitats. It feeds on plant matter, mainly fruit, but also leaves, nectar and buds. The breeding pair is helped by 2-6 helpers, normally half of which are not related. The nest is a small bowl of grass, lined with soft material. It lays 1-7 eggs, which are incubated by both sexes, for 12-15 days. More
been my experience that the Speckled Mousebird is the most often seen. The Blue-naped is becoming more available and it is quite beautiful. I have heard stories of the Red-faced Mousebird being bred but I have not seen one or found a breeder who is actually working with these birds. As far as I know, the other three species are not available in the U.S. at this time. Physical Description - Mousebirds are small birds with very long tails. More
Speckled Mousebird on Aloe speciosa flowers = Speckled Mousebird on Aloe speciosa flowers by Martin_Heigan.A Speckled Mousebird (Colius striatus) on a Tilt-head Aloe (Aloe speciosa) native to the Eastern and Western Cape, South Africa (Winter, July 2008). Local names for Aloe speciosa: Spaansaalwyn, Slaphoringaalwyn. Best viewed LARGE. More
The Speckled Mousebird is a Southern African bird that belongs to the coliidae bird family group which includes birds such as Mousebirds. The description for the Speckled Mousebird (Latin name Colius striatus) can be found in the 7th Edition of the Roberts Birds of Southern Africa. The Colius striatus can be quickly identified by its unique Roberts identification number of 424 and the detailed description of this bird is on page 197. More
Whereas the Speckled Mousebird has some twenty subspecies, well differentiated by plumage and by bill, leg and iris colours, and the Blue-naped and Red-faced Mousebirds have seven and five respectively, the White-backed and the White-headed Mousebirds each have only two subspecies, while the Red-backed Mousebird is monotypic. H. Schifter, in his 1985 review of the Coliidae, recognized 19 subspecies of the Speckled Mousebird. He grouped these into three allopatric assemblages, which he regarded as "semi-species". More
picture of the Speckled Mousebird on page 161. The Speckled Mousebird belongs to the family of birds classified as coliidae. According to the Percy FitzPatrick Institute of African Ornithology the Speckled Mousebird is also known by these other names: Speckled Coly, Bar-breasted Mousebird, Striated Mousebird. The map of the Kruger you see on this page shows the areas (coloured orange) where this bird has been identified. More
A flock of speckled mousebirds were feeding in the aloe flowers at the Mkuze campgorund. Since they were busy feeding and sunbathing in the early morning light, they made a perfect digiscoping subject. The orange on the bird's face is pollen from the aloe flowers. Love GREAT photos? Each issue of Bird Watcher's Digest magazine includes captivating images to help with bird identification and add to your birding enjoyment. More