Storm's Stork
This little known species is found in undisturbed forest and freshwater habitats in Sumatra, Mentawai Islands, Borneo and peninsular Malaysia. One of its strongholds are in southeast Sumatra, with remaining populations confined to Kalimantan and Brunei. While in peninsular Malaysia only one very small population and scatter individuals left. The world population of the Storm's Stork is less than 500 individuals.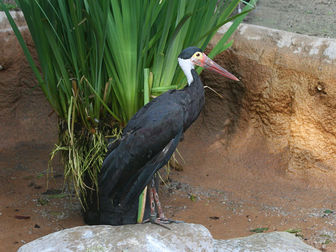 Picture of the Storm's Stork has been licensed under a
GFDL
Original source
: Own work
Author
: SandyCole
Permission
: GNU Free Documentation License
The Storm's Stork is classified as Endangered (EN), considered to be facing a very high risk of extinction in the wild.

The Storm's Stork, Ciconia stormi is a large, approximately 91 centimetres (36 in) long, stork with black and white plumages, red bill, orange bare facial skin, red legs and yellow orbital skin. Both sexes are similar. The young has duller plumage and bare skin. This little known species is found in undisturbed forest and freshwater habitats in Sumatra, Mentawai Islands, Borneo and peninsular Malaysia. One of its strongholds are in southeast Sumatra, with remaining populations confined to Kalimantan and Brunei. More
Storm's stork in tree Storm's stork in treePrint factsheet Facts - Kingdom Animalia Phylum Chordata Class Aves Order Ciconiiformes Family Ciconiidae Genus Ciconia (1) Size Size: 75 - 91 cm (2) More
Images Storm's stork in tree Storm's stork is a large black and white bird with a slightly upturned, red bill, orange facial skin and golden-yellow area around eye. The wings, back, crown and breast are black, while the throat, nape of the neck, abdomen and vent are white ... More
Description: The storm's stork is a large high-flying bird with a black and white body, red bill, and orange face that occurs in certain islands of the South Pacific, including Malaysia, Borneo, Sumatra and possibly Thailand. A rare, solitary bird, the storm's stork prefers undisturbed expanses of lowland forest. Because of widespread habitat loss due to logging, conversion to palm oil plantations and damming operations throughout its range, storm's stork populations are declining. More
Storm's Stork rescued from a fishermen's net in Sumatra = Storm's Stork rescued from a fishermen's net in Sumatra by Wild Tiger.This endangered Storm's stork Ciconia stormi was caught in a fishing net on the banks of a river in the Senepis-Buluhala forests, Riau, Sumatra, Indonesia. Aware of how rare this species is (status: Endangered; 250-1000 left in the world) staff were careful to see it back to health before releasing it at a remote site. More
Storm's Stork can be found in peninsular Malaysia, Borneo, Sumatra and extreme southern Thailand. Population size: The population is thought to be between 250 and 500 individuals. The core population are found in Sumatra, Kalimantan and Brunei. Characteristics: This large species of stork measures up to 91cm long. It has black and white plumage with a red bill, orange and yellow skin on its face and red legs. More
Storm's Stork, Sabah, Borneo, Sabah, Borneo 08/07/09 © Mike Nelson Storm's Stork - Storm's Stork, Borneo, Kinabatangan Nov 2007 © Ashley Banwell/Worldbirders Storm's Stork - Storm's Stork, Sabah, Malaysia (Borneo), Kinabatangan Jungle Camp July 2009 © Paul Jones Chiko, an habituated bird Send this as a postcard Storm's Stork - Showing Records 1 through 15 of 15 More
Home | News Archive | Storm's Storks Documented at Klong Saeng Wildlife Sanctuary * English * ภาษาไทย top-slice Main Menu Home About Fishing Cats About the Project Survey Sites Meet the Cats Reports & Publications News Archive Contact Us Web Links Login More