Goliath Heron
The Goliath Heron is a large wading bird of the heron family Ardeidae. It is found in sub-Saharan Africa, with smaller numbers in Southwest and South Asia.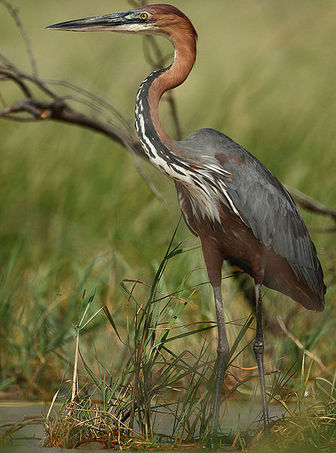 Picture of the Goliath Heron has been licensed under a Creative Commons
Attribution-Share Alike
.
Original source
: Goliath Heron (Ardea goliath)Uploaded by Snowmanradio
Author
: Steve Garvie from Dunfermline, Fife, ScotlandCamera location
The Goliath Heron is classified as Least Concern. Does not qualify for a more at risk category. Widespread and abundant taxa are included in this category.

The Goliath Heron (Ardea goliath) is a large wading bird of the heron family Ardeidae. It is found in sub-Saharan Africa, with smaller numbers in Southwest and South Asia. Photographed at Lake Mburo, Uganda This is the world's largest heron. The height is 120–152 cm (47–60 in), the wingspan is 185–230 cm (73–91 in) and the weight is 4–5 kg (8.8–11 lbs). In flight it has a slow and rather ponderous look and, unlike some other herons, its legs are not held horizontally. More
Goliath Herons feed on fish, frogs, small mammals and insects. A diurnal and often rather inactive feeder, this heron hunts by standing in the shallows, or on floating vegetation, intently watching the water at its feet. As prey appears, the heron rapidly spears it with open mandibles. Its breeding season is from November to March. These birds build a large stick nest in trees overhanging water, on the ground and in low bushes. More
Aspects of the topic goliath heron are discussed in the following places at Britannica. Assorted References * description (in heron (bird)) ...of North America, with a wingspan of 1.8 metres (6 feet) or more, and the similar but slightly smaller gray, or common, heron (A. cinerea), widespread in the Old World. Largest of all is the goliath heron (A. More
Goliath Heron has slate-grey plumage, with chestnut feathers. Head and crest, face, back and sides of the neck are deep chestnut. Chin and throat are white. Foreneck and upper breast are white streaked black. Feathers at base of the neck are long and blue-grey. Thighs, belly and lower breast are dark buff, slightly streaked with black. Head brings a brushy chestnut crest. Lores and eye ring area are yellowish-green. Long, strong, pointed bill has black upper mandible and horn below. More
Goliath Herons breed from June to January in KwaZulu-Natal. The nest consists of a platform of sticks up to 1,5 meters in diameter which may be placed in a variety of situations from tree to cliff to marshy island. They are usually solitary breeders but also nest in colonies or a mixed heronry. The eggs are pale blue or greenish blue, usually two but may be more. More
The Goliath Heron (Ardea goliath) in the Birds. More
The Goliath Heron is a Southern African bird that belongs to the Ardeidae bird family group which includes birds such as Egrets, Herons, Bitterns. The description for the Goliath Heron (Latin name Ardea goliath) can be found in the 7th Edition of the Roberts Birds of Southern Africa. The Ardea goliath can be quickly identified by its unique Roberts identification number of 64 and the detailed description of this bird is on page 590. More
The goliath heron is one of South Africa's largest flying birds.It is a solitary bird, seen singly or in pairs, often standing motionless in shallow waters, waiting for prey to come close enough. Other names: Afrikaans - Reuse-reier : Photographer: EcoTravel Africa The goliath heron feeds on fish, frogs, small reptiles, mammals and crabs. It will spear the prey with its sharp bill, toss it up into the air, catch it again and swallow it. More
11 GOLIATH HERON Ardea goliath ~ This big bird does very well in ..."Surprise me! See a random page in this book.Books: See all 13 items 14. Product Details Wading Birds: From Herons to Hammerkops (Animals in Order) by Sara Swan Miller (Paperback - Aug. 2000)3 used from $9.95 Excerpt - page 24: "... Herons FAMILY: Ardeidae / COMMON EXAMPLE: Goliath heron GENUS AND SPECIES: Ardea goliath HEIGHT: 59 inches (150 ..."Surprise me! See a random page in this book. More
The Goliath Heron (Ardea goliath) is a large wading bird of the heron family Ardeidae. It is found in sub-Saharan Africa, with smaller numbers in Southwest and South Asia. More
Goliath HeronGoliath Heron (Ardea goliath) South Africa - November 2005Photo no. 2736 (Category B) e-CardSend this photo like e-Card PublishBuy/Publish this photo - Another photos: Goliath Heron Goliath Heron(Ardea goliath) Photo no. More
The Goliath Heron is the 10th in the series of the birds of the Kruger National Park, which I am currently sharing. Enjoy! I just love capturing birds while they are in the water, rather to those high up in a tree where one have to fight with the camera and a perfect position to photograph them between branches and leaves that's in the way the most of the time. In this specific scene I personally like the flow of the river in the background. More
wildlife, animal, heron, bird, goliath heron, standing, body of water, wing, shorebird, blue, brown, white, one animal. - Just Jigsaw Puzzles is produced by CleverMedia. For more fun games visit GameScene.com and the free games at GamesPark.com. More
Goliath Heron (Ardea goliath) was spotted at Bis Hajari lake in ... The Goliath Heron is three to four times larger than common heron species, ... Breaking News, Kenya, Africa, Politics, Business, Sports, Blogs,... - Aug 5, 2009 Daily NationWe spot a Goliath heron standing still as a statue by the lakeshore. It is the world's largest heron. Our bird list increases with the purple heron, ... More
The Goliath Heron (Ardea goliath) is a large wading bird of the heron family Ardeidae. It is found in sub-Saharan Africa, with smaller numbers in Southwest and South Asia. Important habitats are lakes, swamps, mangrove wetlands, with few cool water, sometimes river deltas. Description: This is the world's largest heron. The standing height averages over 1.4 m (4.5 ft), with a wingspan of at least 7 ft (2 m) and a weight of about 4 kg (9 lb). More
The Goliath Heron is monogamous unless its mate dies. In the event of a partner dying Ardea goliath will seek out a new mate. The nesting habit of Goliath Heron is to create the nest in branches of a tree or shrub or on the ground. The bird lays eggs which are blue in colour and number between 2 to 5. Lake Panic, Kruger National Park. South Africa. More
goliath heron Kruger National Park birds The Goliath Heron (Latin name Ardea goliath) is described in Roberts Birds of Southern Africa, 7th Edition. This bird has a unique Roberts number of 64 and you will find a full description of this bird on page 590 also a picture of the Goliath Heron on page 592. The Goliath Heron belongs to the family of birds classified as Ardeidae. More
We studied the feeding methods of Goliath Herons (Ardea goliath) in Lake St. Lucia, Natal during the September-December 1977 breeding season. The herons captured very large fish (estimated mean length of 30 cm and wet weight of 500-600 g), which they impaled on their bills. In general, Goliath Herons hunted well away from the lake's edge, usually among beds of floating macrophytes. The plants probably attract greater fish populations; they also make the surrounding water clearer for visual penetration. More