Terek Sandpiper
The Terek Sandpiper is a small migratory Palearctic wader species, the only member of the genus Xenus.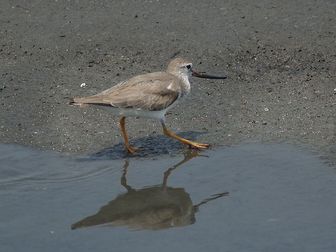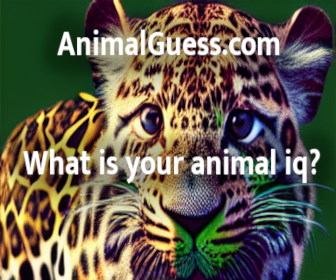 Picture of the Terek Sandpiper has been licensed under a
GFDL
Original source
: Own work
Author
: Alnus
Permission
: GNU Free Documentation License
The Terek Sandpiper is classified as Least Concern. Does not qualify for a more at risk category. Widespread and abundant taxa are included in this category.

"The Terek Sandpiper (Xenus cinereus) is an amazingly active feeder - I was observing it sprinting from one position to another, from distances of three to ten feet. It also changes directions in a very abrupt manner… On having ascertained that the prey is below the mud surface, the bird would then jab it's long up-curved bill into the soft mud, turning and twisting it as it searches for tiny crabs. More
Female Terek Sandpipers leave their breeding grounds to migrate in early July, before the males and juveniles, which leave later, mainly in August. Their estimated flight range is 3500 km - 4800 km. Facts and figures Research Species: No Minimum size: 22 cm Maximum size: 24 cm Average size: 23 cm Average weight: 95 g Breeding season: May to August Clutch size: Two to five. More
FIRST RECORD OF THE TEREK SANDPIPER IN CALIFORNIA WILSON, ERIKA M., BETTIE R. HARRIMAN ERIKA M. WILSON, 1400 S. Barton St. #421, Arlington, Virginia 22204 BETTIE R. HARRIMAN, 5188 Bittersweet Lane, Oshkosh, Wisconsin 54901 On 28 August 1988, while birding at Carmel River State Beach, Monterey County, California (36�32' N, 121�57' W), we discovered an adult Terek Sandpiper (Xenus cinereus). More
The Terek Sandpiper (Xenus cinereus) is a small migratory Palearctic wader species, the only member of the genus Xenus. Description and systematics - in Krishna Wildlife Sanctuary, Andhra Pradesh, India. Slightly larger than the Common Sandpiper at 22–25 cm length, its long upcurved bill – somewhat reminiscent of an avocet's, but not as strongly curved – makes it very distinctive. More
The Terek Sandpiper has a large range, estimated globally at 1,000,000 to 10,000,000 square kilometers. Native to Africa, Europe, Asia, and the United States, this bird prefers wetland, marine, or forest ecosystems. The global population of this bird is estimated at 160,000 to 1,200,000 individuals and does not show signs of decline that would necessitate inclusion on the IUCN Red List. For this reason, the current evaluation status of the Terek Sandpiper is Least Concern. More
* Terek Sandpiper- 5th for Lesvos * Whiskered Tern overload * Rufous-tailed Bush Robin * Kruper's Nuthatch * Masked Shrike * White-winged Black Tern More
The Terek Sandpiper is a medium-sized wader. Individuals are greyish-brown above and white below, with some white on the outer tail feathers and a noticeable white bar on the tips of the secondaries. The species may be distinguished from other waders by its long, slender, upturned black bill, which is dull orange at the base, and its orange legs and feet. More
Terek Sandpiper (Tringa cinerea) Filmed at Scarborough, SE Qld April 1995 using Canon EX1 Hi8 & Sigma 400mm lens.all » Terek Sandpiper (Tringa cinerea) Filmed at Scarborough, SE Qld April 1995 using Canon EX1 Hi8 & Sigma 400mm lens.« Download video - iPod/PSPDownload is starting. Save file to your computer. If the download does not start automatically, right-click this link and choose "Save As". How to get videos onto the iPod or PSP. Embed video ▲ ▼ Playlist: Related videos Loading... More
Terek Sandpiper: Eurasian species; rare migrant on outer Aleutians; accidental in fall to coastal British Columbia, California, and Massachusetts. Breeds along rivers and lakeshores in wooded areas and marshes. Mostly coastal outside breeding season, usually found in estuaries, mudflats, and tidal creeks. Breeding and Nesting Terek Sandpiper: Four light gray eggs with brown to black speckles are laid in a shallow ground nest lined with vegetation, usually built in the middle of grayed driftwood on riverbanks. More
Terek Sandpiper Xenus cinereus & Little Stint Calidris minuta in Krishna Wildlife Sanctuary, Andhra Pradesh, India. The Terek Sandpiper likes to associate with Ruddy Turnstones (Arenaria interpres), smallish calidrids, and Charadrius (but maybe not Pluvialis) plovers; a vagrant bird at Paraty (Rio de Janeiro state) was noted to pair up with a Spotted Sandpiper (Actitis macularius). Thus it may be that the Terek Sandpiper under natural conditions may mate with A. hypoleucos, the Old World sister species of A. macularius. More
Images Terek sandpiper in winter plumage Terek sandpiper in winter plumage Species related by - * Family group * Habitat * Conservation status * * View image slideshow * Link to this image * Email to a friend * More
Images previous Terek sandpiper imageTerek sandpiper in breeding plumage © Hanne & Jens Eriksen / naturepl. More
Terek SandpiperThe Terek Sandpiper (Xenus cinereus), is a small wader and the only member of the genus Xenus. This bird breeds near water in the taiga of Finland and northern Asia, and lays three or four eggs in a lined ground scrape. These birds migrate south in winter to tropical coasts in east Africa, south Asia and Australia, usually preferring muddy areas. This wader is a rare vagrant in western Europe. More
Terek Sandpiper determination Similar species Scolopacidae Bairds Sandpiper | Bar-Tailed Godwit | Black-Tailed Godwit | Broad-Billed Sandpiper | Buff-Breasted Sandpiper | Curlew | Curlew Sandpiper | Dunlin | Eskimo Curlew | Great Knot | Great Snipe | Greater Yellowlegs | Green Sandpiper | Greenshank | Grey Phalarope | Grey-tailed Tattler | Hudsonian Godwit | More
For the purposes of our bird news services, Terek Sandpiper is classed as Rare: species currently considered for acceptance by the British Birds Rarities Committee (or forms of equivalent rarity). More
This Terek Sandpiper (Xenus cinereus) was discovered near the mouth of the Carmel River in Monterey Co., California on 28 August 1988, providing a first state record and one of very few for the lower 48 states. This photo was taken 2 September 1988 with a Minolta X570 & 120-600 mm Vivitar lens on Kodachrome 200 film. The camera and lens were hand held on a BushHawk shoulder mount. This bird remains the only California record. More
Terek Sandpiper, Essex, Maldon 27th August 2002 © David Ellis see my website for more pics Terek Sandpiper - Terek Sandpiper, Northumberland, East Chevington 12/06/03 © John Malloy More of the Terek (plus White-winged Black Tern) @ http://mysite.freeserve.com/JohnMalloyBirdPhotos Terek Sandpiper - Terek Sandpiper, Kerry, Blennerville 6th September 2004 © Michael O'Keeffe Found by local birder Ed Carty. More
Terek Sandpiper, France, Camargue - Marais du Grenouillet 08/05/2002 © Audevard Aur�lien Terek Sandpiper - Terek Sandpiper, Belgium, Uitkerkse Polder - Blankenberge May 12th 2002 © Wim Heylen Send this as a postcard Terek Sandpiper - Terek Sandpiper, Xenus cinereus, Hortob�gz, Hungary, Vir�gosk�ti Fishponds 28/4/03 © J�nos Ol�h Jr with Leica Digilux 1 Terek Sandpiper, Xenus cinereus More
vues bogabirder — 5 mai 2008 — Adult Terek Sandpiper at Kaba, Hungary. The Terek Sandpiper is a very scarce bird in Hungary. bogabirder — 5 mai 2008 — Adult Terek Sandpiper at Kaba, Hungary. The Terek Sandpiper is a very scarce bird in Hungary. More