Greenshank
Greenshanks are brown in breeding plumage, and grey-brown in winter. They have long greenish legs and a long bill with a grey base. They show a white wedge on the back in flight. They are somewhat larger than the related Common Redshank. The alarm call is a loud trisyllabic whistle.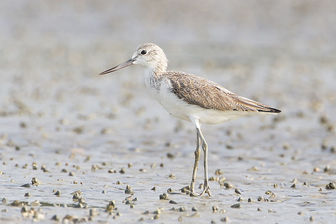 Picture of the Greenshank has been licensed under a Creative Commons
Attribution-Share Alike
.
Original source
: Own work
Author
: JJ Harrison (http://www.noodlesnacks.com/)Camera location
The Greenshank is classified as Least Concern. Does not qualify for a more at risk category. Widespread and abundant taxa are included in this category.

Greenshanks often feed in fairly deep water The Greenshank Tringa nebularia is a wader in the large family Scolopacidae, the typical waders. Its closest relative is the Greater Yellowlegs, together with which and the Spotted Redshank it forms a close-knit group. Among them, these three species show all the basic leg and foot colours found in the shanks, demonstrating that this character is paraphyletic (Pereira & Baker, 2005). More
The Spotted Greenshank or Nordmann's Greenshank Tringa guttifer is a wader in the large family Scolopacidae, the typical waders. It is a medium-sized sandpiper, 29-32 cm long, with a slightly upturned, bicoloured bill and shortish yellow legs. Breeding adults are boldly marked, with whitish spots and spangling on blackish upperside, heavily streaked head and upper neck, broad blackish crescentic spots on lower neck and breast and darker lores. More
Common Greenshank: Found in Europe and Asia on mudflats, wetlands, bogs, shallow marshes, ponds. Rare visitor to western Aleutians, Pribilof, and St. Lawrence Islands of Alaska; also recorded in Nova Scotia and Newfoundland in fall and winter. Nests in taiga and forest areas; winters on a wide range of wetland habitats, both coastal and inland, but prefers estuaries to the open coast. More
Greenshanks are brown in breeding plumage, and grey-brown in winter. They have long greenish legs and a long bill with a grey base. They show a white wedge on the back in flight. They are somewhat larger than the related Common Redshank. The alarm call is a loud trisyllabic whistle. Like most waders, they feed on small invertebrates, but will also take small fish. More
For the purposes of our bird news services, Greenshank is classed as Common: common species, including species that are certain or probable escapees from captivity when occurring in the British Isles. (Note that rarity levels are currently applied nationally and may not reflect local variations in abundance. More
Greenshank is a centerboard boat; she is 18 feet 1 inch in overall length; 16 feet long on the water line; 6 feet 6 inches in breadth; and draws (with the board up) 1 foot 4 inches. With the centerboard down to its proper depth the draft is 3 feet 3 inches. The freeboard is generous; at the bow 2 feet 3 inches, at the stern 1 foot 8 1/2 inches, with the lowest point 1 foot 5 inches. More
Greenshanks breed in northern Europe and Asia during the summer, and they winter in southern Europe, Asia, Africa, and occasionally as far south as Tasmania and New Zealand. They nest on moors, in flat meadows or swamps near lakes, or in wooded bogs. A clutch of four speckled and cryptically coloured eggs, laid in late April or early May, is incubated for 23 or 24 days. The male and female usually share the nesting duties. More
Greenshank specialises in the area of Strategic Planning, Sales, Marketing and eBusiness effectiveness and work with small to medium sized companies (SME's) to develop and execute on their business plans. From 'traditional' sales and marketing consultancy through to complex multi-program Internet implementations, Greenshank are helping companies get their businesses moving faster. More
Greenshank Systems was set up specifically to assist smaller organisations deliver on coherent sales, marketing and eBusiness strategies. A strategy that supports and assists the total business objectives of that organisation. And in a way that is measurable, realistic and totally achievable. Intrigued? - then look at the services that we can offer to get your organisations strategy working positively towards your business goals. More
Welcome to the Greenshank Migration Story. Here you can find out about Greenshanks, follow the movements of individual birds, help unravel some of the mysteries about their migration, meet other people who are interested in them, and discover more about the places the birds visit and the people who live there. More
A superb 15 greenshanks were at NWWT Spinnies, with others at RSPB Conwy, where up to three kingfishers have shown well this week, often preceded by their trademark short whistles.bird notes by Daily Post (Liverpool, England)While down at Wader Lake, regular winter guests include greenshank, redshank and lapwing.club: Win with Washington Wetland Centre by The Journal (Newcastle, England)including the Nordmann's Greenshank and the Chinese egret, the report said. More
greenshanks at the latter, and a honeybuzzard reported there. More
greenshank definition Hear it! = greenshank definition green·shank (grēn′s̸haŋk′) noun a European sandpiper (Tringa nebularia) with greenish legs green·shank (grēnˈshăngkˌ) noun A European wading bird (Tringa nebularia) having greenish legs and a long bill. Browse dictionary definitions near greenshank 1. greenmailer 2. greenmarket 3. More
* A greenshank at Brownsea Island0:37 * Ajouter à la file d'attente Ajoutée à la file d'attente A greenshank at Brownsea Island53 vuesportmeadowbirding * Greenshank0:33 * Ajouter à la file d'attente Ajoutée à la file d'attente Greenshank8 vuesdolhijn * DSCN31840:20 More