Greater Yellowlegs
The Greater Yellowlegs, Tringa melanoleuca, is a large North American shorebird, similar in appearance to the smaller Lesser Yellowlegs. Its closest relative, however, is the Greenshank, which together with the Spotted Redshank form a close-knit group. Among them, these three species show all the basic leg and foot colors found in the shanks, demonstrating that this character is paraphyletic . They are also the largest shanks apart from the Willet, which is altogether more robustly built. The Greater Yellowlegs and the Greenshank share a coarse, dark, and fairly crisp breast pattern as well as much black on the shoulders and back in breeding plumage.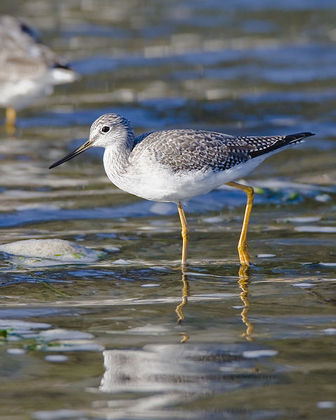 Picture of the Greater Yellowlegs has been licensed under a Creative Commons
Attribution
.
Original source
: Greater Yellowlegs (Tringa melanoleuca) in the Morro Bay, CA Sta. Photo taken with Canon 1D Mark III w/ 600mm IS lens w/ 1.4X II TE on tripod at ground level w/ polarizer.
Author
: Mike Baird (bairdphotos.com)Permission(Reusing this file)This file is licensed under the Creative Commons Attribution 2.0 Generic license.You are free:to share – to copy, distribute and transmit the work
The Greater Yellowlegs is classified as Least Concern. Does not qualify for a more at risk category. Widespread and abundant taxa are included in this category.

fish, the Greater Yellowlegs winters in the southern United States and throughout Central and South America. It migrates in a broad front across North America and is often among the first shorebirds to arrive in spring. Its fall migration is prolonged, with the first birds returning in late June and the last lingering into early winter. More
The Greater Yellowlegs, Tringa melanoleuca, is a large North American shorebird, similar in appearance to the smaller Lesser Yellowlegs. Its closest relative, however, is the Greenshank, which together with the Spotted Redshank form a close-knit group. Among them, these three species show all the basic leg and foot colors found in the shanks, demonstrating that this character is paraphyletic (Pereira & Baker, 2005). They are also the largest shanks apart from the Willet, which is altogether more robustly built. More
The greater yellowlegs has a louder and clearer call, often uttered in a three- or four-note sequence, "kyew kyew kyew," with a falling inflection to each syllable. The lesser yellowlegs tends to call once or twice. Both species of yellowlegs have a "yodeling" song in addition to the better known sharp alarm calls. This song is given either from the ground or during display flights and has been variously interpreted as "toowhee, toowhee," "tweda, tweda," or "whee-oodle, whee-oodle. More
Greater Yellowlegs Range MapView dynamic map of eBird sightings Field MarksHelp - * AdultPopOutZoom In Adult * © William L. Newton / CLO * AdultPopOutZoom In Adult * © William L. More
* Greater Yellowlegs Species Account - Cornell Lab of Ornithology * Greater Yellowlegs Tringa melanoleuca - USGS Patuxent Bird Identification InfoCenter * Greater Yellowlegs Information and Photos - South Dakota Birds and Birding * Avibase This entry is from Wikipedia, the leading user-contributed encyclopedia. More
North American RangeThe Greater Yellowlegs is a mottled gray wading bird with long, bright yellow legs. It is similar in appearance to its smaller relative, the Lesser Yellowlegs. The bill of the Greater Yellowlegs is slender and longer than the diameter of its head, in contrast to the bill of the Lesser Yellowlegs, which is not significantly longer than its head. In breeding plumage, the bill is solid black, whereas in non-breeding plumage it may be lighter gray at the base. More
The Greater Yellowlegs is a lanky shorebird with long yellow legs, a slightly upturned, dark bill that is more than twice as long as the head, and brownish-gray upperparts heavily mottled with white. greater yellowlegs Female - Sexes similar. Seasonal change in appearance - Nonbreeding birds are slightly paler. Juvenile - Immatures resemble adults. More
Aspects of the topic greater yellowlegs are discussed in the following places at Britannica. Assorted References * description (in yellowlegs (bird)) ...between its breeding grounds across Canada and Alaska and its wintering ground from the Gulf of Mexico to southern Chile and Argentina. The greater yellowlegs (T. More
Greater yellowlegs in breeding plumage Greater yellowlegs in breeding plumage Note slightly upturned, pale-based bill All photos on this web page More
Greater YellowlegsThe greater yellowlegs is a medium-sized wading bird that is about 11-14 inches in length. It has very long yellow legs and a long, slightly turned up bill. Its tail is marked with black bars. Its back and wing areas are a streaked grayish-brown. Its face, neck, chest and belly are white with brown and gray speckles. Range The greater yellowlegs breeds from south-central Alaska east to Newfoundland. More
The Greater Yellowlegs is one of our more familiar shorebirds in San Diego County, dashing about frenetically as it feeds and calling attention to itself with its shrill calls. The Lesser Yellowlegs, however, is much less conspicuous, often overshadowed by its larger relative. In winter, especially, it is far less numerous yet still occurs occasionally, making this pair of remarkably similar species a good subject for a winter issue of Wrenderings. More
greater yellowlegsgreater yellowlegs - a variety of yellowlegs Tringa melanoleucayellowlegs - either of two North American shorebird with yellow legs How to thank TFD for its existence? Tell a friend about us, add a link to this page, add the site to iGoogle, or visit webmaster's page for free fun content. More
* Greater Yellowlegs (on Log)1:37 * Ajouter à la file d'attente Ajoutée à la file d'attente Greater Yellowlegs (on Log)19 vuesLucretius41 * 'Tring tring...' song from 'Amaran'4:10 * Ajouter à la file d'attente Ajoutée à la file d'attente 'Tring tring... More