Grey-tailed Tattler
The Grey-tailed Tattler, Tringa brevipes , is a small shorebird.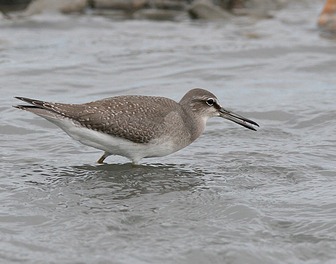 Picture of the Grey-tailed Tattler has been licensed under a Creative Commons
Attribution
.
Original source
: Flickr
Author
: honan4108 on FlickrPermission(Reusing this file)This file is licensed under the Creative Commons Attribution 2.0 Generic license.You are free:to share – to copy, distribute and transmit the work
The Grey-tailed Tattler is classified as Least Concern. Does not qualify for a more at risk category. Widespread and abundant taxa are included in this category.

The Grey-tailed Tattler (Heteroscelus brevipes) is an uncommon winter visitor and passage migrant to Singapore. The first record was on 11th September 1923 after which it was not recorded again until 8th November 1967 at Changi. This uncommon visitor is not seen annually. The main migration route from the north passes further east of Singapore, through the Philippines. The earliest and latest sightings are 31st August and 21st April respectively. Reference: Wang, L.K. & C. J. More
Grey-tailed Tattler at Sungei Buloh Wetland Reserve - Posted by BESG on 5 November 09, Thursday Contributed by Ben Lee The Grey-tailed Tattler (Heteroscelus brevipes), an uncommon winter visitor and passage migrant, was photographed at the Sungei Buloh Wetland Reserve in October 2009 with what looks like a crab in its bill. More
The nest of the Grey-tailed Tattler were not discovered by humans until 1959. It was simply a hollow among stones, lined with dried grass. The sitting female was very tame and allowed the observer, a Russian geologist, to approach within arm's length. More
Photo of Grey-tailed Tattlers in transitional plumage. Location Queenscliff Victoria Australia Size of original (pixels) Width: 1900 Height: 1425 Photographic data Date: 1/3/01 6:54:06 PM Aperture: f5.3 Shutter Speed: 1/299 sec Focal Length: 17.2 mm grey_tailed_tattler_00558.jpg © Ian Montgomery; please contact: ian@birdway.com. More
The Grey-tailed Tattler is closely related to its North American counterpart, the Wandering Tattler (T. incana) and is difficult to distinguish from that species. Both tattlers are unique among the species of Tringa for having unpatterned, greyish wings and back, and a scaly breast pattern extending more or less onto the belly in breeding plumage, in which both also have a rather prominent supercilium. These birds resemble Common Redshanks in shape and size. More
pattern: the Grey-tailed Tattler has fine barring on throat, breast and flanks only, which appear light grey from a distance; the rest of the underside is pure white. The Wandering Tattler has a coarser barring, still visible from quite far away, all the way from the throat to the undertail coverts. More
all » Grey-tailed Tattler (Tringa brevipes) Filmed at Manly, SE Qld Sept 1999 using Canon EX1 Hi8 & Sigma 400mm lens.« Download video - iPod/PSPDownload is starting. Save file to your computer. If the download does not start automatically, right-click this link and choose "Save As". How to get videos onto the iPod or PSP. Embed video ▲ ▼ Playlist: Related videos Loading... More
Grey-tailed Tattlers are strongly migratory and winter on muddy and sandy coasts from southeast Asia to Australia. They are very rare vagrants to western North America and western Europe. These are not particularly gregarious birds and are seldom seen in large flocks except at roosts. These birds forage on the ground or water, picking up food by sight. They eat insects, crustaceans and other invertebrates. More
For the purposes of our bird news services, Grey-tailed Tattler is classed as Mega: species which have not yet occurred in the British Isles or are exceedingly rare, or are otherwise highly desirable. More