South American Snipe
This small snipe breeds in most of South America away from the Pacific coast and eastern Brazil, and also the Falkland Islands, Trinidad and possibly Tobago The nominate lowland race G. p. paraguaiae is resident, but southern G. p. magellanicae migrates north in winter, abandoning Tierra del Fuego altogether, and the Andean G. p. andina moves to lower ground.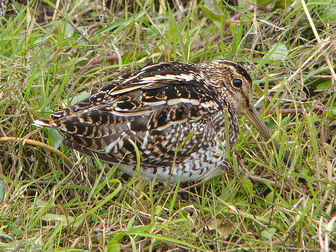 Picture of the South American Snipe has been licensed under a Creative Commons
Attribution-Share Alike
.
Original source
: Narceja (Gallinago paraguaiae paraguaiae)
Author
: Cláudio Dias Timm from Rio Grande do SulCamera location
The South American Snipe is classified as Least Concern. Does not qualify for a more at risk category. Widespread and abundant taxa are included in this category.

The South American Snipe or Magellan Snipe, Gallinago paraguaiae, is a small, stocky wader. Its taxonomic position is complicated, sometimes treated as a race of Common Snipe, or split into two species, with the Andean population as Puna Snipe. This small snipe breeds in most of South America away from the Pacific coast and eastern Brazil, and also the Falkland Islands, Trinidad and possibly Tobago The nominate lowland race G. p. paraguaiae is resident, but southern G. p. More
The adult South American Snipe is 27-29 cm in length and weighs 110 g. It has short greenish-grey legs and a very long straight dark bill. The body is mottled brown on top and pale underneath. There is a dark stripe through the eye, with light stripes above and below it. The wings are pointed. In northern South America, it is difficult to distinguish in the field from wintering Common Snipe, although they can be separated in the hand. G. p. More
South American Snipes forage in soft mud, probing or picking up food by sight. They mainly eat insects and earthworms, also plant material. The male performs a "winnowing" display during courtship, flying high in circles and then taking shallow dives to produce a distinctive sound. The call is a rasping tssk. More
I,i - toggle EXIF info ExhibitPlus South American Snipe South American Snipe DATE: 8/10/06 4:40 PM | CAMERA: NIKON CORPORATION (NIKON D200) | RESOLUTION: 672 x 600 | NATIVE FOCAL LENGTH: 550.0mm | FLASH: Flash fired, return detected | EXPOSURE TIME: 1/250 sec | METERING MODE: Spot | APERTURE: F6. More
For the purposes of our bird news services, South American Snipe is classed as ungraded: species which are unlikely to appear as wild birds in Britain or Ireland (Note that rarity levels are currently applied nationally and may not reflect local variations in abundance. More
The South American Snipe can be distinguished from the Giant Snipe by its yellowish legs. In addition the Giant Snipe has a flatter forehead. This individual was in grass near a lake. He was not easy to photograph, remaining upright and visible for a couple of seconds after moving, before ducking down and disappearing completely from view, despite being a medium-sized bird. Fortunately he did this twice giving me an opportunity to take a photo on the second occasion. More
Our South American Snipe friends are already hard at work with the Federations for the Pan Am Games and ISAF is aware of our excellent efforts. There is a lot of work to be done We are asking that each National Secretary inform their members of SCIRA's intentions and make contact with your respective Federation and ask for their support. More