African Snipe
This 30-32 cm long snipe has a stocky body and relatively short legs for a wader. Its upperparts, head and neck are streaked and patterned with bold dark brown stripes and gold edges to the feathers forming lines down its back.. The belly is white, with some brown barring on the flanks but never on the belly. The pinkish-brown bill is very long, straight and fairly robust. The legs and feet are yellowish-olive to greenish-grey. The sexes are similar, and immatures differ only in showing pale fringes on the wing coverts.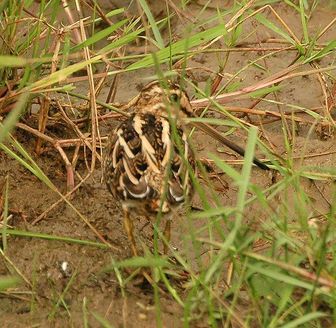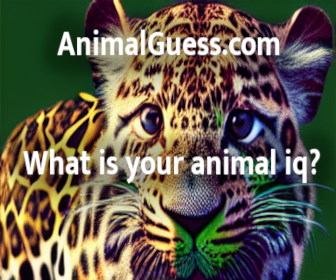 Picture of the African Snipe has been licensed under a Creative Commons
Attribution-Share Alike
.
Original source
: Aviceda
Author
: Aviceda
The African Snipe is classified as Least Concern. Does not qualify for a more at risk category. Widespread and abundant taxa are included in this category.

The African Snipe makes a hleep call as it takes off, and has a far carrying kip call when breeding. It shows white trailing edges on the wings and white tail corners in flight. The African Snipe can only be confused with the three migrant snipes that occur in its range, Common, Pintail and Great Snipe. Great Snipe is obviously larger, darker, and relatively shorter billed. Pintail Snipe lacks the white trailing edges on the wings and its tail corners have very little white. More
African SnipeAfrican Snipes, also known as the Ethiopian Snipes = Waders The African Snipe, Gallinago nigripennis, also known as the Ethiopian Snipe, is a small stocky wader. It breeds in eastern and southern Africa in wet mountain moorland and swamps at altitudes of 1700 - 4000m. When not breeding it disperses widely, including into coastal lowlands. More
African Snipe Gallinago nigripennis Marievale Nature Reserve, Gauteng, South Africa. 14 October 2005 and 11 January 2006 The only gallinago Snipe to breed in Africa, the African Snipe is essentially a sub-Saharan resident, though it may disperse from its breeding grounds. Very similar to Common Snipe Gallinago gallinago, this species is generally darker coloured and has a 20% longer bill. More
african snipe kruger national park birds The African Snipe (Latin name Gallinago nigripennis) is described in Roberts Birds of Southern Africa, 7th Edition. This bird has a unique Roberts number of 286 and you will find a full description of this bird on page 344 also a picture of the African Snipe on page 305. The African Snipe belongs to the family of birds classified as Scolopacidae. More
Stamps showing African Snipe Gallinago nigripennis African Snipe Gallinago nigripennis 64.004 African Snipe IOC v2.4: 1575 Links will open countrypage in new window - Malawi 19.02. More
African Snipe - Gallinago nigripennis Bécassine africaine = Bécassine africaine Comment : This common resident species lives in marshes, flooded grasslands and muddy areas with short vegetation. It seeks insects and worms by pushing its long bill into the mud. Ce résident commun vit dans les marais et les prairies inondées, et dans la vase avec de la végétation courte. Il cherche des insectes et des vers en poussant son bec dans la vase. More
The African Snipe has the upperparts, head and neck beautifully streaked and patterned with bold dark brown stripes and gold edges to the feathers. The belly is white, with some brown barring on the flanks but never on the belly. The body is stocky, and the legs appear short in relation compared to those of other waders. The bill is exceptionally long, straight and fairly robust. It is pinkish-brown. The legs and feet are yellowish-olive to greenish-grey. More
African Snipe, Gallinago nigripennis Madagascar Snipe, Gallinago macrodactyla Great Snipe, Gallinago media Common Snipe, Gallinago gallinago The American race, G. g. delicata is sometimes considered a separate species, Wilson's Snipe. More
African Snipe is similar in build to the Madagascar Snipe, but has an obvious white trailing edge on the wing. All the snipes that are potential vagrants to Madagascar have a faster, lighter flight than the resident species. Behaviour - The Madagascar Snipe breeds in marshes, swamps, muddy areas, flooded fields and sometimes ricefields. It builds a saucer-shaped nest of dry grass in the drier areas of its breeding wetland. More
African Snipe Gallinago nigripennis = Marievale, Gauteng, South Africa - Oct, 2005 More
Physical characteristics: African snipes range in size from 9.8 to 11.4 inches (25 to 29 centimeters) and weigh between 3 and 6 ounces (90 to 164 grams). Birds have dark backs and pale bellies. Females and males are generally similar in size and appearance except that females have somewhat longer bills. Geographic range: African snipes are found in southern and eastern Africa. Habitat: African snipes occupy wetland habitats with areas of exposed mud and short vegetation. More
* African Snipe (Gallinago nigripennis nigripennis) African Snipe (Gallinago nigri... * snipes reunion 2003 snipes reunion 2003 * Great Painted-Snipe, Kruger National Park, Satara Area , South Africa by www.stormc.co.za Great Painted-Snipe, Kruger Na... * Ethiopian Snipe www.stormc.co.za Ethiopian Snipe www.stormc.co.... More
African Snipe, Gallinago nigripennis Scolopacidae (SANDPIPERS) African Snipe, Gallinago nigripennis This photo was taken in: South Africa Notes on this photo: The photo was taken by: Richard Mckibbin South Africa reports Reports from birdtours.co.uk Birdwatching trip reports from around the world South Africa reports Reports from birdtours.co. More
African Snipe Royalty Free Stock ImageAFRICAN SNIPE © Cooper5022 | Dreamstime.com ID: 13408366 Level: 1 Size: 5,268 KB (7. More
1999) of field study of the African Snipe at Lake Ol' Bolossat (36%E 00o 09'S) and surrounding highlands. The area is characterised by extensive destruction of marshes and catchments of the basin. The African Snipe is very sensitive to habitat destruction and can be a useful indicator of habitat quality. The aims of the study were to determine population characteristics, foraging behaviour and factors that influence reproductive success of the African Snipe. More