Temminck's Stint
Temminck's Stint, Calidris or Erolia temminckii, is a small wader.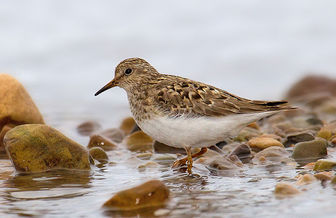 Picture of the Temminck's Stint has been licensed under a Creative Commons
Attribution-Share Alike
.
Original source
: Own work
Author
: Andreas TreptePermission(Reusing this file)This photo was taken by Andreas Trepte.Please credit this photo Andreas Trepte, www.photo-natur.de.
The Temminck's Stint is classified as Least Concern. Does not qualify for a more at risk category. Widespread and abundant taxa are included in this category.

Temminck's Stint - Calidris temminckii Bécasseau de Temminck = Bécasseau de Temminck Comment : Okhla, New Delhi, India on 22nd Jan, 2006 Le guide ornitho : Les 848 espèces d'Europe en 4000 dessins Gallery : © Devashish Deb Site web : birdpoints Order : Charadriiformes Family : Scolopacidae Species : Temminck's Stint Reference: dede15924 Other pictures Date taken : NC More
Temminck's Stint, Calidris or Erolia temminckii, is a small wader. In Breeding plumage near Hodal in Faridabad District of Haryana, India. In Non- breeding plumage at Purbasthali in Bardhaman District of West Bengal, India. This stint's breeding habitat is bogs and marshes in the taiga of Arctic northern Europe and Asia. It will breed in southern Scandinavia and occasionally Scotland. It has a distinctive hovering display flight. It nests in a scrape on the ground, laying 3-4 eggs. More
Temminck's Stint: Breeds in the far northern arctic of Europe and Asia. Favors inland bodies of water during migration to Africa and the coasts of India and South Asia, where it winters on the margins of sheltered bays and estuaries. Very rarely wanders to the Aleutian Islands of Alaska. Breeding and Nesting Temminck's Stint: Breeds on fairly bare ground in arctic tundra. More
Temminck's Stint Calidris temminckii - Adult Temminck's Stint Photographer : More
Temminck's Stint Calidris temminckii - Temminck's Stints generally are seen singly or in small, loose flocks, often at the muddy margins, close to vegetation. They are not as energetic as Little Stints, feeding at a slower rate. They have pale, yellowish green legs with short dark bills, which are very slightly decurved. More
Temminck's Stint: Juvenile Default description Temminck's Stint: Juvenile Temminck's Stint: Breeding Adult Default description Temminck's Stint: Breeding Adult Related Birds Least Sandpiper Baird's Sandpiper Little Stint Red-necked Stint General Temminck's Stint: Small sandpiper with gray-brown upperparts and faint breast band and white underparts. Dark tail is long with white outer feathers; upperwings are gray-brown and have dark markings. More
Temminck's Stint is strongly migratory, wintering at freshwater sites in tropical Africa and south Asia. On very rare occasions it has been spotted in North America in Alaska, British Columbia and Washington State. These birds forage in soft mud with some vegetation, mainly picking up food by sight. They have a distinctive mouse-like feeding behaviour, creeping steadily along the edges of pools. They mostly eat insects and other small invertebrates. More
Temminck's Stint is strongly migratory, wintering at freshwater sites in tropical Africa and south Asia. These birds forage in soft mud with some vegetation, mainly picking up food by sight. They have a distinctive mouse-like feeding behaviour, creeping steadily along the edges of pools. They mostly eat insects and other small invertebrates. They not as gregarious as other Calidris waders, and rarely form large flocks. These birds are very small waders, at 13. More
Description: Temminck's Stint (Calidris temminckii) - Buy Bird Books from Amazon Here Home Page Scanned images Copyright More
Temminck's Stint Calidris temminckii = * Home Expand Log in Menu item Register Menu item Log out Menu item Change login details Menu item Why register? Expand UK & Ireland Menu item Birding sites More
Temminck's Stint Calidris temminckii Little Marlow GP - 13th-14th May 2008 Photos copyright Jim Rose Photo copyright Chris Goodie This individual was found on the large sand spit at Little Marlow Gravel Pit late afternoon, where it could be difficult to see. By early evening about 20 local birders had seen this tiny wading bird (compare to the giant Lapwing in the foreground!). More
Temminck's Stint Calidris temminckii A scarce passage migrant in most of the UK with the east coast getting the lion's share. Much more numerous in spring (May) than autumn most years. More
Temminck's Stint Calidris temminckii = Described by: Leisler (1812) Alternate common name(s): None known by website authors Old scientific name(s): Erolia temminckii Photographs Inner Port, Zeebrugge, Belgium - May 15, 2002 More
Temminck's Stint - Calidris temminckii Bécasseau de Temminck = Bécasseau de Temminck Le guide ornitho : Les 848 espèces d'Europe en 4000 dessins Gallery : © Hervé Michel Site web : oiseaux-nature. More
Temminck's Stint (Calidris temminckii) - Home | Articles | Areas of Beauty | Plants | Animals | Walks | Survival Tips | Kit | Books - Young Common Snipe Temminck's Stint (Calidris temminckii) is a tiny wading bird that is seen in small numbers in Britain in May-June. The picture is taken from A History of British Birds by William Yarrell, volume III, 1860 (back to index). More
Temminck's Stint, LANCS, Newton Marsh. More
Temminck's Stint - Calidris temminckii Temminck's Stint was named after Coenraad Jacob Temminck who was a Dutch naturalist. Stint is one of several very small waders in the genus Calidris which in North America are known as peeps. Some of these birds are difficult to identify because of the similarity between species and various breeding, non-breeding, juvenile and moulting plumages. Reference to stint in Britain was first met with in 1472 as 'styntis' with the present spelling occurring in 1622. More
Temminck's Stint records in the Western Isles Rare visitor (30 or less records) Source: Outer Hebrides Bird Report (2001) The chart below shows how abundant the Temminck's Stint is during a month or when you are more likely to see it. More
Temminck's Stints are fairly regular in The Netherlands in late summer and early autumn (as well as during spring maigration), though never and nowhere really common. They are particularly known to occur on inundated flower bulb fields, which become very rich in nutrients after a while. Farmers in the province of N-Holland do this (between July and September) to fight a little organism in the soil, which is known to affect the growing bulbs. More
species overview :: Temminck's Stint (Calidris temminckii) = Nr. More