Common Sandpiper
The Common Sandpiper, Actitis hypoleucos, is a small Palearctic wader. This bird and its American sister species, the Spotted Sandpiper , make up the genus Actitis. They are parapatric and replace each other geographically; stray birds of either species may settle down with breeders of the other and hybridize. Hybridization has also been reported between the Common Sandpiper and the Green Sandpiper, a basal species of the closely related shank genus Tringa.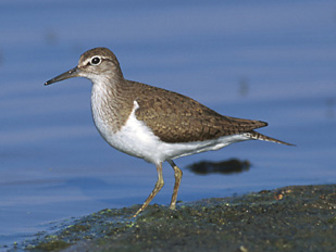 Picture of the Common Sandpiper has been licensed under a
GFDL
Original source
: Own work
Author
: Marek SzczepanekOther versions
Permission
: GNU Free Documentation License
The Common Sandpiper is classified as Least Concern. Does not qualify for a more at risk category. Widespread and abundant taxa are included in this category.

The common sandpiper has a brown upper body and a white underside. When at rest its wingtips reach halfway back to its tail. The bird is a European and Asian species, but is closely related to the similar-looking spotted sandpiper of the Americas. The common sandpiper is a migrator, but it frequents similar habitats year-round. When in upland areas, sandpipers live along river, ponds, or lakes. More
The Common Sandpiper (Actitis hypoleucos) is not resident to Singapore. It is a winter visitor and passage migrant. And comes August, these sandpipers begin to arrive, their number increasing through September to March. By that month most would have left. So common are the Common Sandpipers during these months that most traditional birdwatchers fail to see them – remember the saying "you may look but you do not see. More
Common Sandpiper takes an insect - Posted by BESG on 18 November 09, Wednesday Contributed by Mike Tan The images of the Common Sandpiper (Actitis hypoleucos) by Mike Tan a.k.a. woof was taken in early November 2009. The image above shows the bird standing in shallow water picking an insect from the surface. It then proceeds to bash the insect into submission against the water as shown in the image below before swallowing it. More
The Common Sandpiper is a small sandpiper with a rather long body and short legs. It is grey-brown above and white below, extending up in a pointed shape between the wing and the dark breast band.There is an indistinct white supercilium (eyebrow) and white eye-ring. The bill is dark grey with yellow at the base and the legs vary from greyish-olive to a yellowish-brown. When at rest, the long tail projects well beyond the tips of the wings. More
The Common Sandpiper, Actitis hypoleucos, is a small Palearctic wader. This bird and its American sister species, the Spotted Sandpiper (A. macularia), make up the genus Actitis. They are parapatric and replace each other geographically; stray birds of either species may settle down with breeders of the other and hybridize. Hybridization has also been reported between the Common Sandpiper and the Green Sandpiper, a basal species of the closely related shank genus Tringa. More
COMMON SANDPIPER (ACTITIS HYPOLEUCOS) From Wikipedia, the free encyclopedia: The Common Sandpiper, Actitis hypoleucos, is a small Palearctic wader. This bird and its American sister species, the Spotted Sandpiper (A. macularia), make up the genus Actitis. They are parapatric and replace each other geographically; stray birds of either species may settle down with breeders of the other and hybridize. More
Looks like a common Sandpiper to me for sure. The green Sandpiper shows too much white spots all over the body which are absent here. I think it confuses due to very tight compo as bird is very close & looks huge in the image.... Regards, Vatsal Trivedi jamnagarbirds.blogspot. More
The Common Sandpiper is a small wader with widespread distribution. It is found throughout Europe and Asia, where it prefers to breed. This species builds its nests on the ground and very near local supplies of fresh water. During winter months, The Common Sandpiper migrates south to warmer climates. Destinations include Africa, southern Asia and Australasia. This bird is seldom witnessed traveling in large flocks. The Common Sandpiper forages in water and on the ground for food, including invertebrates, crustaceans and insects. More
The Common Sandpiper breeds across most of temperate and subtropical Europe and Asia, and migrates to Africa, southern Asia and Australia in winter. The eastern edge of its migration route passes by Palau in Micronesia, where hundreds of birds may gather for a stop-over. They depart the Palau region for their breeding quarters around the last week of April to the first week of May. More
underparts, and are very similar to the Common Sandpiper of Eurasia; the main difference is the more washed-out wing pattern visible in flight and the normally light yellow legs and feet of the Spotted Sandpiper. The Actitis species have a distinctive stiff-winged flight low over the water. Spotted Sandpipers nest on the ground. During each summer breeding season, females may mate with and lay clutches for more than one male, leaving incubation to them. More
Common Sandpipers also have some barring on the wings visible at close range). Like that species, it has a distinctive stiff-winged flight low over the water. The Common Sandpiper breeds across most of Europe and Asia. It nests on the ground near fresh water. It migrates to Africa, southern Asia and Australasia. This is not a gregarious bird and is seldom seen in large flocks. More
Common Sandpiper Actitis hypoleucos = * Home Expand Log in Menu item Register Menu item Log out Menu item Change login details Menu item Why register? Expand UK & Ireland Menu item Birding sites More
The common sandpiper (Actitis, or sometimes Tringa, hypoleucos) is an abundant breeder on grassy shores of lakes and rivers throughout Eurasia, and it winters from Africa to Australia and Polynesia. This species is notable for a nervous mannerism of wagging its tail. The closely related spotted sandpiper (A. macularia) is the best-known New World sandpiper; this species... More
better those I had taken of another Common Sandpiper present on a gloomy morning in April 2005. I was delighted at the record as Common Sandpiper still remains a rarity here, but as Wheatears had been in the area for a number of days, I quickly moved on to Tug Bridge Farm to check there. I had no reason to question my original ID and the picture was uploaded onto this website the same day. More
Common Sandpipers are easily identified by their habit of "teetering": constantly bobbing head and tail while on the ground, particularly when feeding. Their Malay name sounds like their call. Common Sandpipers appears to be the least specialised and eat a wide variety of prey: from minute invertebrates to crustacea, worms, insects, spiders, centipedes. They may even scavenge from food scraps thrown out by people from boats or waterside activities. Common Sandpipers feed restlessly and deliberately. More
Common SandpiperCommon Sandpiper Name Common Sandpiper Scientific Name Actitis hypoleucos Location Sanjeviah Park Notes More
Common Sandpiper (Actitis hypoleucos) | Cormorants, darters | Dark-capped bulbul (Pycnonotus tricolor) | Ducks & Geese | Flycatchers | Fork-tailed Drongo (Dicrurus adsimilis) | Francolins | Golden-Breasted Bunting (Emberiza flaviventris) | Golden-tailed woodpecker (Campethera abingoni) | Green-winged Macaw or Red-and-green Macaw (Ara chloroptera) | Green-winged Pytilia (Melba Finch)(Pytilia melba) | Helmeted Guineafowl (Numida meleagris) | Herons, Egrets & Hamerkop | Hoopoe (Upupa epops) | Hornbills | House Sparrow (Passer domesticus) | Ibises, Spoonbills | Kingfishers | Ostrich (Struthio More
The RSPBCommon sandpiper on rock in riverShallow stream flowing over stones Common sandpiper on rock * A * B * C * D * E * F * G * H * I * J * K * L More
SmugMugHome Login Help View Cart Common Sandpiper Common Sandpiper, Actitis hypoleucos gallery pages: 1 Dubai Creek Park, 15.10.2009 © Reza Khan - partial albino Dubai Creek Park, 15.10.2009 © Reza Khan - partial albino Safa Park, 26.03.2009 © Knut A. Hansen Safa Park, 26.03.2009 © Knut A. Hansen Al Rafa shoreline, 20.02.2009 © Ahmed Al Ali Al Rafa shoreline, 20.02.2009 © Ahmed Al Ali Safa Park, 07.09.2008 © Tommy Pedersen Safa Park, 07.09. More
Western Isles Birds - Common Sandpipers - You can see them all over the islands - a delightful bird for the Hebrides. Bird sightings in the Western Isles. A small short legged and short billed wading bird - bill with a pale base and dark tip- often seen in The Western Isles. This birds upper parts are olive brown, finely spotted - the neck and sides of breast are grey-brown - the underparts are white. More
the common sandpiper (Tringa hypoleucos) of Europe and the spotted sandpiper (Actitis macularia) and least sandpiper (Calidris minutilla) of North America sand·pi·per (săndˈpīˌpər) noun Any of various small wading birds of the family Scolopacidae, usually having a long straight sensitive bill with which it picks up insects, worms, and soft mollusks in mud and sand. Browse dictionary definitions near sandpiper 1. sandiest 2. More