African Jacana
These are conspicuous and unmistakable birds. They are 30cm long,but the females are larger than the males. They have chestnut upperparts with black wingtips,rear neck and eyestripe. The underparts are white,with a chestnut belly patch in adult birds. The blue bill extends up as a coot-like head shield,and the legs and very long toes are grey.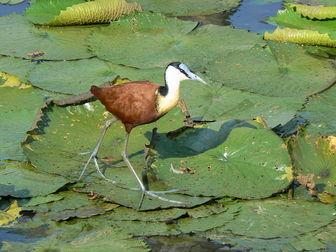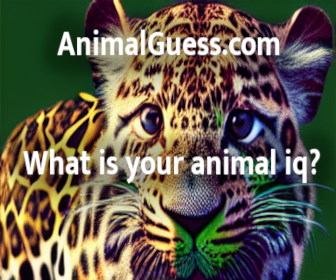 Picture of the African Jacana has been licensed under a Creative Commons
Attribution
.
Original source
: originally posted to Flickr as African jacana
Author
: Chris EasonPermission(Reusing this file)This image, which was originally posted to Flickr.com, was uploaded to Commons using Flickr upload bot on 10:36, 28 April 2008 (UTC) by Snowmanradio (talk). On that date it was licensed under the license below.This file is licensed under the Creative Commons Attribution 2.0 Generic license.You are free:to share – to copy, distribute and transmit the work
The African Jacana is classified as Least Concern. Does not qualify for a more at risk category. Widespread and abundant taxa are included in this category.

The African Jacana (Actophilornis africana) is a jacana. The jacanas are a group of waders in the family Jacanidae, which are identifiable by their huge feet and claws which enable them to walk on floating vegetation in the shallow lakes that are their preferred habitat. They are found worldwide within the tropical zone. More
* African Jacana - Actophilornis africana * Madagascar Jacana - Actophilornis albinucha * Genus: Irediparra * Comb-crested Jacana - Irediparra gallinacea * Genus: Hydrophasianus * Pheasant-tailed Jacana - Hydrophasianus chirurgus * Genus: Metopidius * Bronze-winged Jacana - Metopidius indicus * Genus: More
African jacana, actophilornis africana - Date: 13/03/08 Owner: Francien Keyzer Size: Full size: 3888x2592 nextCongolese GiraffelastBiometric census - January 2010 Dungu River in dry seasonfirst red-throated bee-eater, merops bulocki 2previous African jacana, actophilornis africana nextCongolese GiraffelastBiometric census - January 2010 Dungu River in dry seasonfirst red-throated bee-eater, merops bulocki 2previous Gallery 2.1 Powered by 4 The Web V2.0. More
Our company bears the name African Jacana, a name of a bird, which reflects our enormous commitment to the world of birding.We open a whole New World to bird-watchers as well as to researchers of all levels. Even more captivating are our birds' guides who have a rare knack.. Budget Camping Safaris Laughing it out in the famous Kenya National Parks and Reserves. More
condition that you place African Jacana Safaris on you site. Please complete the form below. More
The African Jacana's food is insects and other invertebrates (insects, worms, etc.) picked from the floating vegetation or the water's surface. Copyright: Wikipedia. This article is licensed under the GNU Free Documentation License. It uses material from Wikipedia. More
The African Jacana is a far more interesting bird than may appear at first sight. It is common knowledge that it has long legs and toes that enable it to walk about on floating waterlily leaves, a habit that has earned it the nickname 'lilytrotter'. However, it is less well known that the female is polyandrous, and lays its eggs in the flimsy floating nests of more than one male, which are then left with the responsibility of hatching out and raising the precocious chicks. More
African Jacana | Actophilornis africanus = The African Jacana is a Southern African bird that belongs to the Jacanidae bird family group which includes birds such as Jacanas. The description for the African Jacana (Latin name Actophilornis africanus) can be found in the 7th Edition of the Roberts Birds of Southern Africa. The Actophilornis africanus can be quickly identified by its unique Roberts identification number of 240 and the detailed description of this bird is on page 382. More
African jacana (Actophilornis africanus); the Australian lotus bird (Irediparra... Other The following is a selection of items (artistic styles or groups, constructions, events, fictional characters, organizations, publications) associated with "African jacana" * jacana (bird family) Expand Your Research: Try searching magazines and ebooks for "African jacana". No results found. More
African Jacana - Actophilornis africanus 28-31 cm D70 2005 MRT 22 14080W To take full advantage of Flickr, you should use a JavaScript-enabled browser and install the latest version of the Macromedia Flash Player. Comments view profile Jimbo1239 says: What an amazing coloration on the head. Striking image !! Posted 51 months ago. More
However the shield is always present and the young African Jacana has a black crown and hind-neck. More
African Grey Flycatcher | African Jacana | African Paradise Flycatcher | African Pygmy Goose | African Thrush | Arabian Bustard | Augur Buzzard | Banded Barbet | Bearded Woodpecker | Black-billed Barbet | Black-billed Wood-hoopoe | Black-winged Lapwing | Black-winged Lovebird | Black-winged Stilt | Blue-breasted Bee-eater | Blue-winged Goose | Cattle Egret | Chestnut-naped Francolin | Cinnamon-breasted Rock Bunting | Common Bulbul | Common Fiscal | Common Greenshank | Crowned Lapwing | Dimorphic Egret | Double-toothed Barbet | Dusky Turtle-dove | Eastern Chanting More
African Jacana {Actophilornis africana} = You are here: South Africa / South Africa Wildlife / South Africa Birdlife / African Jacana Submenu - Information South Africa Accommodation, Hotels, TravelSouth Africa Explored with www.SA-Venues. More
African jacana Actophilornis africanus, molt all of their wing feathers at the same time and are unable to fly until their new feathers grow in. Shields up! - Some jacana species, such as the northern jacana Jacana spinosa and the wattled jacana Jacana jacana, have chestnut- to cinnamon-colored bodies, with yellow to greenish yellow flight feathers, dark brown to black neck and head, and a yellow bill. More
SmugMugHome Login Help View Cart African Jacana African Jacana, Actophilornis africanus gallery pages: 1 Dubai; Umm Suqeim, 08.10.2006 © Kevin Hyland - an escaped species Dubai; Umm Suqeim, 08.10. More
Oystercatcher African JacanaAfrican Marsh-HarrierAfrican FinfootDiederik CuckooFiscal ShrikeGiant Eagle OwlGroundscraper ThrushHadedaKitesBlack KorhaanNamaqua SandgrousePel's Fishing OwlSclater's LarkBoubou ShrikeSpotted Ground ThrushSquacco HeronWandering Albatross - African Jacana - "Lily Trotter" Actophilornis africanus "The Bird That Walks On Water" This species is active in running over the water-lilies and other aquatic vegetation - hence the popular name of 'Lily-Trotter'. It dives and swims when necessary and is also a strong flier. More
African Jacana (Actophilornis africanus) = * 1 * Email * RSS * * Ranked #1,715 in Animals, #36,855 overall African Birds: African Jacana (Actophilornis africanus) - Africa has a huge variety of birds, from the largest in the world (The Ostrich) to iconic eagles like the African Fish Eagle. More
The female African Jacana is slightly larger than the male although the color of the feathers are very much the same between males and females. Their dramatic markings include dark, chestnut brown feathers at their wings, and yellow-orange breast feathers. The front of the neck is white and the back of the neck and head is glossy black. The bill is bluish-gray, the eyes are dark brown, and the legs and toes are long in relation to the bird More
African Jacana ( Actophilornis africanus, family: Jacanidae) = african jacana kruger national park birds The African Jacana (Latin name Actophilornis africanus) is described in Roberts Birds of Southern Africa, 7th Edition. This bird has a unique Roberts number of 240 and you will find a full description of this bird on page 382 also a picture of the African Jacana on page 305. The African Jacana belongs to the family of birds classified as Jacanidae. More