Variable Oystercatcher
Variable refers to the frontal plumage, which ranges from pied through mottled to all black. They are polymorphic meaning they have different genetic variants. They can open a shellfish by either hammering a hole in it or getting the bill between the two shells and twisting them apart. They breed in North Island, South Island, Stewart Island, and Chatham Islands. They do not breed inland or beside rivers although the SIPO does.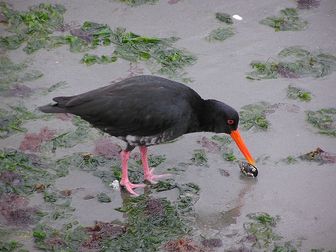 Picture of the Variable Oystercatcher has been licensed under a
GFDL
Original source
: Own work
Author
: Tony WillsPermission(Reusing this file)I, Tony Wills, the copyright holder of this work, hereby publishes it under the following licenses:Permission is granted to copy, distribute and/or modify this document under the terms of the GNU Free Documentation License, Version 1.2 or any later version published by the Free Software Foundation; with no Invariant Sections, no Front-Cover Texts, and no Back-Cover Texts. A copy of the license is included in the section entitled GNU Free Documentation License.www.gnu.org/copyleft/fdl.htmlGFDLGNU Free Documentation Licensetruetrue
Permission
: GNU Free Documentation License
The Variable Oystercatcher is classified as Least Concern. Does not qualify for a more at risk category. Widespread and abundant taxa are included in this category.

The variable oystercatcher (Haematopus unicolor) is a species of wader in the Haematopodidae family. It is endemic to New Zealand. The Maori name is torea-pango. They are also known as 'red bills'. "Variable" refers to the frontal plumage, which ranges from pied through mottled to all black. They are polymorphic meaning they have different genetic variants. Blacker birds are more common in the south. All Stewart Island variable oystercatchers are black. The have pink legs, an orange eye ring and red beaks. More
The variable oystercatcher feeds mostly on molluscs, worms, crabs and small sea insects. They are found all over New Zealand, except the outlying islands. Further Information on the Variable Oystercatcher: E-mail to add your Variable Oystercatcher related website. Bibliography: Unavailable. - Home - Link to us - About - Privacy - Contact - Partners - Awards - Links - Disclaimer - New Zealand Animals (c) Copyright 2004 newzealandanimals. More
The variable oystercatchers are the workers of the beach and mudflats, constantly busy and on the hunt for food while the gulls hang around in gangs looking for the main chance. They are noisy and talkative birds, feeding on molluscs, crabs and worms. They open bivalve shellfish by stabbing between the shells and twisting the bill to part the shells or by hammering a hole in the shell. The adults spend some time teaching their offspring the trick of opening shells, a constant source of amusement. More
the variable oystercatcher breeds in North, South, Stewart, and Chatham Islands. In spite of its scientific name, the variable oyster-catcher (as its common name suggests) may occur in pied or black plumage or in a range of plumages intermediate between these two. It was originally named after the black phase and before it was realised that its other colour phases all belonged to the same species. More
The variable oystercatcher has different colour phases: some birds are all black, some have a smudged black and white belly, and some a pure white belly. This third type can be hard to distinguish from the pied oystercatcher, also black and white. The thing to look for on the variable oystercatcher is the more blurred boundary between black and white across the chest. There is also no white line between the chest and the folded wing. More
variable oystercatcher, like its name suggests, is variable in colour from completely black to pied. They have a long orangy-red bill and eye, with pink legs. They are slightly larger (48cm) than the pied oystercatcher (46cm). The juvenile is brownish black and the bill is brown/black and starts to colour-up from about 3 months old. They feed on molluscs, worms, crabs, small invertebrates and even small fish. More
aspect variable oystercatchers are once again unique; black morphs of this species are on average lighter than are pied morphs. Oystercatcher females are heavier and have longer wings and bill than males. Otherwise, wing length is very similar among species. Immature oystercatchers have buffy margins on their dark feathers and duller colors on the eye rings, legs, and bill. More
The Variable Oystercatcher (Haematopus unicolor) is a species of wading bird in the Haematopodidae family. It is endemic to New Zealand. This bird is locally known as the 'red bill'. Their breeding habitats are the North Island, South Island, Stewart Island, and Chatham Islands. Along with the SIPO (South Island Pied Oystercatcher), they are the only oystercatchers in New Zealand. The name 'Variable' refers to their frontal plumage, which ranges from pied, to mottled, to all black. More