Andean Lapwing
The Andean Lapwing is a species of bird in the Charadriidae family. It is found in Argentina, Bolivia, Chile, Colombia, Ecuador, and Peru. Its natural habitats are subtropical or tropical high-altitude grassland, rivers, swamps, and pastureland.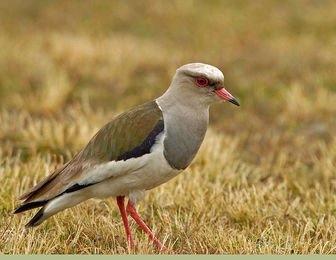 Picture of the Andean Lapwing has been licensed under a Creative Commons
Attribution
.
Original source
: Patty McGann
Author
: Patty McGann
The Andean Lapwing is classified as Least Concern. Does not qualify for a more at risk category. Widespread and abundant taxa are included in this category.

Andean Lapwing digiscoped in Parque Nacional Lauca by B. More
The Andean Lapwing (Vanellus resplendens) is a species of bird in the Charadriidae family. It is found in Argentina, Bolivia, Chile, Colombia, Ecuador, and Peru. Its natural habitats are subtropical or tropical high-altitude grassland, rivers, swamps, and pastureland. References - * BirdLife International 2004. Vanellus resplendens. 2006 IUCN Red List of Threatened Species. Downloaded on 24 July 2007. Stub icon This Charadriiformes-related article is a stub. More
Southern and Andean Lapwings can be easily distinguished by plumage characteristics. Andean Lapwings lack the crest and do not possess the black breast and facial patch. Furthermore Andean Lapwings typically occur above 3000 m, and so only very rarely do the two species occur together. Vocalizations Southern Lapwings utter a tero-tero-tero-tero call throughout day and night (Sick 1993). This call is used in intraspecific encounters such as territorial displays, display flights, and courtship behaviors. More
Andean Lapwings are very distinctive in flight. (S4) Semipalmated Plover - Charadrius semipalmatus Semipalmated Plover Charadrius semipalmatus Barra Grande, Bahia state, Brazil. They are only non-breeding visitors to South America, mainly only during the boreal winter, but a few oversummer. (D3) Wilson's Plover - Charadrius wilsonia Wilson's Plover Charadrius wilsonia wilsonia Barra Grande, Bahia state, Brazil. More
* Andean Lapwing, Vanellus resplendens : Found in Argentina, Bolivia, Chile, Colombia, Ecuador, and Peru. Its natural habitats are subtropical or tropical high-altitude grassland, rivers, swamps, and pastureland. More
Andean Lapwings on the shore were joined by Greater and Lesser Yellowlegs, and Baird's Sandpipers. A quick visit to the feeders at the hacienda for close-up views of the beautiful Ecuadorian Hillstar finished off the day, and we headed back into Quito in time for the New Year celebrations. Andean Lapwing Bird ListWe saw 392 species in total. This does not include those that only I saw, or those that we only heard. More
Andean Lapwing (Vanellus resplendens) by Mike Nelson from Argentina XC38753 :: Andean Lapwing (Vanellus resplendens) = Recording data Recordist Mike Nelson Date 11-03-09 Time 12:30 Country Argentina Location Lake Pozuelos Longitude W65.59'44" Latitude S22. More
Andean Lapwing calls in flight and on ground Vanellus resplendens (0:31) Niels Krabbe XC47282 22-11-1983, Peru page 1 © 2005-2010 Xeno-canto Foundation. More