Thinornis rubricollis
The Hooded Plover is a species of bird in the Charadriidae family. It is endemic to Australia.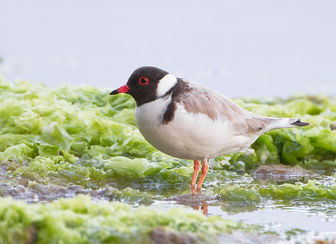 Picture of the Thinornis rubricollis has been licensed under a Creative Commons
Attribution-Share Alike
.
Original source
: Own work
Author
: JJ Harrison (http://www.noodlesnacks.com/)Permission(Reusing this file)Own work, share alike, attribution required (Creative Commons CC-BY-SA-2.5)
The Thinornis rubricollis is classified as Near Threatened (NT), is close to qualifying for or is likely to qualify for a threatened category in the near future.

Range & population Thinornis rubricollis is endemic to Australia and is found in Western Australia, South Australia, New South Wales, Queensland (vagrant), Tasmania and nearby islands. Tasmania and Western Australia have been considered the strongholds of this species, with the largest population probably being that on the lakes and saltpans of south-west Western Australia11. The eastern subspecies rubricollis is restricted to the coastline and numbers 4,500 birds7. More
plover Thinornis rubricollis rubricollis and the western hooded plover Thinornis rubricollis tregellasi. More
Distribution map of Thinornis rubricollis Distribution map of Thinornis rubricollis Map © Birds Australia Birdata Did you know? The incubation period (30 days) of the Hooded Plover is the longest of the Australasian-breeding plovers. More
omit reference to Thinornis rubricollis (Gmelin, 1789) from Part 1 of Schedule 1 (Endangered species) of the Act. Listing of Critically Endangered species is provided for by Part 2 of the Act. The Scientific Committee has found that: 1. The Hooded Plover Thinornis rubricollis (Gmelin, 1789) is a small (21 cm) grey-brown shorebird with a black head, white collar and underparts, red bill and eye-ring, and orange legs. A white wing-bar, and white tail with a black centre, are visible in flight. More
of the Hooded Plover Thinornis rubricollis in a high-use recreational environment. Bird Conservation International 9:255-270. * Marchant, S. and Higgins, P.J. (Eds) (1993) Handbook of Australian, New Zealand and Antarctic Birds. Volume 2: Raptors to Lapwings. Oxford University Press, Melbourne. * Morris, A.K. (1989) Hooded Plover Survey - NSW. Stilt 14:37. * Murlis M. More
Thinornis rubricollis © 2006 Pierre Pouliquin >> close box This page is a collection of images that are attached to a branch of the Tree of Life. For a more detailed explanation of the different ToL page types, have a look at the Structure of the Tree of Life page. More
The breeding biology of Hooded Plovers, Thinornis rubricollis, on Phillip Island, Victoria Bob Baird and Peter Dann Emu 103(4) 323 - 328 Full text doi:10.1071/MU02031 - 4 articles found in CrossRef database. Manage one beach or two? Movements and space-use of the threatened hooded plover (Thinornis rubricollis) in south-eastern Australia Weston Michael A., Ehmke Glenn C., Maguire Grainne S. Wildlife Research. 2009 36(4). p. More
Hooded Plover Thinornis rubricollis Protection Short-tailed Shearwater Ardenna tenuirostris Rescue Koalas Phascolarctos cinereus Fox Vulpes vulpes Eradication Cat Felis catus management Weeds Revegetation Wetlands and Churchill Island Marine National Park b. Permits and Regulations Where can I walk my dog? Events permit Fly Neighbourly Agreement PINP Regulations a. Wildlife and habitat protection programs i. More