Double-banded Plover
Adults in breeding plumage are white, with a dark greyish brown back, and have a distinctive brown breast, with a thinner band of black below the neck, and between the eyes and beak. Younger birds have no bands, and are often speckled brown on top, with less white parts.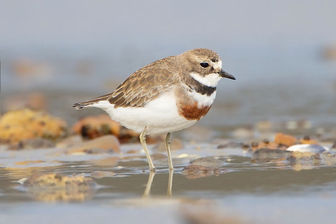 Picture of the Double-banded Plover has been licensed under a Creative Commons
Attribution-Share Alike
.
Original source
: Own work
Author
: JJ Harrison (http://www.noodlesnacks.com/)Camera location
The Double-banded Plover is classified as Least Concern. Does not qualify for a more at risk category. Widespread and abundant taxa are included in this category.

The Double-banded Plover is the only migratory bird visiting Australia that breeds in New Zealand. All the others breed in the Northern Hemisphere. Facts and figures Research Species: No Minimum size: 18 cm Maximum size: 21 cm Average size: 19 cm Average weight: 70 g Breeding season: August to December Clutch size: Two to four. More
The Double-banded Plover, Charadrius bicinctus, is a small wader in the plover family of birds. It lives in beaches, mud flats, grasslands and on bare ground. References - * BirdLife International (2004). Charadrius bicinctus. 2006 IUCN Red List of Threatened Species. IUCN 2006. Retrieved on 09 May 2006. More
The Double-banded Plover (Charadrius bicinctus) is a small shorebird of Australia and New Zealand. The one shown here, moulting into basic plumage, was photographed on Enderby Island, Auckland Islands, New Zealand, in December, 2001. This shot was taken with a Canon EOS 3 and EF 70-200mm F/2.8 L lens and 2X extender on Fuji Provia film. 305 Loganberry Ct. More
The Double-banded Plover at Ralph's Bay I drive past the Lauderdale end of Ralph's Bay on many occasions, it's only a 10 minute drive from my abode. As I pass I often look, make that, always look, out across the bay, scanning for waders. At this time of year, apart from the flocks of Pied Oystercatchers, I can often see other small waders, scattered across the bay, feeding. But, to be honest, I rarely stop to identify what's there. More
The Double-banded Plovers have arrived! Heading to the reef again yesterday after work, I was hoping to find more Red-necked Stints coming into their breeding plummage. But what I actually found turned out to be just as exciting. More
Double-banded Plover , New Zealand, South Island Dec 2009 © Rob Morris A species I'm used to seeing in SEQ in winter - this bird is on its breeding grounds. More
However the Double-banded Plover is a recently arrived migrant from New Zealand in non-breeding plumage and the Sooty Oystercatcher is a lone bird amongst many Pied Oystercatchers which is often at this roost-site. - Click on thumbnail images to see larger images. More