Australian Owlet-Nightjar
The Australian Owlet-nightjar is a small to medium sized owlet-nightjar with grey upperparts and a white, barred front and a distinct dark and pale patterning on the head. In the north of Australia females can also have a rufous morph. The plumage is overall paler in desert populations. It is adapted to live in open woodland, with more pointed wings and larger feet, unlike most of the rest of the family that live in dense forest . It lives in a variety of habitats as well as open woodland, including mangrove swamps, grasslands, mallee scrub as well as dense forest.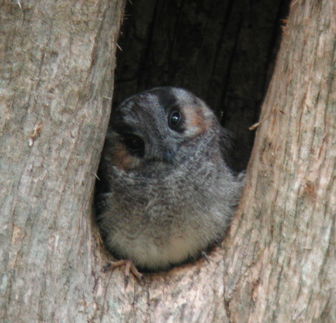 Picture of the Australian Owlet-Nightjar has been licensed under a Creative Commons
Attribution-Share Alike
.
Original source
: Own work
Author
: Aviceda
The Australian Owlet-Nightjar is classified as Least Concern. Does not qualify for a more at risk category. Widespread and abundant taxa are included in this category.

The Australian Owlet-nightjar, Aegotheles cristatus, is a nocturnal bird found in open woodland across Australia and in southern New Guinea. It is colloquially known as "Moth Owl". It is the most common of the owlet-nightjars, and the best known of this secretive family. It is the most common nocturnal bird in Australia, and despite suffering from predation and competition by introduced species it is not considered threatened. More
* Is the australian owlet-nightjar considered special on the Cumberland plain? * How big do owlets get? * How are owlets cared for? » More Mentioned in * Owlet-Nightjars (Aegothelidae) (zoology) * Australian Owlet-nightjar * New Caledonian Owlet-nightjar * List of birds of Kangaroo Island, South Australia * List of birds More
The Australian Owlet-nightjar is the smallest nocturnal bird in Australia and its large brown eyes are non-reflective when exposed to a torch or spotlight (other nocturnal birds give a red reflection). Identification The Australian Owlet-nightjar is the smallest of the nocturnal birds (night birds) found in Australia. Its large brown eyes are non-reflective when exposed to a torch or spotlight (other nocturnal birds give a red reflection). More
Australian owlet-nightjar occurs extensively in more open habitats in addition to open forests and woodlands. They extend into scrub-covered country such as mallee in the Australian interior and into coastal mangroves and feed in grasslands that adjoin habitats with trees. Behavior Owlet-nightjars occupy concealed roosts during the day, commonly in holes in trees. Some species roost in the concealment afforded by dense vines. More
The Australian Owlet-nightjar is the smallest nocturnal bird in Australia and its large brown eyes are non-reflective when exposed to a torch or spotlight (other nocturnal birds give a red reflection). More
The Australian Owlet-nightjar is the smallest (21 to 25cm) nocturnal bird found in Australia, with large brown eyes that do not reflect when exposed to a torch or spot light, unlike others which may look red. The plumage of the owlet can be a russet-brown (rufous) or the more common grey, with two wide black stripes extending from the top of the eyes down to the back of the head. More
The Australian Owlet-nightjar feeds at night by diving from perches and snatching insects from the air, ground or off trunks and branches, in the manner of a flycatcher. It may also feed on the wing. It feeds on most insects, particularly beetles, grasshoppers and ants. During the day they roost in hollows in trees, partly for protection from predators and partly to avoid being mobbed by other birds that mistake them for owls. More
I've been looking for Australian Owlet-nightjars in the wild for years without success – I've heard their strident churring calls often enough when camping in the bush at night but have only seen these birds in the flesh in captivity at the Alice Springs Desert Park, where a few years ago they had a pair as part of a breeding program. More
Photos: The Australian Owlet-Nightjar Aegotheles cristatus was in Wyperfeld Nat'l Park, Australia, on 11 Nov 1983. Will Betz photographed the Mountain Owlet-Nightjar A. albertisi high in the mountains (8000' elev.) of the Huon Peninsula, Papua New Guinea, in July 1997. Photos More
Australian Owlet-nightjar in our garden - 10 Comments »Tuesday January 15th, 2008 The Australian Owlet-nightjar is a relatively common bird throughout much of Australia. With an overall size of 21-25cm it is our smallest nocturnal bird. In fact, the first time I saw this birds I was amazed at how tiny it really was. This individual was perched in full sunlight on a branch of a tree in a neighbour's garden. More
Australian Owlet-Nightjar says: Sunday April 12th, 2009 at 6:53 am read more and see a photo click here or here. Tags: Nocturnal birds, owlet nightjar, Owls Frogmouths and Nightjars Category: Nocturnal 4. david says: Wednesday September 2nd, 2009 at 4:08 pm hmm… wonder if there are any in my area. might try some calls tonight. More
Australian Owlet-Nightjar (Aegotheles cristatus) Filmed at Samsonvale. SE Qld Jan 1999 using Canon EX1 Hi8 & Sigma 400mm lens. Australian Owlet-Nightjar (Aegotheles cristatus) Filmed at Samsonvale. SE Qld Jan 1999 using Canon EX1 Hi8 & Sigma 400mm lens.all » Australian Owlet-Nightjar (Aegotheles cristatus) Filmed at Samsonvale. SE Qld Jan 1999 using Canon EX1 Hi8 & Sigma 400mm lens.« Download video - iPod/PSPDownload is starting. Save file to your computer. More
I watched this Australian Owlet-nightjar for two hours during which time it seemed to take minimal notice of dozens of people who passed on foot and bicycle, some with dogs, across a noisy wooden footbridge which brought them within five metres of the bird. Originally it was sitting back in the hole but as the afternoon matured, it moved out of the hole a little and seemed to be enjoying the sun. More
Australian owlet-nightjars sometimes nest in cavities of banks or buildings. Clutches are of one to five, slightly glossy, unmarked white eggs that, for unknown reasons, have unusually thick shells. Young hatch with white down which is replaced by a second coat of gray down before the juvenal feathers grow. More
Photo of adult Australian Owlet-NIghtjar on gravel road at night. Location Torrens Creek Northeastern Queensland Australia Size of original (pixels) Width: 4600 Height: 3450 Photographic data Date: 27/6/09 9:15:45 PM Aperture: f5.6 Shutter Speed: 1/100 sec Focal Length: 400.0 mm aus_owlet_nightjar_90487.jpg © Ian Montgomery; please contact: ian@birdway.com. More