Juan Fernandez Firecrown
The population of this species has been in a general decline for years. A census made in October 2002 revealed fewer than 200 individual birds and of these only 60 females, although scientifically sound census methods have not yet been used to provide a reliable figure. The species is ranked Critically Endangered by Birdlife International. A conservation effort was begun in 2004 by a partnership of several organizations with the aim of preventing extinction of the species.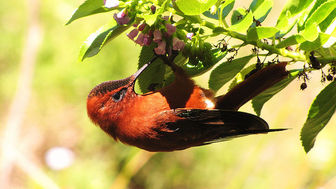 Picture of the Juan Fernandez Firecrown has been licensed under a Creative Commons
Attribution
.
Original source
: Héctor Gutiérrez Guzmán
Author
: Héctor Gutiérrez Guzmán
The Juan Fernandez Firecrown is classified as Critically Endangered (CR), facing an extremely high risk of extinction in the wild.

The Juan Fernandez Firecrown has huge feet for a hummingbird, and certainly puts those feet to good use! Almost like a an Olympic athlete working on hanging rings, the bird often grips the petals of a flower with its feet and hangs there to feed. Sometimes, as if showing off its agility, a bird will dangle by one foot like the individual at left. The green crown seen on a shot below on the left, can also look brilliant red, depending upon the angle of the light. More
* Juan Fernandez Firecrown Hummingbird is Critically Endangered3:35 * Ajouter à la file d'attente Ajoutée à la file d'attente Juan Fernandez Firecrown Hummingbird is Critica... More
Juan Fernandez Firecrown Hummingbird is Critically Endangered = HummingbirdSociety 3 vidéos S'abonnerModifier l'abonnement Chargement… 2267 vues 2267 vues HummingbirdSociety — 16 mars 2009 — The spectacular Juan Fernandez Firecrown Hummingbird is critically endangered. It lives only on 37-sq. mi. Isla ... HummingbirdSociety — 16 mars 2009 — The spectacular Juan Fernandez Firecrown Hummingbird is critically endangered. It lives only on 37-sq. mi. Isla Robinson Crusoe, some 435 mi. west of Chile's mainland. More
Juan Fernandez Firecrown Sephanoides fernandensis = Described by: King, P. P. More
Female Juan Fernandez Firecrown feeding on an endemic Dendrocerus flower ( More
Juan Fernandez Firecrown Sephanoides fernandensis Species Champion Become a BirdLife Species Champion for this bird For information about BirdLife Species Champions and Species Guardians visit the BirdLife Preventing Extinctions Programme. More
Stamps showing Juan Fernandez Firecrown Sephanoides fernandensis Juan Fernandez Firecrown Sephanoides fernandensis Juan Fernandez Firecrown Sephanoides fernandensis Juan Fernandez Firecrown Sephanoides fernandensis Bargain of the day! Juan Fernandez Firecrown Links will open countrypage in new window - Chile 30.07.1987 Flora and fauna - Chile 29.02.2000 Juan Fernandez - Chile 29.01. More
12 22:19:16 Juan Fernandez Firecrown, Robinson Crusoe Island, Chile (12.01.09) Claudio F. Vidal Juan Fernandez Firecrown, Robinson Crusoe Island, Chile © Fantástico Sur, ChileSephanoides is the southernmost genus of the hummingbird family and comprises only two species of firecrowns. The Juan Fernandez Firecrown is endemic to Robinson Crusoe Island and is the largest of the two. The mainland species or Green-backed Firecrown also occurs in the "Fernandezian" rainforest of this island. More
Juan Fernandez Firecrown Sephanoides fernandensis = Isla Robinson Crusoe, Chile - Jan, 2007 More