Purple-throated Mountain-gem
The Purple-throated Mountain-gem is a hummingbird which breeds in the mountains of southern Nicaragua, northern Costa Rica and western Panama. This bird inhabits forested areas in hilly terrain, and is found at altitudes from 800 m to 2500 m.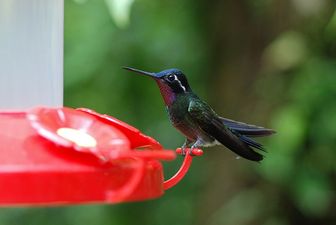 Picture of the Purple-throated Mountain-gem has been licensed under a Creative Commons
Attribution
.
Original source
: DSC_0428.jpgUploaded by PurpleHz
Author
: Eric Chan from Hollywood, United States
The Purple-throated Mountain-gem is classified as Least Concern. Does not qualify for a more at risk category. Widespread and abundant taxa are included in this category.

Purple-throated Mountain-gem - Lampornis calolaemus White-throated Mountain-gem - Lampornis castaneoventris Purple-throated Mountain-gem Lampornis calolaemus calolaemus Bosque de Paz, Alajuela province, Costa Rica. Female. This species and the next are sometimes lumped as Variable Mountain-gem L. castaneoventris (e.g. HBW). Females are essentially identical. (S5) White-throated Mountain-gem Lampornis castaneoventris cineriecauda Savegre Lodge, San Jos More
Purple-throated Mountain-gem (Lampornis calolaemus) (Salvin, 1865) summary taxon grid map Wikipedia NatureServe Google: Web|Scholar ITIS Birdlife Google|Flickr Xeno-Canto - photo: markren Photo powered by flickr.com. More
mother only) suggests that the Purple-throated Mountain-gem still can form fertile hybrids with the white-throated forms and indeed not infrequently does so. More
The Purple-throated Mountain-gem (Lampornis calolaemus) is a hummingbird which breeds in the mountains of southern Nicaragua, northern Costa Rica and western Panama. This bird inhabits forested areas in hilly terrain, and is found at altitudes from 800 m to 2500 m. It is replaced in southern Costa Rica by its close relatives, the White-throated and Gray-tailed Mountain-gems, with which it is sometimes considered conspecific. These three species form a closely-related group that evolved some 3. More
The Purple-throated Mountain-gem (Lampornis calolaemus) is a hummingbird which breeds in the mountains of southern Nicaragua, northern Costa Rica and western Panama. It is replaced in southern Costa Rica by its close relative, the Gray-tailed Mountain-gem, L. cinereicauda, with which it is sometimes considered conspecific. This bird inhabits forested areas in hilly terrain, and is found at altitudes from 800 m to 2500 m. It is 10.5 cm long. The male weighs 6.0 g and the female 4.8 g. More
Purple-throated Mountain-gem Hummingbird (Lampornis calolaemus) - Wiki Purple-throated Mountain-gem Hummingbird (Lampornis calolaemus) - Wiki; DISPLAY FULL IMAGE. Email : E-Card | Poster | Web Master Delete Edit Info Admin Description Purple-throated Mountain-gem Hummingbird (Lampornis calolaemus) - Wiki Purple-throated Mountain-gem From Wikipedia, the free encyclopedia Purple-throated Mountain-gem Hummingbird (Lampornis calolaemus) male at feeder. Description Purpurkehlnymphe / Purple-throated Mountain Gem / Lampornis calolaema in Monte Verde, Costa Rica. More
Purple-throated Mountain-gem (Lampornis calolaema) ....One of the hummingbirds that lives at higher elevation in Costa Rica, this brilliant little male mountain-gem defended a feeder as his territory in Monteverde. Male hummers are notoriously aggressive, and this fellow would stand off much larger hummers of several other species. I caught him momentarily resting, but still wary. More
close relative, the Purple-throated Mountain-gem, is found sympatrically (in the same geographic region). Description This bird is 10.5 cm long. The shortish black bill is slightly curved. The adult male has bronze-green upperparts and underparts except for a brilliant green crown, white throat and blue tail. The female lacks the bright crown and throat, and has rich cinnamon underparts. More
Purple-throated Mountain-Gem, including first records for eastern Cocl More
Purple-throated Mountain-Gem (Lampornis calolaema) - Details Common Name Purple-throated Mountain-Gem Spanish Name Monta More