Violet-headed Hummingbird
It is found in Bolivia, Brazil, Colombia, Costa Rica, Ecuador, Honduras, Nicaragua, Panama, Peru, and Venezuela. Its natural habitats are subtropical or tropical moist lowland forests, subtropical or tropical moist montanes, and heavily degraded former forest.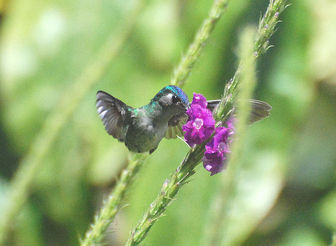 Picture of the Violet-headed Hummingbird has been licensed under a Creative Commons
Attribution-Share Alike
.
Original source
: originally posted to Flickr as DSZ_00205a.jpg
Author
: Jerry OldenettelPermission(Reusing this file)This image, which was originally posted to Flickr.com, was uploaded to Commons using Flickr upload bot on 17:15, 14 April 2008 (UTC) by Ltshears (talk). On that date it was licensed under the license below. This file is licensed under the Creative Commons Attribution-Share Alike 2.0 Generic license.You are free:to share – to copy, distribute and transmit the work
The Violet-headed Hummingbird is classified as Least Concern. Does not qualify for a more at risk category. Widespread and abundant taxa are included in this category.

The Violet-headed Hummingbird (Klais guimeti) is a species of hummingbird in the Trochilidae family. It is monotypic of the genus, Klais. It is found in Bolivia, Brazil, Colombia, Costa Rica, Ecuador, Honduras, Nicaragua, Panama, Peru, and Venezuela. Its natural habitats are subtropical or tropical moist lowland forests, subtropical or tropical moist montanes, and heavily degraded former forest. More
Violet-headed Hummingbird (Klais guimeti) * Least Concern * * Length: 0:05 minutes (78.05 KB) * Format: MP3 Mono 44kHz 128Kbps (CBR) More material of this species * 4.1A female on a ...Panama, Sep 2007 Bill Wayman * 3.3A Violet-heade...Costa Rica, Feb 2007 Norbert Sauberer * 3.3Violet-headed ... More
Violet-headed Hummingbird (Klais guimeti) = French: Colibri à tête violette German: Violettkopfkolibri Spanish: Colibrí Cabeciazul Other common names: Violet-crowned Hummingbird(!) Taxonomy: Trochilus Guimeti Bourcier, 1843, Caracas, Venezuela. Genus sometimes merged into Abeillia; closely related to Stephanoxis. Nominate and race pallidiventris intergrade in SE Ecuador. Three subspecies recognized. Subspecies and Distribution: * merrittii (Lawrence, 1860) - E Honduras to E Panama. More
Violet-headed Hummingbird (Klais guimeti) - 4 photos 1 Cerro Azul, Panama. November 2007. 2 Cerro Azul, Panama. November 2007. 3 Cerro Azul, Panama. November 2007. 4 Cerro Azul, Panama. November 2007. More
This page contains links to photos of Violet-headed Hummingbird (Klais guimeti) More
Violet-headed Hummingbird Klais guineti = * Home Expand Log in Menu item Register Menu item Log out Menu item Change login details Menu item Why register? Expand UK & Ireland Menu item Birding sites More
* Violet-headed Hummingbird (Klais guimeti) * Fork-tailed "Garden" Emerald (Chlorostilbon canivetti) * Snowcap (Microchera albocoronata) * Green Thorntail (Discosura conversii) * Fiery-throated Hummingbird (Panterpe insignis) * Purple-crowned Fairy (Heliothryx barroti) More
Violet-headed Hummingbird Klais guimeti = Described by: Bourcier (1843) Alternate common name(s): Violet-crowned Hummingbird Old scientific name(s): None known by website authors Photographs near Braulio Carrillo National Park, Costa Rica - Nov, 2006 More
Violet-headed Hummingbird (Klais guimeti) by Allen T. Chartier. Parque Nacional Podocarpus, sector Rio Bombuscaro, Zamora-Chinchipe, Ecuador, 13-11-1996 XC9812 Violet-headed Hummingbird (Klais guimeti) by Allen T. Chartier from Ecuador XC9812 :: Violet-headed Hummingbird (Klais guimeti) = Recording data Recordist Allen T. More