Green-crowned Brilliant
This hummingbird inhabits wet mountain forests including edges, gaps and tall second growth. It occurs typically between 700 m and 2000 m in altitude, mainly on the Caribbean slopes.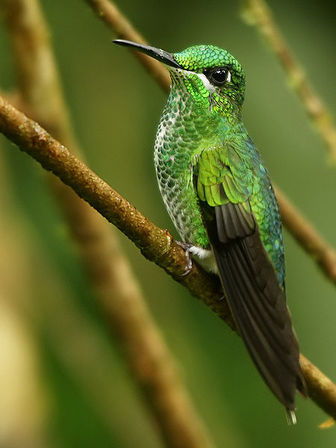 Picture of the Green-crowned Brilliant has been licensed under a Creative Commons
Attribution-Share Alike
.
Original source
: Own work
Author
: Hans HillewaertPermission(Reusing this file)I, the copyright holder of this work, hereby publish it under the following license: This file is licensed under the Creative Commons Attribution-Share Alike 3.0 Unported license.You are free:to share – to copy, distribute and transmit the work
The Green-crowned Brilliant is classified as Least Concern. Does not qualify for a more at risk category. Widespread and abundant taxa are included in this category.

The Green-crowned Brilliant (Heliodoxa jacula) is a large robust hummingbird that is a resident breeder in the highlands from Costa Rica to western Ecuador. This hummingbird inhabits wet mountain forests including edges, gaps and tall second growth. It occurs typically between 700 m and 2000 m in altitude, mainly on the Caribbean slopes. The nest is a bulky cup of plant fibres and scales of tree ferns saddled on a thin downsloping branch. More
The Green-crowned Brilliant has a loud squeaky kyew call. Diet / Feeding: This hummingbird feeds at the large inflorescences of Marcgravia vines, which the male will sometimes defend. It will also feed at Heliconia and other large flowers. Unlike many hummingbirds, the Green-crowned Brilliant almost always perches to feed. Copyright: Wikipedia. This article is licensed under the GNU Free Documentation License. It uses material from Wikipedia. More
For the purposes of our bird news services, Green-crowned Brilliant is classed as Ungraded: species which are unlikely to appear as wild birds in Britain or Ireland hide section Most recent photos of Green-crowned Brilliant (5) La Paz Waterfall Gardens, Central, Costa Rica La Paz Waterfall Gardens, Central, Costa Rica04/02/2008 La Paz Waterfall Gardens, Central, Costa Rica 04/02/2008 Monteverde Hummer Gallery, Central, Costa Rica Monteverde Hummer Gallery, Central, Costa Rica27/12/2007 Monteverde Hummer Gallery, Central, Costa Rica More
The male Green-crowned Brilliant is 13 cm long and weighs 9.5 g. It is mainly bronze-green with a glittering green crown, forehead, throat and breast. It has a white spot behind the eye, a small violet throat patch, white thighs, and a deeply forked blue-black tail. The female is 12 cm long and weighs 8 g. More