Hoary Puffleg
Its natural habitat is subtropical or tropical moist montane forests. It is becoming rare due to habitat loss.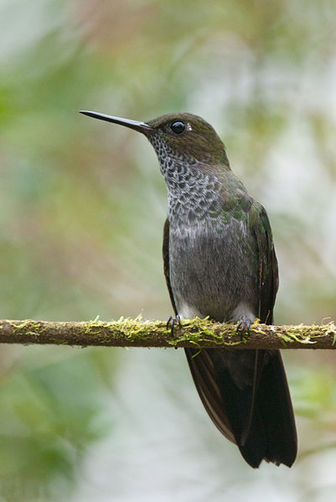 Picture of the Hoary Puffleg has been licensed under a
GFDL
Original source
: Keith Bowers
Author
: Keith Bowers
Permission
: GNU Free Documentation License
The Hoary Puffleg is classified as Near Threatened (NT), is close to qualifying for or is likely to qualify for a threatened category in the near future.

The Hoary Puffleg (Haplophaedia lugens) is a species of hummingbird in the Trochilidae family. It is found in Colombia and Ecuador. Its natural habitat is subtropical or tropical moist montane forests. It is becoming rare due to habitat loss. References - * BirdLife International 2004. Haplophaedia lugens. 2006 IUCN Red List of Threatened Species. Downloaded on 10 July 2007. More
reported include Hoary Puffleg at Guest House feeders; Common Potoo photographed along Brothers Trail; Rufescent (Colombian) Screech-Owl behind Guest House; Cloud-forest Pygmy-Owl seen on the trail; Hook-billed Kites adult pair plus juvenile seen daily near Guest House; Powerful Woodpecker; Plate-billed Mountain-Toucan - family of 3 seen daily at Guest House; Yellow-breasted More