Mexican Sheartail
The Mexican Sheartail is a species of hummingbird in the Trochilidae family. It is found only in Mexico. Its natural habitats are subtropical or tropical dry forests, subtropical or tropical dry shrubland, rural gardens, and urban areas. It is threatened by habitat loss. D. eliza has been studied by Dr. Raul Ortiz-Pulido and colleagues en Mexico.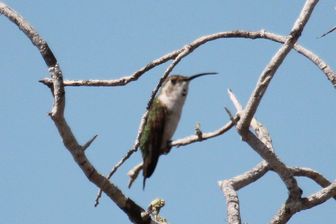 Picture of the Mexican Sheartail has been licensed under a Creative Commons
Attribution-Share Alike
.
Original source
: Alastair Rae
Author
: Alastair Rae
The Mexican Sheartail is classified as Near Threatened (NT), is close to qualifying for or is likely to qualify for a threatened category in the near future.

The Mexican Sheartail (Doricha eliza) is a species of hummingbird in the Trochilidae family. It is found only in Mexico. Its natural habitats are subtropical or tropical dry forests, subtropical or tropical dry shrubland, rural gardens, and urban areas. It is threatened by habitat loss. D. eliza has been studied by Dr. Raul Ortiz-Pulido and colleagues en Mexico. Source - * BirdLife International 2004. Doricha eliza. More
the Mexican Sheartail (Doricha eliza), based on museum specimens and field studies. Although the broadly disjunct distribution of the species would suggest that two taxa are involved, morphological differences between the populations appear minor, not deserving of formal taxonomic recognition. Ecological differences between the two populations are stronger, however; modeled ecological niches are nearly nonoverlapping, and ontogenetic and behavioral differences may exist. More
The Mexican Sheartail is one of dozens of endemics we will seek! The state of Veracruz hosts an impressive 31 Mexican endemic bird species and 5 endemic subspecies. Additionally, there are 59 regional (Mexico and northern Central America) endemics in the state. More