Green Thorntail
The Green Thorntail is a small hummingbird that is a resident breeder from Costa Rica to western Ecuador. It occurs at middle elevations from 700-1400 m but may descend lower early in the wet season. In Costa Rica and Panama it is confined to the Caribbean slopes.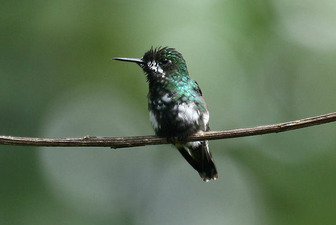 Picture of the Green Thorntail has been licensed under a Creative Commons
Attribution-Share Alike
.
Original source
: Green ThorntailUploaded by PurpleHz
Author
: Michael Woodruff from Spokane, Washington, USA
The Green Thorntail is classified as Least Concern. Does not qualify for a more at risk category. Widespread and abundant taxa are included in this category.

The Green Thorntail (Discosura conversii) is a small hummingbird that is a resident breeder from Costa Rica to western Ecuador. It occurs at middle elevations from 700-1400 m but may descend lower early in the wet season. In Costa Rica and Panama it is confined to the Caribbean slopes. This is a forest canopy species. More
Green Thorntail has mainly green upperparts, a white rump band and a blackish lower rump and tail. It weighs just 3 g. The 10 cm long male has the long wire-like tail that gives this species its name and green underparts. The 7.5 cm long female lacks the long tail and has blackish underparts with a green breast band. She has conspicuous white moustaches The Green Thorntail is usually silent, but may give a quiet chip. More
The very cute Green Thorntail is a vagrant from lower elevations, and there have been only two records from the Lodge feeders. Females are tiny and easily recognised by the white band across the rump and the white moustachial stripes contrasting with a black belly. Males are just as small, but have very long spiky tails. More
The spectacular Green Thorntail is another hummingbird that has proven to be more common than previously understood as more birders have flocked to the foothills of eastern Cocl More
Female green thorntail close up© crijnfotin Green thorntail female© Kristian Stahl Green thorntail females perched on leaf© Kristian Stahl Green thorntail profile© Terry Thormin Green thorntail perched on branch© Robert Barbeau Male green thorntail, rear view© Roger Ahlman Green thorntail male© Kristian Stahl Green thorntail hovering© Robert Barbeau Green thorntail approaching flower to feed© Dave Hawkins Photography / www.studiohawkins. More
# Green Thorntail videos on the Internet Bird Collection Green Thorntail photo; Article w/RangeMaps InfoNatura NatureServe Didn't find what you were looking for. Need more information for your travel research or homework? Ask your questions at the forum about Birds of Colombia or help others to find answers. This article is licensed under the GNU Free Documentation License. More
Green Thorntail, Ecuador, Buenaventura 1st July 05 © Mark Sutton Send this as a postcard Green Thorntail - Green Thorntail, Costa Rica, Monteverde 12/3/07 © Jon Lowes More Pictures Send this as a postcard Green Thorntail - Green Thorntail, female,, Panama, Canopy Lodge, El Valle, November 2006 © Jim Swalwell Green Thorntail, female, - Green Thorntail, , Ecuador Nov More
The green thorntail we saw was a rather shy hummer with a glistening green back, a white band over its rump, and feathers in a blue-black tail that streamed ... More
For the purposes of our bird news services, Green Thorntail is classed as Ungraded: species that are unlikely to appear as wild birds in Britain or Ireland hide section Most recent photos of Green Thorntail (1) Rio Blanco , Milpe, Ecuador Rio Blanco , Milpe, Ecuador12/02/2008 Rio Blanco , Milpe, Ecuador 12/02/2008 View all pictures of Green Thorntail View all pictures of Green Thorntail show section External Links (0) We currently have no external links for More