Ruby-topaz Hummingbird
This hummingbird inhabits open country, gardens and cultivation. It is 8.1 cm long and weighs 3.5 g. Compared to most other hummingbirds, the almost straight, black bill is relatively short.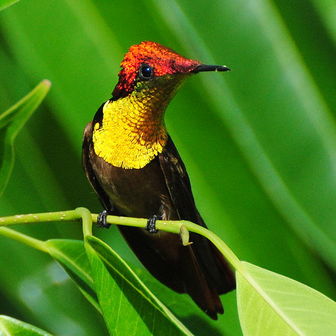 Picture of the Ruby-topaz Hummingbird has been licensed under a Creative Commons
Attribution
.
Original source
: Own work
Author
: YsmadPermission(Reusing this file)Please attribute "www.ysmad.com", including actual link to "http://www.yoursharemakesadifference.com" where applicable.
The Ruby-topaz Hummingbird is classified as Least Concern. Does not qualify for a more at risk category. Widespread and abundant taxa are included in this category.

The Ruby-topaz Hummingbird (Chrysolampis mosquitus), commonly referred to simply as the Ruby Topaz, is a small bird that breeds in the Lesser Antilles and tropical northern South America from Colombia, Venezuela and the Guyanas, south to central Brazil and northern Bolivia; also from Colombia into southern Panama. It is the only member of the genus Chrysolampis. It is a seasonal migrant, although its movements are not well understood. This hummingbird inhabits open country, gardens and cultivation. It is 8. More
The Ruby-topaz Hummingbird (Chrysolampis mosquitus) is a small bird that breeds in the Lesser Antilles and tropical northern South America from Colombia and Venezuela south to central Brazil. It is the only member of the genus Chrysolampis. It is a seasonal migrant, although its movements are not well understood. This hummingbird inhabits open country, gardens and cultivation. Ruby-topaz Hummingbird males perch conspicuously and defend their territories aggressively. Description: It is 8. More
A female Ruby-topaz Hummingbird at Spanish Lagoon, Aruba, January, 2002. Photo Jeff Wells A relatively large hummingbird, bigger than the Blue-tailed Emerald, the other common hummingbird on Aruba. Both male and female Ruby-topaz Hummingbirds have reddish, rounded tails unlike the blue, forked tail of the Blue-tailed Emerald. Male Ruby-topaz Hummingbirds have a beautiful orange throat and reddish head, though in poor light it can look dark. More
Name : Ruby-topaz Hummingbird (Chrysolampis mosquitus) The Apodiformes are made up of two distinct groups of aerial masters, the Swifts (Apodi) and Hummingbirds (Trochili). The Swifts being split into two families True Swifts (Apodidae) and Tree Swifts (Hemiprocnidae), The Hummingbirds are one family (Trochilidae). The feet in true Swifts are weak and they are unable to perch on wires or branches but cling to a vertical surface except when nesting. More
Ruby-topaz Hummingbirds have reddish, rounded tails unlike the blue, forked tail of the Blue-tailed Emerald. Male Ruby-topaz Hummingbirds have a beautiful orange throat and reddish head, though in poor light it can look dark. More
The female Ruby-topaz Hummingbird (depicted above) has bronze-green upperparts and pale grey underparts with a dark chin stripe. The tail is chestnut, tipped white. Immature males are like the female, but there is a white spot behind the eye and the outer tail feathers are violet, tipped white. The female Ruby-topaz Hummingbird lays two eggs in a tiny cup nest in the fork of a low branch. Incubation takes 16 days, and fledging another 18 or 19. More
The female Ruby-topaz Hummingbird has bronze-green upperparts and pale grey underparts. The tail is chestnut with a dark subterminal band and a white tip. Females from Trinidad typically have a greenish throat-streak (it may appear dark), but this is not common elsewhere in its range. Juvenile females are similar to adult females, but with a white-tipped dusky-brown tail. Juvenile males resemble the juvenile female, but with a variable amount of iridescent orange to the throat. More