Glittering-bellied Emerald
The Glittering-bellied Emerald is a species of hummingbird in the Trochilidae family. It was formerly listed by the scientific name Chlorostilbon aureoventris, but this was shown to be mistaken by Pacheco & Whitney . It is found in north-eastern Argentina, eastern and central Bolivia, eastern Brazil, Paraguay, and Uruguay. It is widespread and often common in a wide range of semi-open habitats, including gardens and parks.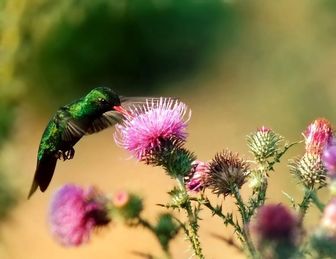 Picture of the Glittering-bellied Emerald has been licensed under a
GFDL
Original source
: Own work
Author
: Saguzar
Permission
: GNU Free Documentation License
The Glittering-bellied Emerald is classified as Least Concern. Does not qualify for a more at risk category. Widespread and abundant taxa are included in this category.

The Glittering-bellied Emerald (Chlorostilbon lucidus) is a species of hummingbird in the Trochilidae family. It was formerly listed by the scientific name Chlorostilbon aureoventris, but this was shown to be mistaken by Pacheco & Whitney (2006). It is found in north-eastern Argentina, eastern and central Bolivia, eastern Brazil, Paraguay, and Uruguay. It is widespread and often common in a wide range of semi-open habitats, including gardens and parks. More
Glittering-bellied Emerald (Chlorostilbon lucidus) - female on nest Female Glittering-bellied Emerald, Chlorostilbon lucidus Glittering-bellied Emerald (Chlorostilbon lucidus) Male Glittering-bellied Emerald (Chlorostilbon lucidus) - Photo, Video and/or Article contributions are welcome! Please click here for info The Avianweb strives to maintain accurate and up-to-date information; however, mistakes do happen. If you would like to correct or update any of the information, please send us an e-mail. More
Stamps showing Glittering-bellied Emerald Chlorostilbon aureoventris Glittering-bellied Emerald Chlorostilbon aureoventris Glittering-bellied Emerald Chlorostilbon aureoventris Glittering-bellied Emerald Chlorostilbon aureoventris Glittering-bellied Emerald Chlorostilbon aureoventris Glittering-bellied Emerald Chlorostilbon aureoventris 86.046 Glittering-bellied Emerald IOC v2.4: 3229 Links will open countrypage in new window - Bolivia 27.08.2007 Birds of Chuquisaca - Brazil 13.10.1991 Brapex VIII - Brazil 13.10. More
Glittering-bellied Emerald - Chlorostilbon aureoventris : "Photos taken in Argentina by Teus Luijendijk." * The Hummingbird Blog. cover Opus 26004 Garden Ballet Hummingbird Feeder Mobile Hummingbird Stuff Copyright 2004 Finchworld Inc. More
Glittering-bellied Emerald (Chlorostilbon aureoventris pucherani) - male Chapada Diamantina, Bahia, Brazil - March 2004 © Arthur Grosset Glittering-bellied Emerald (Chlorostilbon aureoventris pucherani) - male Chapada Diamantina, Bahia, Brazil - March 2004 © Arthur Grosset Glittering-bellied Emerald (Chlorostilbon aureoventris pucherani) - male Chapada Diamantina, Bahia, Brazil - March 2004 © Arthur Grosset More
Glittering-bellied Emerald, Chlorostilbon aureoventris, Besourinho-de-bico-vermelho - click to enlarge Lat: Chlorostilbon aureoventris Port: Besourinho-de-bico-vermelho Described by Orbigny & Lafresnaye in 1838 See: Birds in Brazil, H. Sick - pg 346 Photo from Campinas, Brazil - May 2005. More
Glittering-bellied Emerald (Chlorostilbon aureoventris) Range: SA (range map) more info Photo by scratch Punta del Este, Uruguay Sizes: Full size: 1280x1057 next (Glossy Ibis) last first previous (Crane Hawk) Glittering-bellied Emerald Copyright and usage info: These photos are 'seconds' and can be distributed with or without attribution. More
GLITTERING-BELLIED EMERALD Chlorostilbon lucidus One of the two commonest urban hummingbirds in most of Paraguay, the male at least is aptly named, with the green of his plumage so rich that he does indeed look like an Emerald gemstone. The bright blue colouration of his throat is visible only when the light catches it at certain angles, at other times it may appear black.FIGURE 1 - Adult male, Encarnaci More
Glittering-bellied Emerald - Chlorostilbon aureoventris Glittering-bellied Emerald - Chlorostilbon aureoventris Glittering-bellied Emerald Chlorostilbon aureoventris pucherani Serra do Cip More
Glittering-bellied Emerald (Chlorostilbon aureoventris) by Aidan Maccormick. More
Glittering-bellied Emerald (Chlorostilbon aureoventris) = French: Émeraude splendide German: Goldbauch-Smaragdkolibri Spanish: Esmeralda Ventridorada Other common names: Pucheran's Emerald (pucherani) Taxonomy: Ornismya aureo-ventris d'Orbigny and Lafresnaye, 1838, Rio de Janeiro. Name "C. lucidus", sometimes used for present species, is probably unidentifiable, but, if a synonym, must be regarded as a forgotten name. Race pucherani has been considered by some to be approaching the species threshold. Race igneus doubtfully separable from nominate. "H. More
Glittering-bellied Emerald Chlorostilbon aureoventris = Described by: d'Orbigny; Lafresnaye (1838) Alternate common name(s): Pucheran's Emerald, Flame-rumped Sapphire Old scientific name(s): Chlorostilbon lucidus, Hylocharis pyropygia Photographs Brazil - Date unknown More
Glittering-bellied Emerald Chlorostilbon aureoventris videograbs (20x). Bahia Aventura, San Clemente del Tuyu, Argentina, 11 March 2002. More