Violet-tailed Sylph
...a rapid, double-sounding tez-it at 1 per sec for up to several minutes...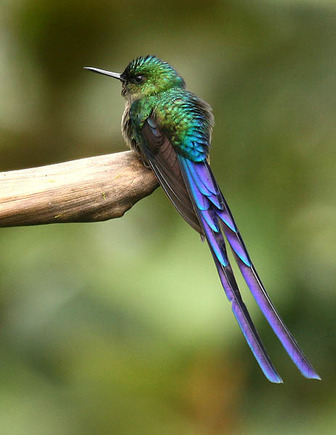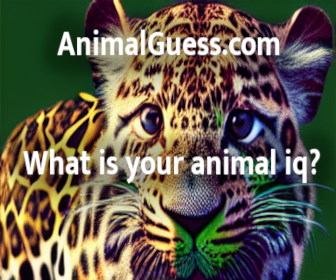 Picture of the Violet-tailed Sylph has been licensed under a Creative Commons
Attribution-Share Alike
.
Original source
: Violet-tailed SylphUploaded by PurpleHz
Author
: Michael Woodruff from Spokane, Washington, USA
The Violet-tailed Sylph is classified as Least Concern. Does not qualify for a more at risk category. Widespread and abundant taxa are included in this category.

The Violet-tailed Sylph, Aglaiocercus coelestis, is a species of hummingbird. It is found in Colombia and Ecuador. Males average around 7 inches,(18 cm), in height, while females average around 3.8 inches (9.7 cm). The Sylph lives in areas from 300-2100 meters in elevation, though typically above 900 meters. Song - "...a rapid, double-sounding tez-it at 1 per sec for up to several minutes... More
violet-tailed sylph has been observed piercing the long tube at the base of the flower to reach the nectar, leaving a conspicuous slit (6). Through this feeding, hummingbirds play an important role in the pollination of many plants in the tropics (7), but the violet-tailed sylph also feeds on insects, snatched from the air or plucked from vegetation (2). More
Young violet-tailed sylphs are dull green on the upperparts and buffy-green on the underparts (2). Two subspecies of the violet-tailed sylph are recognised; Aglaiocercus coelestis athereus differs from Aglaiocercus coelestis coelestis by having a patch of green, instead of violet-blue, feathers on the throat, and a lighter scattering of green spots on the female's throat (2). Range - The violet-tailed sylph is found in South America, with A. c. athereus occurring in south-western Ecuador, and A. c. More
Violet-tailed Sylph Aglaiocercus coelestis = * Home Expand Log in Menu item Register Menu item Log out Menu item Change login details Menu item Why register? Expand UK & Ireland Menu item Birding sites More
Violet-tailed Sylph Aglaiocercus coelestis = Described by: Gould (1861) Alternate common name(s): Heavenly Sylph Old scientific name(s): Cyanolesbia coelestis Photographs Tandayapa Lodge, Pichincha Province, Ecuador - Jan 14, 2006 More
Violet-tailed Sylph (Aglaiocercus coelestis coelestis) Male Violet-tailed Sylph (Aglaiocercus coelestis aethereus) At Nest Violet-tailed Sylph (Aglaiocercus coelestis aethereus) Female Violet-tailed Sylph (Aglaiocercus coelestis coelestis) Male Class: Aves Family: Trochilidae Common Name: Violet-tailed Sylph Genus: Aglaiocercus Species Name: coelestis Trips Where Observed More
Violet-tailed Sylph, Aglaiocercus coelestis Trochilidae (HUMMINGBIRDS) Violet-tailed Sylph, Aglaiocercus coelestis This photo was taken in: Ecuador This photo was taken with: Nikon Coolpix 995 handheld to a leica APO scope with 32x lens The photo was taken by: Steve Bird , Birdseekers Ecuador report What a fantastic setting this was and literally on top of a rainforest! More
Violet-tailed Sylph, Aglaiocercus coelestis Trochilidae (HUMMINGBIRDS) Violet-tailed Sylph, Aglaiocercus coelestis This photo was taken in: Ecuador The photo was taken by: Steve Bird , Birdseekers Birdseekers Birdseeker tour company Birdseekers Tour reports Birdwatching Holidays around the world Birdseekers Tour reports Birdwatching Holidays around the world Birdseekers photo's taken by Tony Crittenden Identification Notes: More