Green Pygmy Goose
First described in 1842 by the ornithologist John Gould, its specific name is derived from diminutive of the Latin adjective pulcher pretty. It is one of three species in the Afro-Asian genus Nettapus, an ancient and unusual group of ducks. No subspecies are recognised.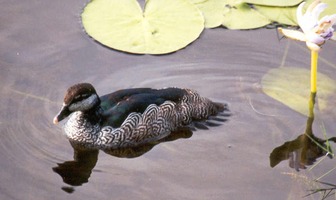 Picture of the Green Pygmy Goose has been licensed under a
GFDL
Original source
: Green Pygmy Goose taken in Kakadu National Park in Australia by Duncan Wright
Permission
: GNU Free Documentation License
The Green Pygmy Goose is classified as Least Concern. Does not qualify for a more at risk category. Widespread and abundant taxa are included in this category.

The Green Pygmy Goose (Nettapus pulchellus) is a small perching duck which breeds in southern New Guinea and northern Australia. First described in 1842 by the ornithologist John Gould, its specific name is derived from diminutive of the Latin adjective pulcher "pretty". It is one of three species in the Afro-Asian genus Nettapus, an ancient and unusual group of ducks. No subspecies are recognised. More
* Green Pygmy Goose Nettapus pulchellus of northern Australia and southern New Guinea. * Cotton Pygmy Goose Nettapus coromandelianus of Southeast Asia. * African Pygmy Goose Nettapus auritus of sub-Saharan Africa. Their habitat is still freshwater lakes, where these neat ducks feed on seeds and other vegetation, especially water lilies. Pygmy geese have short bills, rounded heads and short legs. They nest in tree holes. More
The Green pygmy goose has been bred in a Dutch collection! As far as we know, no other breeder has bred this waterfowl species before, so maybe this is the first time ever. The proud breeder is Arnold Reuvers. In 1999 he completed his waterfowl collection with a pair of Green pygmy geese. The male came from Mr. Burgen (Netherlands), the female from Mr Ludger Bremehr (Germany). Both birds were unrelated wild caught birds. More
The Green Pygmy Goose, Nettapus pulchellus, breeds in southern New Guinea and northern Australia. This species is mostly resident, apart from dispersion in the wet season. The habitat is well vegetated lowland lagoons and other permanent fresh waters. More
Description: The Green Pygmy Goose has a unique pattern of black and white lined feathers on most of its body. Its back is a deep green colour. The Pygmy Goose has a brown head and a short, strong bill, which it uses as a weapon. Diet: The Green Pygmy Goose is a herbivore and eats aquatic plants, seeds, fruit and leaves. In the wild: These birds almost never come ashore. More
This Blue And White Green Pygmy Goose Is Very Rich In Color Saturday, December 13th, 2008 (more…) 1 Star2 Stars3 Stars4 Stars5 Stars (1 votes, average: 5 out of 5) Loading ... Loading ... Species: Nettapus pulchellus Posted in Goose, Green Pygmy | No Comments » Image Copyright is held by original owners; all are licensed as either CC-BY or CC-BY-SA. More
Green Pygmy Goose taken in Kakadu National Park in Australia Image by Duncan Wright - Some rights reserved. Amazon. More