Torrent Duck
This 43–46 cm long species is a resident breeder in the Andes of South America, nesting in small waterside caves and other sheltered spots. Like the Blue Duck, it holds territories on fast flowing mountain rivers, usually above 1500 m. It is a powerful swimmer and diver even in white water, but is reluctant to fly more than short distances. It is not particularly wary when located.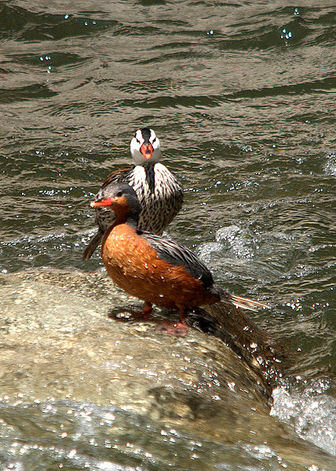 Picture of the Torrent Duck has been licensed under a Creative Commons
Attribution
.
Original source
: originally posted to Flickr as DSC_9129.NEF
Author
: Brian RalphsPermission(Reusing this file)This image, which was originally posted to Flickr.com, was uploaded to Commons using Flickr upload bot on 14:50, 22 March 2010 (UTC) by Snowmanradio (talk). On that date it was licensed under the license below.This file is licensed under the Creative Commons Attribution 2.0 Generic license.You are free:to share – to copy, distribute and transmit the work
The Torrent Duck is classified as Least Concern. Does not qualify for a more at risk category. Widespread and abundant taxa are included in this category.

The Torrent Duck (Merganetta armata) is a member of the duck, goose and swan family Anatidae. It is the only member of the genus Merganetta. Nowadays, it is placed in the shelduck subfamily Tadorninae after the "perching duck" assemblage where it was formerly assigned to was dissolved because it turned out to be paraphyletic. Its closest relative may be the Blue Duck of New Zealand. More
Male Torrent Ducks have a striking black and white head and neck pattern and a red bill. In flight they show dark wings with a green speculum. A juvenile and a female on the Urubamba River, Peru Male on the rocky banks of the Urubamba River, Peru Females of all subspecies are somewhat smaller than the drakes; they have orange underparts and throat, with the head and upperparts grey and a yellower bill. Juveniles are pale grey above and whitish below. More
nominate subspecies, the Chilean Torrent Duck, have a grey back and blackish underparts with a chestnut belly. Males of the slightly smaller northern subspecies, the Colombian Torrent Duck, M. a. colombiana, are paler underneath, with steaked grey-brown underparts. Males of the third subspecies, the Peruvian Torrent Duck, M. a. leucogenis, are intermediate but very variable in plumage; some have entirely black underparts (turneri morph). Only males of the Chilean Torrent Duck have a black 'teardrop' mark beneath the eye. More
Torrent Duck - Definition = Torrent Duck Scientific classification Kingdom: Animalia Phylum: Chordata Class: Aves Order: Anseriformes Family: Anatidae Genus: Merganetta Species: armata Binomial name Merganetta armata More
Torrent Duck in Machu Picchu · Cock-of-the-Rocks · Andean Birds in Colca Valley · Andean Birds in Lake Titicaca Home > Peru Travel Guide > Peru Photo Gallery > Peruvian Birds in Machu Picchu More
Breeding: The torrent duck lives in the fast-flowing mountain rivers of the temperate and subtropical vegetation zones along the Andes range. They have long-term pair-bonds. The nest may be hidden in various waterside cavities, but few have been found. Recorded sites include cliff ledges and crevices or rock ledges lined with down. The torrent duck lays 2 dull buff eggs with possibly the longest incubation period in the Anatidae family. More
* Torrent Duck, a species of the family Anatidae * Torrent frog, various unrelated frogs * Torrent salamander, a family of salamanders * Torrent Robin, a bird species * Torrent fish People: * Ana Torrent, Spanish actress * Marion Torrent, French footballer Other: * Torrent (1926 film), starring Greta Garbo More
Aspects of the topic torrent duck are discussed in the following places at Britannica. More
Torrent Ducks are breeding residents of the cold mountain streams of the Lauca area and always a treat to watch. Once again we refer to AW Johnson's excellent "Birds of Chile", for the most interesting natural history observations. Johnson relates the account of extraordinarily dedicated photographer George Moffet, who set up camp and devoted six weeks to the study of Torrent Ducks in Argentina. More
The monotypic Torrent Duck is an Andean endemic and a specialist of cold fast-flowing mountain streams, a raucous and fairly unproductive environment to which only three other species of duck in the world that have been able to adapt. The Torrent Duck is highly sexually dimorphic. In contrast to most other ducks, the female is just as colorful as the male, but with an entirely different color scheme. More
Torrent Duck, Argentina, Rio Los Sosa 12/10/2005 © Chris Bradshaw Taken during the recent Birdwatching Breaks trip. More
Torrent Duck is found in the following countries: 1. Argentina 2. Bolivia 3. Chile 4. Colombia 5. Ecuador 6. Peru 7. More
The Torrent duck (Merganetta armata) is an aquatic bird, specialized for life in fast-moving mountain rivers. The distribution of its three subspecies includes the Andes of South America from Venezuela to Chile: Merganetta armata armata is found in Chile and Argentina; Merganetta armata leucogenys is distributed from southern Ecuador to northern Chile; and Merganetta armata colombiana is found in Venezuela, Colombia and northern Ecuador (Fjeldsa & Krabgbe 1990). More
Torrent Duck-Sturzbachente (Merganetta armata) male in tosendem Wasser Torrent Duck-Sturzbachente (Merganetta armata) male in tosendem Wasser www.naturbilder. More
The Torrent Duck is a true icon of the Andes and inhabits torrent rivers and streams from Venezuela throughout the southern tip of Chile. Photograph taken at Paine river, Torres del Paine (Magallanes, Chile), on May 18 2008, using a Canon 40D digital body, 100-400 mm Canon lens | Focal distance 400mm • ISO200 • f/5.6 • 1/500 sec. More