Surf Scoter
It winters further south in temperate zones, on the coasts of the northern USA. Small numbers regularly winter in western Europe as far south as Great Britain and Ireland. Some birds may over-winter on the Great Lakes. It forms large flocks on suitable coastal waters. These are tightly packed, and the birds tend to take off together.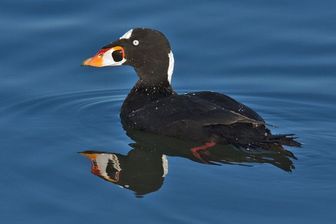 Picture of the Surf Scoter has been licensed under a Creative Commons
Attribution-Share Alike
.
Original source
: NaturesPicsOnline
Author
: Alan D. WilsonPermission(Reusing this file)http://www.naturespicsonline.com/ states "Attribution-ShareALike 2.5 as described by Creative Commons"
The Surf Scoter is classified as Least Concern. Does not qualify for a more at risk category. Widespread and abundant taxa are included in this category.

The Surf Scoter (Melanitta perspicillata) is a large sea duck, which breeds in Canada and Alaska. It is placed in the subgenus Melanitta, along with the Velvet and White-winged Scoters, distinct from the subgenus Oidemia, Black and Common Scoters. It winters further south in temperate zones, on the coasts of the northern USA. Small numbers regularly winter in western Europe as far south as Great Britain and Ireland. Some birds may over-winter on the Great Lakes. It forms large flocks on suitable coastal waters. More
winter, the Surf Scoter has a boldly patterned head that is the basis for its colloquial name "skunk-headed coot. More
* Photo of Surf scoters wintering on the Salish sea (Canada BC) * Surf Scoter Species Account - Cornell Lab of Ornithology * Surf Scoter Melanitta perspicillata - USGS Patuxent Bird Identification InfoCenter * Surf Scoter Information - South Dakota Birds and Birding * Surf Scoter videos on the Internet Bird Collection * Surf Scoter photo gallery VIREO This entry is from Wikipedia, the leading More
Surf Scoters breed in Alaska and northern Canada (they're the only species of scoter confined as a breeding bird to North America) and winter along the Pacific and Atlantic coasts from Alaska and Nova Scotia southward to Mexico and northern Florida - hence why there'll probably be some 10,000 Birds readers who will have seen returning birds this very weekend. breeding-plumaged male surf scoter breeding-plumaged male surf scoter Breeding-plumaged male Surf Scoters, Bolsa Chica, California. More
Surf Scoter: Medium-sized diving duck, entirely black except for white patches on forehead and nape. Bill is orange, black, and white. Eyes are white. Female and juvenile have dark brown upperparts, white cheek and ear patches, paler brown underparts with faint bars on sides, and dark bills and eyes. Range and Habitat Surf Scoter: Breeds in Alaska and across northern Canada to Labrador. More
A male and female surf scoter in the ocean. The Surf Scoter—aptly named for its tendency to forage in ocean surf and breaking waves—has earned a few other nicknames on the way: Skunk-head, Groggle-nose, and Mussel Bill to name a few. Every winter these beautiful, white-spotted ducks with large Roman bills migrate to the shallow coastal waters of the Pacific, from Alaska's Aleutian Chain to Baja California. More
The Surf Scoter drake is all black except for white patches on the back of the neck and the forehead. Most distinctive is its multi-colored bill which is red, white and yellow with a large black spot on the side. Hens have a dark brown head and body, whitish patches at the base of the bill and behind the eye. Surf Scoters breed in Alaska and across northern Canada. They overwinter along the Pacific and Atlantic coasts feeding in the surf. More
Sea ducks such as Surf Scoters do not breed until they are at least two years old. Some may even forgo nesting.� Females incubate and rear young; males do not assist with rearing the young. Seasonal� Change � Morphology And Function Males have a bright multicolored bill and two white patches, one on the forehead and the other on the back of the head. More
In 1998, Surf Scoters were captured in Prince William Sound, Alaska near Graveyard Point at the northern tip of Montague Island (60° 22' N; 147° 13' W). In 1999, Surf Scoters were captured in St. Matthews Bay, along the northeast shore of Prince William Sound (60° 43' N and 146° 21' W). In 2000, we captured Surf Scoters in eastern Prince William Sound, just outside of Cordova, AK in Orca Inlet. More
The surf scoter (Melanitta perspicillata) of North America breeds in the ... Other The following is a selection of items (artistic styles or groups, constructions, events, fictional characters, organizations, publications) associated with "surf scoter" * scoter (bird) Expand Your Research: Try searching magazines and ebooks for "surf scoter". No results found. More
White-winged, Black and Surf Scoter Habitat Model go to: USFWS Gulf of Maine Watershed Habitat Analysis go to: Species Table Feedback: We welcome your suggestions on improving this model! Draft Date: March 2001 Species: Surf scoter (Melanitta perspicillata), black scoter (Melanitta nigra), and white-winged scoter (Melanitta fusca). Inventories showed populations of all 3 scoter species declined in the period 1954 to 1994 (Kehoe et al. 1994). More
Surf Scoters dives for their main foods consisting of crustaceans and molluscs. Ducks generally feed on larvae and pupae usually found under rocks, aquatic animals, plant material, seeds, small fish, snails and crabs. Feeding Ducks ... More
Surf scoter - Dictionary Definition and Overview = Surf \Surf\, n. The swell of the sea which breaks upon the shore, esp. upon a sloping beach. Surf bird (Zol.), a ploverlike bird of the genus Aphriza, allied to the turnstone. Surf clam (Zol.), a large clam living on the open coast, especially Mactra, or Spisula, solidissima. See Mactra. Surf duck (Zol. More
Finding the Needle in a Big Haystack More
The male Surf Scoter has a solid black body and black head with white patches at the back of the head and on the forehead above the eyes. This distinctive pattern has earned this bird the nickname 'skunk-head coot.' The bill of the adult male is large, swollen at the base, and yellow-orange with a white and yellow splotch on each side and a black spot on the splotch. The female is mostly dark gray. More
Surf Scoter with oil on chest Surf Scoter with oil on chest Surf Scoter Surf Scoter Surf Scoter Surf Scoter Surf Scoter Surf Scoter Surf Scoter with clam Surf Scoter with clam previous page pages 1 2 3 ALL next page post a comment Dror Yalon 05-Apr-2007 20:52 More
Male surf scoters are entirely black with a white patch on the forehead and a larger white triangle on the nape. They have large bills, which are swollen on the top and truncated on the sides, with black feathers extending to near the nostrils. The bill is white, red, yellow and black, appearing mostly orange from a distance. The legs and feet are reddish-orange with dusky webs and the iris is white. The female surf scoter is fairly uniformly colored dark to black-brown with occasional whitish feathers. More
A Surf Scoter Is Surfing In A Lake Friday, February 6th, 2009 (more…) 1 Star2 Stars3 Stars4 Stars5 Stars (1 votes, average: 5 out of 5) Loading ... Loading ... More
The Surf Scoter (Melanitta perspicillata) is a large sea duck, which breeds in Canada and Alaska. It is placed in the subgenus Melanitta, along with the Velvet and White-winged Scoters, distinct from the subgenus Oidemia, Black and Common Scoters. More
Surf Scoters are not that great at flying and tend to stay in the water. This is why they were so affected by the Nov. 2008 oil spill. SFBayAxis. More
Surf scoters (and other seabirds) have incredible adaptations to deal with the cold Northern Pacific waters. Their water-tight feathers keep them insulated, buoyant and dry, so they can live in the ocean and stay warm. When oil from a spill smears onto their feathers, the feathers no longer overlap perfectly and the birds lose their waterproof insulation. As oil gets between their feathers, it displaces the natural "oil" they secrete to keep them dry. More
SATELLITE RADIO TELEMETRY TRACKING OF SURF SCOTERS CAUGHT IN CHESAPEAKE BAY, MARYLAND BACKGROUND The U.S. Fish and Wildlife Service, the Canadian Wildlife Service, and the Sea Duck Joint Venture have provided funding for an international seaduck program. This part of the study concerns the delineation of surf scoter (Melanitta perspecillata) populations and the specific habitats used by surf scoters for breeding and molting, of which little is known. More
Surf Scoter is feeling iridescent. Posted at 12:44 AM Sep 7, 2008 view more Surf Scoter's Latest Blog Entry If a dog was the teacher you would learn things like: (view more) You are not a fish... (view more) Surf Scoter's Blurbs About me: I am a small duck that likes to catch fish in the surf. I also think that corporate media sucks. More
Surf Scoter (Melanitta perspicillata) blue dot Sea Duck Information Series blue dot Identification and Basic Life History blue dot Range Map blue dot Species Status Summaries (pdf 732kb) blue dot Surf Scoter Satellite Telemetry blue dot More Photos Jan's Ornamental Waterfowl Pages blue dot Related Web sites Alaska Dept Fish and Game-Surf Scoter Information Surf Scoter section from Frank S. More