Marbled Duck
This duck formerly bred in large numbers in the Mediterranean region, but is now restricted to a few sites in southern Spain and northwest Africa. In the east it survives in Iran , as well as isolated pockets in Turkey, Armenia, Azerbaijan, Iraq and further to the east in western India and western China. Its breeding habitat is lowland, shallow fresh waters. In some areas birds disperse from the breeding grounds, and have been encountered in the winter period in the Sahel zone, south of the Sahara.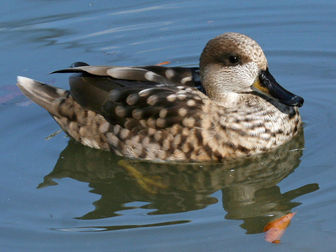 Picture of the Marbled Duck has been licensed under a
GFDL
Original source
: Own work
Author
: Dick Daniels (http://carolinabirds.org/)
Permission
: GNU Free Documentation License
The Marbled Duck is classified as Vulnerable (VU), considered to be facing a high risk of extinction in the wild.

The Marbled Duck, or Marbled Teal (Marmaronetta angustirostris), is a medium-sized duck. It used to be included among the dabbling ducks, but is now classed as a diving duck. This duck formerly bred in large numbers in the Mediterranean region, but is now restricted to a few sites in southern Spain and northwest Africa. More
Marbled DuckDescription The Marbled Duck is approximately 39-42 cm long. Adults are a pale sandy-brown colour, diffusely blotched off-white, with a dark eye-patch and shaggy head. Juveniles are similar but with more off-white blotches. In flight, the wings look pale without a marked pattern, and no speculum (= distinctive wing patch) on the secondaries. Copyright: Wikipedia. More
Marbled duck on ground Marbled duck on groundPrint factsheet Facts - Also known as: Marbled teal Synonyms: Anas angustirostris French: Sarcelle Marbrée Kingdom Animalia Phylum Chordata Class Aves Order Anseriformes Family More
Marbled Duck determination Similar species Anatidae American Wigeon | Baikal Teal | Bar-Headed Goose | Barnacle Goose | Barrows Goldeneye | Bean Goose | Black Swan | Blue-Winged Teal | Brent Goose | Bufflehead | Cackling Goose | Canada Goose | Canvasback | Common Scoter | Egyptian Goose | Eider | Falcated Duck | More
Videos and images Marbled duck on ground An elegant teal, the marbled duck suits its name, having a brown body speckled with cream. Its dark eye-patch blends into a broad stripe from the eye to the nape, including a slight crest on the back of the head. With its low, slow flight and ... More
Marbled Duck - Definition = Marbled Duck Conservation status: Vulnerable Marbled Duck Marbled Duck Scientific classification Kingdom: Animalia Phylum: Chordata Class: Aves Order: Anseriformes Family: Anatidae Genus: Marmaronetta Species: More
Marbled Duck (Marbled Teal) Marmaronetta angustirostris Marbled Ducks are popular in captivity and sometimes escape. Genuinely wild birds may occur occasionally but as with so much rare wildfowl, proving a wild origin is next to impossible. More
Hi, the dabbling duck article says that the marbled duck is now classified as a iving duck. If that's true, I think this article needs to be updated. -Kjoonlee 17:23, 8 November 2006 (UTC) Consider it done. Thanks for the notice! Dysmorodrepanis 16:40, 16 November 2006 (UTC) Retrieved from "http://en.wikipedia. More
Marbled Duck Marmaronetta angustirostris = * Home Expand Log in Menu item Register Menu item Log out Menu item Change login details Menu item Why register? Expand UK & Ireland Menu item Birding sites More
The Marbled Duck, or Marbled Teal (Marmaronetta angustirostris), is a medium-sized duck. It used to be included among the dabbling ducks, but is now classed as a diving duck. More
The Marbled Duck looks peculiar for its unusually unique feathers. This diving duck can be found in southern part of Spain and northwest Africa. It also occurs in Iran with isolated population in Turkey, Armenia and Iraq. It is also known as Marbled Teal. Long-tailed Duck (Clangula hyemalis) Image Source The Long-tailed Duck is a unique and adorable medium-sized sea duck with long pointed tail that measures10 – 15 cm long. It change color as season change. More
Marbled Duck Marmaronetta angustirostris (December 2003 Mystery Bird) The Marbled Duck is an endangered species which breeds in shallow, well vegetated wetlands, often in very dry areas, from Spain eastwards just into north western China. It is regular in small numbers in winter in Pakistan but a very rare winter visitor to our area. More
Marbled Duck - Marmaronetta angustirostris Sarcelle marbrée = Sarcelle marbrée Comment : il y en avait une bonne quarantaine... More
Scientists had considered marbled ducks to be one of the dabbling ducks for many years, but the birds have been moved in with the pochards, due to their display behavior and lack of a speculum. 3. Teals are good swimmers and divers. However, they rarely dive for food, rather they dive to hide from a predator. More
Marbled Duck Marmaronetta angustirostris Khor al-Beida 01.02.2008 - Below is shown a few examples of aberrant Common Teals looking like Marbled Duck. Neima Pools in Al Ain, 07.12.2007 - Al Warsan Lakes in Dubai, 03.12. More
Marbled Duck Coupon = Marbled Duck Coupon larger image $19.95 - BONShops Home Contact Us Copyright More
Marbled Duck (Teal) - 90+ birds were watched on the eastern Doñana reserve north of Bonanza, Cadiz province, Andaluca, near Algaida 5th September 2008 © Stephen Daly Guided Birding Send this as a postcard Marbled Duck (Teal) - 90+ birds were watched on the eastern Doñana reserve north of Bonanza - Marbled Duck (Teal), Cadiz province, Andalucia, near Trebujena 15th September 2008 © Stephen Daly Migration News - Andalucian Guides More
Marbled Duck Marmaronetta angustirostris Marbled Duck Photographer : More
Stamps showing Marbled Duck Marmaronetta angustirostris Marbled Duck Marmaronetta angustirostris Marbled Duck Marmaronetta angustirostris Marbled Duck Marmaronetta angustirostris Marbled Duck Marmaronetta angustirostris Marbled Duck Marmaronetta angustirostris Marbled Duck Marmaronetta angustirostris Marbled Duck Marmaronetta angustirostris Marbled Duck Marmaronetta angustirostris Marbled Duck Marmaronetta angustirostris 14.101 Marbled Duck IOC v2.4: 482 Links will open countrypage in new window - Grenada 05.03. More