Ashy-headed Goose
The lined nest is built in tall grass, and 4–6 eggs are laid. This terrestrial species favours damp upland forest clearings and feeds by grazing; it rarely swims.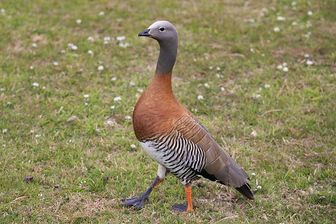 Picture of the Ashy-headed Goose has been licensed under a Creative Commons
Attribution
.
Author
: Alex Proimos from Sydney, Australia
The Ashy-headed Goose is classified as Least Concern. Does not qualify for a more at risk category. Widespread and abundant taxa are included in this category.

The Ashy-headed Goose (Chloephaga poliocephala) is a large sheldgoose, which breeds in mountainous areas of southernmost South America and winters on lowlands just north of its breeding range. The lined nest is built in tall grass, and 4–6 eggs are laid. This terrestrial species favours damp upland forest clearings and feeds by grazing; it rarely swims. More
The Ashy-headed goose is native of South America. Its distribution extends from Colchagua in Chile and Neuqu More
For the purposes of our bird news services, Ashy-headed Goose is classed as Ungraded: species that are unlikely to appear as wild birds in Britain or Ireland hide section Most recent photos of Ashy-headed Goose (2) El Chalten, Argentina El Chalten, Argentina21/12/2009 El Chalten, Argentina 21/12/2009 Isla Victoria, Lago Nahuel Huapi, Patagonia, Neuquén, Argentina Isla Victoria, Lago Nahuel Huapi, Patagonia, Neuquén, Argentina21/11/2009 Isla Victoria, Lago Nahuel Huapi, Patagonia, Neuquén, Argentina 21/11/2009 View all pictures More
Ashy-headed maleThis gorgeous male Ashy-headed goose has a very heavy invisible weight on his shoulders. As the last male left here at Slimbridge it is exceptionally important that we can get him to breed this year. Sheldgeese are the most delecate of the goose species, and we keep a wide range of them here at slimbridge including the Andean goose, lesser magellan goose and Abyssinian blue-winged goose. More
Ashy-headed Goose, Argentina, Patagonia Dec '09 © Mark Sutton Ashy-headed Goose - Ashy-headed Goose, Argentina, Ushuaia 11-2005 © Ecsedi Zoltan Ashy-headed Goose - Ashy-headed Goose, Chile, Tierra del Fuego November 2008 © Sam Woods/Tropical Birding Tropical Birding Send this as a postcard Ashy-headed Goose - Ashy-headed Goose, Argentina, Patagonia Dec '09 © Mark Sutton Ashy-headed Goose More
*NEW* (9 Nov 09) Coscoroba Swan, Ashy-headed Goose, Cinnamon Teal; (2 Oct 09) Speckled Teal; (4 Sep 09) Red Shoveler; (25 Jul 09) White-faced Whistling-duck, Yellow-billed Pintail; (10 Jul 09) Flying Steamer Duck, Kelp Goose All images are owned by and copyright of James C. Lowen More
Ashy-headed Goose (Chloephaga poliocephala) at Slimbridge Wildfowl and Wetlands Centre, Gloucestershire, England. Date: February 2004. Author: Adrian Pingstone (http://commons.wikimedia.org/wiki/User:Arpingstone). Public domain by the author. The Ashy-headed Goose (Chloephaga poliocephala) is a large sheldgoose, which breeds in mountainous areas of southernmost South America and winters on lowlands just north of its breeding range. The lined nest is built in tall grass, and 4-6 eggs are laid. More